Travel (Leaving Las Vegas)
October 23, 2017 - 9:25am
There's plenty to love about New York, L.A., Miami, D.C., but what about all the other bustling albeit smaller cities across the country that don't get nearly enough love? 
I love visiting these less densely populated metropolises – like Detroit, for instance. I took a trip to Motor City for my birthday last year to catch a Tigers game, and I was shocked to see so much development. It's an area ripe with culture and nightlife and incredible real estate opportunities, especially for limited-budget millennials, and I expect only major improvements to Detroit in the future. Memphis, Tennessee, is another place that thoroughly impressed me a couple years ago with its dedication to musical diversity, delicious food and a noticeable commitment to preserving our environment. (The tight-denimed bros in cowboy boots didn't hurt either.)
Recently I spent a few days in Columbus, Ohio – never been; didn't know what to expect – and I was similarly and pleasantly surprised. Located smack in the middle of the state, this capital city is bursting with commerce and entrepreneurship, fine dining, a robust and active LGBT community, and more activities than you'll be able to do in one visit. (Plus a whole lot of sports-loving, beer-guzzling gay men-folk to feast your eyes on.)
Here are six reasons I'm head over heels for Columbus – and you will be, too. 
1. Columbus is home to one of the most stunning new hotels in the United States
Part of Marriott's Autograph Collection, Hotel LeVeque, located in the downtown business district, is an elegant, upscale retreat in a freshly renovated art-deco high-rise overlooking the Scioto River. The place feels luxe and extravagant as soon as you turn through the revolving doors to enter the lobby seemingly plucked straight from an Upper East Side Gossip Girl set, but it's the rooms that'll really wow you. I'm pretty sure I was the first person ever to stay in mine – the joint just opened about two months ago – because there was nary a fingerprint or speck of dust anywhere. The toilet paper hadn't even been broken.
Gilded in gold, the room included a plush king bed with decadent linens; fully equipped desk; velvety chaise in the corner for lounging; a telescope!; marbled bathroom; and a massive shower, with a convenient bench, that you could pile about 15 Gindr tricks into if you're feeling frisky. Party at your place! Perhaps the most appreciated aspect of the setup, however, was the intuitive technology system that allowed me to connect my streaming accounts for movie watching, receiving messages, using the Internet, and throwing my personal device screen up on the TV – which is perfect for squeezing in a little bedtime porno action if you bring your boo.
2. If you love hands-on activities with a gay sensibility, this is the place for you
I'm totally a "maker" kinda dude. My guy and I often look for hands-on, take-home activities for date night, and Columbus saw me coming. Not only is its local business/entrepreneur community thick as thieves – the vast amount of cross-branding will restore your faith in the American dream – but there's an abundance of opportunity to get your hands dirty with something to show for it.
While I was in town I practiced my metal-stamping skills in a jewelry-making class at The Smithery; designed and felted a genuine alpaca-fleece scarf with the help of couture designer Celeste Malvar-Stewart at her studio at Hangar 391 (after a trip to the alpaca farm to meet the animals!); learned the basics of flower arranging and bread making at the aptly named Flowers & Bread (also a working bakery selling morning pastries); and I created my now-signature scent of ginger ale, grapefruit and cilantro to customize a refreshing candle at The Candle Lab. There are lots of other activities you can join – like soap and wine making – which you'll discover in the Made in CBUS trail guide available at local tourism org Experience Columbus.
3. Drag queen extraordinaire Nina West calls Columbus home
Drag shows usually aren't my idea of a good time – but hear me out before you lose your mind. I've gone to plenty of drag shows, and, frankly, the majority of the time those tired queens haven't bothered to learn the lyrics of the songs they're lip-syncing. It's frustrating when you've come to see a show. They're just up there spinning and flouncing and moving their mouths, then throwing me shade because I won't tip them. 
You gonna have to do your job to get my dolla bills, la-dy.
There have been exceptions, of course, like the incredible drag brunch at Palace on Miami's South Beach – those gals put the werk in twerk! – and most recently, incomparable Columbus-native Nina West's full-on drag spectacle "Ohana," performed at Axis, which takes liberty in rewriting memorable Disney songs, riffs on politics and provides plenty of bare-chested male dancers to keep your eyes peeled. Like you need anything else.
4. The restaurant scene rivals that of any top 10 city
There's no shortage of celebrated restaurants in Columbus – I cooked my own rock filet on a 500-degree tulikivi firestone at Elevator Brewing Co., and enjoyed some of the best calamari I've ever had at Hubbard Grille – but two establishments really stood out. 
Pop into to authentic Italian eatery Basi Italia, if only for the impressively tasty zucchini carpaccio, flash sautéed then tossed with lemon juice and slivered almonds and topped with pecorino Romano (this mini-review is coming from someone who isn't keen on vegetables, by the way), and if you somehow end up with a hangover (there's plenty of opportunity for that at all the breweries and distilleries in the area), I recommend Katalina's headache-curing pulled pork tacos, Latina sandwich and life-changing (not an exaggeration!) Original Pancake Balls, for which the place is famous. They're deep-friend and filled with Nutella, y'all! You're welcome.
5. Columbus's LGBT bar scene is on and poppin'
It was about 5:30 p.m. on a Saturday when I arrived at LGBT watering hole Union Café, and the joint was already buzzing. Cuties inside, cuties outside on the patio – cuties everywhere, really. Not so packed that I couldn't move, but there was a healthy, chatty crowd that made my pre-dinner drinks worthwhile. Later, I caught Nina's show at Axis, which opened its doors to a sold-out crowd. All these LGBT bars that are closing across the country should call Columbus to see what's up; they're doing something right.
6. There's just something about corn-fed Midwest men
From an outsider's perspective, Columbus is a mecca for college-athletics-loving, rural-raised, city-seeking gay men. With scruffy boy-next-door faces. Who wear dingy backwards ball caps and butt-hugging Levis. Basically everything that makes my pingle tingle. Now if you'll excuse me…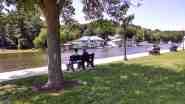 Although it maintains a relatively low profile outside the region, the charming and artsy "twin towns" of Saugatuck and Douglas are the most significant gay resort destination in the Midwest. A little more than two hours from Chicago and three hours from Detroit, this laid-back area offers a bounty of urbane restaurants, handsome B&Bs, dapper boutiques and antiques shops, and more than 25 high-quality art galleries, as well picturesque beach frontage on Lake Michigan. The pace here is pretty chill – it's not a nightlife-driven singles destination but rather a picturesque, all-American community that affords visitors the opportunity to get away from it all while still enjoying access to plenty of great diversions.
Generally, when people mention Saugatuck they're also referring to the neighboring village of Douglas, which share the same very helpful tourism office; the Saugatuck-Douglas Visitors Bureau (saugatuck.com) is actually where many of the area's gay-owned businesses and homes are. The towns are separated in part by a wide expanse of the Kalamazoo River, which forms a large lake that's popular for boating and kayaking. From one village center to the other, it's just a mile's drive or stroll, and it's also a mile from either community to Lake Michigan.
Historically, Saugatuck claimed more of the area's shopping and dining, but Douglas' smaller downtown has gentrified rapidly in the past few years, and now the main drag, Center Street, is lined with interesting businesses. In Saugatuck, you'll find most of the shops and restaurants clustered around a roughly eight-square-block area along the waterfront, which is lined with boat slips. The two-town region is highly compact and accessible, although a handful of gay-owned accommodations are in outlying areas, a 10- to 20-minute drive away.
The prime tourist season runs from May through September, although most businesses operate year-round. Fall is beautiful when the foliage is changing, and winter offers a quiet and romantic (if chilly) respite, so don't count out the off-season for a visit. Along the sweeping, sandy Lake Michigan shoreline, Oval Beach is the main area for lazing in the sun. Gays and lesbians tend to congregate more at the northern section of the beach. Lake Michigan's surf packs a wallop, and the strong winds have formed huge dunes, covered with shrubs.
There are a plenty of other fun things to do in the area. You can make the 20-minute drive to Fenn Valley Vineyards (fennvalley.com), which has been producing award-winning wines since 1973 – the Dry Riesling and Capriccio (a red wine) are particularly well-regarded. Or stop by Fennville's Virtue Cider (virtuecider.com), the maker of artisan farmhouse-style hard ciders that have gained a following throughout the Midwest. Outside the tasting room, there's a lovely garden patio to while away an afternoon sampling wine. In a handsome space in the center of Saugatuck, the Saugatuck Center for the Arts is an exceptional resource, presenting nationally known musicians and comedians, and first-rate professional musicals and plays, through its Mason Street Warehouse theater company (there's also a farmers market held on the grounds in summer on Monday afternoons). And if you're in an outdoorsy mood, consider paddling around town in a kayak – Big Lake Outfitters can set you up with rentals. For a little more exercise, climb the 282 steps to the top of the area's highest sand dune, Mt. Baldhead, from which you'll enjoy stunning views of Lake Michigan.
Downtown Saugatuck has no shortage of noteworthy dining options. A major favorite for breakfast, Ida's Red Cottage is as much fun for people-watching as it is for enjoying the fluffy pancakes and hearty omelets. Phil's Bar and Grille (philsbarandgrille.com) is a great spot for a well-prepared lunch or dinner; the kitchen specializes in upscale versions of Midwestern American fare, like potato-crusted walleye with Dijon cream, and double-cut lamb chops charbroiled with a pomegranate gastrique. Marro's Italian Restaurant (marrosrestaurant.com), serving authentic Italian fare and superb thin-crust pizzas, is another local favorite. Enjoy live music in the piano lounge most nights.
As coffeehouses go, Uncommon Grounds (uncommoncoffeeroasters.com) is a truly stellar operation, and a great friend of the local LGBT community. It's a good place to pick up an over-stuffed sandwich, smoothie, light breakfast or delicious carrot cake, in addition to all sorts of espresso drinks made with high-quality, house-roasted beans and homemade syrups. The sunny deck out front is nice for ogling passers-by.
In downtown Douglas, the outstanding Everyday People Cafe (everydaypeoplecafe.com) is an unpretentious neighborhood eatery, but the kitchen turns out superb, creative contemporary American fare with global influences – Korean-style braised pork cheek with Michigan maple and Meyer lemon confit. There's a great wine list, too. Gay-owned Zing Eat Drink (zingeatdrink.com) is a stylish spot with a hip bar up front, two different romantic outdoor seating areas, and an art-filled dining room. It's a hot spot early in the day for house specialty Maryland crab-cake Benedicts and cranberry-walnut French toast. In the evening, enjoy a glass of wine or a cocktail, and tuck into a plate of cedar-planked salmon or grilled meatloaf with caramelized onion jam. Lots of LGBT revelers stop in here for happy hour or drinks before continuing their partying just down the street at Dunes Resort.
Craft-beer lovers should stop by Saugatuck Brewing Co. (saugatuckbrewing.com) to sample the expertly made local brews, such as hoppy Singapore IPA and crisp Oval Beach Blonde, while relaxing on the expansive patio and nibbling on tasty pub fare. In the historic part of downtown, Respite Cappuccino Court (respitedouglas.com) is another great little spot serving first-rate java, tasty breakfast bowls and salads, and tempting baked goods.
When it comes to nightlife, the only game in town is the 20-acre Douglas Dunes Resort (dunesresort.com), which has a large and fun disco, a cocktail lounge and video bar, a game room, a huge private sundeck and bar with a large pool and lush foliage, and a piano cabaret. The largest gay resort in the entire Midwest, this highly popular resort has a great range of accommodations options, including large two-bedroom cottages, simple and contemporary standard rooms in two motel-type buildings, and even bargain-priced "bunk rooms" ideal for singles. The accommodations are nicely maintained, and some rooms have fireplaces and hot tubs.
One relatively recent development has been the transformation of some of the area's old-timey motor courts into smartly furnished, mid-century-modern boutique inns. Innkeepers Steve Laughner and Rob Goeke have done a wonderful job with a pair of these properties, the Pines Motorlodge (thepinesmotorlodge.com) – which is more centrally located in Douglas and is right near Lake Kalamazoo – and The Saugatuck (thesaugatuck.com), which enjoys a quieter setting nestled beneath pine trees a short drive from town. Also gay-owned and highly recommended is the Blue Star Motel (bluestardouglas.com), which is within walking distance of Douglas shopping and dining, and their newest accommodation, the Starlite Resort (starliteresort.com), which opened in spring 2015.
You'll find no shortage of historic B&Bs in the area, too. A stately 1890 Queen Anne on the edge of downtown Douglas, the Kirby House (thekirbyhotel.com) is one of the region's most elegant properties. After closing for a time, the inn was recently sold and completely revamped with a more contemporary yet still classic design. With five fireplaces and fine oak detailing distinguish, the inn retains its architectural prowess but now feels more airy and urbane. Additionally, there's a new restaurant and wine lounge on the ground floor, J. Paul's, which serves tasty tapas and cheese-and-charcuterie boards.
One exceptionally gracious property in this part of the world is the Belvedere Inn (thebelvedereinn.com), a regal 1913 mansion designed by a colleague of Frank Lloyd Wright – it's about three miles northeast of downtown Saugatuck. Innkeepers Shaun Glynn and Pete Ta run this spectacular hideaway, tending carefully to guests' needs (they also operate a lovely three-room vacation house, called the Bellevue Harbour House, overlooking the riverfront in Saugatuck).
Inside the Belvedere, you can choose from among 10 richly furnished rooms and suites, and rates include an opulent breakfast as well as afternoon tea. Glynn is also the chef at the Belvedere's superb restaurant, which serves such rarified Continental cuisine as roasted butternut squash and crab bisque, and pan-roasted, lightly curried monkfish with saffron risotto. If it's a romantic getaway or a special-occasion dinner you're celebrating, the Belvedere is your answer.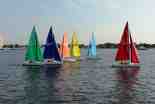 Skip Palm Springs, forget Fire Island and put P-Town on hold. This year, you're headed to a new LGBT-friendly destination for an unexpected getaway with all the perks to which you're privy. Time to get packin'.
Houston, Texas
Texas isn't the first state that comes to mind when you think "progressive," but its traditional shade of Republican red comes with a few tinges of pink. Houston, specifically, embraces its LGBT community, thanks in part to openly gay mayor Annise Parker, who will vacate her office at the end of the year. MyGayHouston.com, a popular source for LGBT-specific news and happenings, will celebrate its fifth anniversary this year, and Pride Houston will be held June 27. The fourth-largest city in the United States – it's true! – also boasts a budding art scene and culturally diverse cuisine, which was singled out by Community Marketing's LGBT travel study last year.
Miami Beach
Sure, the LGBT community has been flocking to Miami for decades, but now that marriage is legal in Florida, you can have the best of both worlds while hitting the sand to say "I do" this summer. Eden Roc Miami Beach offers an affordable LGBT Wedding Celebration Package with plenty of perks. First, the stunning hotel waives the ceremony fee – freeing up about $1,500 for other activities, like a luxurious spa day on the grounds – along with discounts on food and beverage and complimentary breakfast in bed. And so you can concentrate on enjoying your big day, Eden Roc will have its social media concierge – fancy, huh? – available to capture all your memorable moments. Up until the boom-boom begins, anyway; you're on your own with that AV.
San Juan, Puerto Rico
Like playing the odds? They're in your favor at the San Juan Marriott Resort & Stellaris Casino, a stunning island property nestled in the middle of a bustling metropolitan city. From your home base in the heart of the trendy Condado neighborhood filled with shopping, international cuisine and nightlife, embark on adventures like ATV, horseback riding and zip lining at Haciendo Campo Rico by day, then let loose at night in Old San Juan at La Factoria. Santurce and La Placita of Santurce, the arts and culture center, is just a short taxi ride away, as is the El Yunque Rainforest. Seems like a lot to see and do, but there'll be plenty of lazy beach time with your boo, too.
St. Maarten
Although the Caribbean is breathtaking in landscape, some islands have ugly views toward the LGBT community (we're looking at you, Jamaica!). St. Maarten, however, takes pride in its LGBT community, and several resorts, including Sonesta Ocean Point and Sonesta Great Bay Beach Resort, Casino & Spa are now registered with the International Gay & Lesbian Travel Association (IGLTA), the leading global resource in LGBT tourism. Both locations offer same-sex wedding ceremonies – if you want to tie the knot in flip-flops – with a Gay Wedding Institute-certified in-house wedding coordinator. Spend your first few hours as a legally bound couple canoodling in a private gazebo or partying down at an unforgettable reception at Ocean Point's Azul Rooftop Bar.
St. Pete Beach, Florida
Not to be outdone by some of the flashier Florida cities, sunny St. Pete Beach allows for a different kind of vacay – one void of thumping techno music and throwback boardwalk body builders. The Spanish-influenced Hotel Zamora features a destination restaurant and rooftop lounge serving a locally sourced menu of creative tapas entrees; a marina; fresh-water pool; fitness center; and access to white, sandy beaches. Zamora also will offer a Beachside Pride package this summer in celebration of St. Pete Pride, June 26 to 28.
Norfolk, Virginia
Step out of the box this summer – and into a boat! – during the country's only Pride boat parade, in Norfolk, Va. Part of PrideFest, June 26 and 27, the celebration by sea is open to all maritimers with access to a vessel. The Norfolk Waterside Marriott offers a PrideFest Hotel Package for the weekend, which includes a buffet breakfast for two guests daily, a $25 food and beverage credit per night at Shula's 347, and self-parking. After you drop your bag, head out into Hampton Roads for waterfront activities, a thriving dining scene, and unique arts and culture.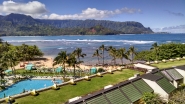 Nobody on Kauai will give you a hard time for simply lazing on one of the island's gorgeous beaches every waking hour of your vacation. Still, you may find it impossible to resist the countless opportunities for outdoor adventure on this lush, mountainous and least populated of Hawaii's four major islands. Whether you venture out sea-kayaking, helicopter-touring, ziplining, hiking, or canyoneering, you won't likely regret packing an activity or two into each of your days on what's typically nicknamed the "Garden Island."
For the ultimate hiking and beachcombing, many visitors to Kauai (gohawaii.com/en/Kauai) head for the Na Pali Coast, which is on the northwestern tip of the island, just beyond the picturesque village of Hanalei (the setting for such films as South Pacific and Indiana Jones). The eastern side of Kauai is dominated by the waterfalls of the Wailua River Valley, the southern end by Poipu's breathtaking beaches and upscale resorts, and the western side by gargantuan Waimea Canyon – there's unparalleled beauty wherever you look.
Touring Kauai by helicopter affords visitors one of the most memorable opportunities to see the entire island, and especially the remote and formidable Na Pali Coast. Several companies offer these tours. Island Helicopters (islandhelicopters.com) is especially fun because they offer an 85-minute island excursion that includes stopping and walking around the base of 400-foot Manawaiopuna Falls, which appeared prominently in the opening scenes of Jurassic Park. This extremely informative, mesmerizing tour then circles the entire island, its capable pilots zipping in and out of tight valleys and even, weather permitting, the crater of extinct Kawaikini Peak, the island's highest point.
Another exhilarating way to view part of the island is by striking out for an afternoon of high-wire action with Koloa Zipline (koloazipline.com), which operates an eight-line course in the verdant mountains near Poipu resort. You can opt for a classic or "Flying Kauaian" style harness (the latter is plenty more fun and well worth the $20 surcharge). As you sail above the treetops on some of the longest zip lines in Kauai (one stretches for a full half-mile), you'll be treated to plenty of thrills.
If you're in good shape and game for an independent adventure, you can always hike into the Na Pali highlands via the famed 11-mile Kalalau Trail. To hike the entire trail, which is steep and rugged in places, you must obtain a permit and camp overnight, as it's not possible to cover the entire trail in a day. However, day hikers can easily venture in the first couple of miles to Hanakapiai Beach. And without a permit you can also climb up to Hanakapiai Falls, or continue for another few miles to Hanakoa campground.
Less demanding options for sightseeing include driving to the viewpoints at Waimea Canyon State Park – they don't call this the "Grand Canyon of the Pacific" without good reason. The 10-mile-long canyon is 3,000 feet deep and is one of Hawaii's best photo ops. If you have a few hours, drive all the way to visitor center at Waimea Canyon's Kokee State Park to pick up a trail map, and then embark on the stunning hike along the Canyon Trail to Waipoo Falls, which affords visitors an incredible perspective on the canyon.
You'll find beautiful beaches all around the island, some of them drawing heavily among Kauai's many LGBT residents and visitors. The easiest to reach is Lydgate State Park, just south of Kapaa off the Kuhio Highway – walk south from the parking area for the gay-popular section. Donkey Beach, off Kuhio Highway a bit north of Kapaa, is enjoyable both for sunbathing or swimming, and it draws a mix of gays and straights. Just keep in mind that the surf can be intense, so exercise caution. You'll see the parked cars on the side of the road as you head north out of Kapaa, between mileposts 11 and 12 – from here just follow the trail down to the water. Nudity is permitted at this beach as well as at 3,000-foot Secret Beach (aka Kauapea Beach), another favorite of LGBT folks that's up north near Kilauea Lighthouse (it's a bit hard to find, however, so ask locals for directions).
In recent years, quite a few sophisticated, urbane restaurants have opened on the island, making it a genuine favorite among foodies. One of the best is Jean-Georges Vongerichten's Kauai Grill (kauaigrill.com), the refined restaurant inside the stunning St. Regis Princeville resort. If you dine here, consider visiting the terrace bar just off the lobby before your meal; this open-air perch is the place to watch the sun fall over Hanalei Bay. With friendly, solicitous service and superb food – hamachi sashimi with shiitakes and a yuzu-soy glaze, roasted Kona lobster with glazed chestnuts and pepper butter – it's the ideal special-occasion dining destination.
Another exceptional choice for a superb, exquisitely prepared locavore-driven cuisine is  RumFire Poipu Beach (sheraton-kauai.com), which enjoys a dazzling setting on a promontory overlooking the sea at the Sheraton Kaui – try the fried Brussels sprouts with Portuguese sausage and spiced macadamia nuts, or local butterfish with a plank-grilled salmon with purple potatoes and cherry-tomato jam. This romantic restaurant is also well-regarded for its extensive cocktail menu and well-chosen wine list. Other Poipu culinary highlights include the Kauai outposts of two restaurant brands that have become legendary in Hawaii: Merriman's (merrimanshawaii.com), which serves farm-fresh, healthful regional cuisine, and Eating House 1849 (eatinghouse1849.com), the terrific plantation-inspired restaurant operated by renowned Hawaiian chef Roy Yamaguchi.
Up north, charmingly laid-back Hanalei is home to the Hanalei Taro & Juice Co. (hanaleitaro.com), a humble food truck (with a covered seating area) in the center of town that serves delicious and authentic Hawaiian specialties, such as Kalua pork tacos and laulau chicken, plus luscious and healthy taro-based fruit smoothies. Hanalei Coffee Roasters (hanaleicoffeeandteacompany.com) serves some of the best java on the island. And hip and sophisticated Bar Acuda (restaurantbaracuda.com) turns out delicious Mediterranean fare – it's owned by talented chef Jim Moffat, who ran some of San Francisco's hottest eateries in the '90s before moving to Hawaii. House-cured chorizo, roasted squid with chili oil and fresh lemon, and seared local ono fish with shaved fennel and a blood-orange reduction are among the delicacies here.
Kauai has no shortage spots specializing in tasty short-order fare and tempting snacks, including Papalani Gelato (papalanigelato.com) in Poipu, and Jo Jo's Anuenue Shave Ice in Waimea. Just north of Poipu, the Koloa Fish Market prepares super-fresh plate lunches and bento boxes to go (try the ahi poke bento) – they're perfect for a picnic. In Lihue, dive-y Hamura's Saimin is worth stopping by to sample hearty renditions of ramen-like saimin, a beloved traditional Hawaiian dish. Don't pass up the lilikoi (passion fruit) chiffon pie for dessert.
If you're driving through Kapaa, stop for a meal at Art Café Hemingway (artcafehemingway.com), which is run by a charming Eastern European couple, features beautiful artwork, and serves high-quality coffees and deftly prepared breakfast, lunch and dinner fare. Cozy and bustling Verde (verdehawaii.com) is a fun little Mexican restaurant in Kapaa, serving tasty blackened-mahimahi tacos and garlic-shrimp tacos.
Kauai has few nightspots, but just about anywhere on the island you'll be greeted warmly – and there's pretty good chance of bumping into "family" at most places. One spot that many LGBT folks frequent, especially during the "gay nights" held the first Saturday of each month, is Nawiliwili Tavern, near the Kauai Marriott. Also in Lihue, in a shopping center with the island's only bowling alley, Rob's Good Times Grill (kauaisportsbarandgrill.com) is Kauai's favorite sports bar – it's not exactly a gay hotspot, but it is friendly and fun.
Kauai has a nice range of accommodations in all prices ranges, from posh resorts to gay-friendly B&Bs. Poipu, on the south shore, has the greatest concentration of distinguished lodgings, including the aforementioned Sheraton Kauai (sheraton-kauai.com), which hugs a spectacular point on the ocean, and has a great pool where you can also rent private bungalows for the day, a stunning beach that's famed for snorkeling, and the outstanding restaurant RumFire. The Sheraton's prime setting has also made it a favorite resort for gay weddings.
The Grand Hyatt Kauai (kauai.hyatt.com) ranks among Kauai's most sumptuous full-service resorts - rooms have smart, contemporary furnishings and such cushy amenities as iHome stereos and beverage chillers. The Hyatt is also home to the superb Anara Spa – set amid lush gardens and waterfalls – as well as a top-notch golf course and several excellent restaurants.
If you wish to be close to Waimea Canyon, consider the charming and historic Waimea Planation Cottages (coasthotels.com), whose 61 private bungalows were built in the early 1900s for workers of a local sugarcane mill. They're situated around relaxing, tree-shaded grounds that fringe the ocean. It's a great option if you're seeking a laid-back, old-school Hawaii experience, but with comfy accommodations that include well-equipped kitchens, private lanais, and vintage plantation-style furnishings.  Also impressive and with a central location near the airport, the Kauai Marriott Resort (marriott.com) has the largest pool in the state and spreads across 800 handsomely landscaped acres and a fabulous beachfront. It's a favorite option of LGBT families, given all the kid-friendly resort activities and amenities.
Up the coast toward the north shore, lushly and secluded Mahina Kai B&B (mahinakai.com) is a lovely getaway and the island's only gay-exclusive lodging. The five rooms are beautifully – and distinctly – furnished, and the surrounding Japanese-inspired gardens and lagoon pool are the perfect places to relax and de-stress. There's a fine, uncrowded beach within walking distance.
And finally, on the north shore and with unparalleled views of Hanalei and the Na Pali coast, the ultra-swanky St. Regis Princeville (stregisprinceville.com) enjoys one of the most majestic locations in Hawaii. You enter this gorgeous property through a top-floor lobby – it's situated high on a bluff over the ocean – where you'll also find the inviting Halelea Spa and access to celebrated Kauai Grill and St. Regis Bar. Cushy rooms with panoramic views seemingly tumble down a hillside to the beachfront, where you can tan your hide around a large pool and open-air restaurant, or saunter out onto the beach. The surrounding Princeville resort is also home to the world-class Makai Golf Club, a number of condominium rentals, and another terrific lodging option, the Westin Princeville Ocean Resort Villas (westinprinceville.com). 
There aren't many places in the United States that suggest romance more palpably than the jewel of southeastern lowcountry, Charleston. This beautifully preserved bastion of pre-Colonial commerce lies at the confluence of the Ashley and Cooper rivers and is flanked by barrier islands famed for gated golf resorts and swanky condo complexes. Inland, you'll find some of the most over-the-top plantation homes, many of them now open for tours. But it's the city's historic heart, with its palm-shaded lanes and pastel-hued 18th- and 19th-century residences, churches and converted shipping warehouses that provide visitors with the uncanny sensation that they're strolling through a fairy tale.
What may surprise, either if you're a first-time visitor or you haven't been in the past decade or so, is that this rather button-down, traditional city of about 120,000 – the cultural heart of one of the country's most politically and socially conservative states – has a pronounced gay scene. Since same-sex marriage was legalized statewide in November 2014, the wedding-centric city has also hosted more than its share of gay nuptials and honeymoons.
Perhaps even more surprising is the recent ascent of Charleston (charlestoncvb.com) among the ranks of farm-to-table foodies, craft-beverage aficionados, edgy artists and hipsters. The northern end of downtown, particularly along Upper King Street, contains one of the coolest concentrations of chef-driven, locavore-minded bars and restaurants of any small city in the country. If you're in town for the weekend, do make a point of visiting the traditional attractions: the opulently decorated house-museums, antebellum churches and prominent military historic sites. But also set aside time to check out the new, independent-spirited side of this dynamic metropolis.
Friday Night
Stick around downtown your first night, supping at one of the dozens of superb restaurants in the central core, many of them set in historic homes. One favorite for both the stunningly prepared modern Southern fare and the gorgeous location inside a glorious 19th-century mansion is Husk (huskrestaurant.com), the domain of James Beard–winning chef Sean Brock. The farm-to-table menu changes often but has included buffalo-style pig's ear lettuce wraps with spiced peanuts, and slow-cooked heritage pork with red peas, farro and smoky tomatoes.
If it's late in the evening, and you're more in the mood for an expertly poured craft cocktail and some lighter snacks, venture into the cozy and hip Gin Joint (theginjoint.com), which serves delish cheese plates and tasty snacks like duck empanadas and hoisin-glazed pork buns. The Card Shark cocktail, with Mata Hari Absinthe, Fernet and smoked honey will warm your soul on a cool evening.
Saturday
Spend the better part of your first full day in town touring the downtown historic district. You might begin with a visit to the Historic Charleston Foundation, which sponsors several renowned events, including late spring's famed Spoleto Festival, and operates such noteworthy museums as Aiken-Rhett House and the Nathaniel Russell House. From the latter you can stroll to nearby Waterfront Park, with gardens and a promenade overlooking the Ashley and Cooper rivers.
Walk north along Meeting Street, known as Charleston's "Museum Mile," and you'll find one iconic attraction after another. The Charleston Museum, which opened in 1773, is a must, as are the gallery-hopping and shopping along Meeting, King and Bay streets. For a high-octane caffeine pick-me-up, drop by Collective Coffee (collective-coffee.com), a sleek, contemporary café serving single-origin pour-over coffees, along with a good variety of sandwiches, wraps and salads.
As sun falls over Charleston, plan an evening of exploring the city's emerging restaurant row along Upper King Street. You'll find some cool touring and tasting opportunities in this part of the city, too, including High Wire Distilling, where you can sample acclaimed spirits, like Silver Rum, Hat Trick Extraordinarily Fine Botanical Gin and Quarter-Acre Sorghum Whiskey. And at the upper end of the neighborhood, two craft breweries are worth a visit, Palmetto Brewing Co. (palmettobrewery.com) and Revelry Brewing Co. (revelrybrewingco.com).
A fun way of approaching the novel food scene on Upper King is by making a progressive meal out of the evening, stopping at a few hot spots, and enjoying an appetizer or two – along with drinks – at each one. Start at Kudu Coffee and Craft Beer (kuducoffeeandcraftbeer.com), which specializes in two of Charleston's favorite artisan beverages. Then move up King Street to O-Ku Sushi (o-kusushi.com), which serves both inventive sushi rolls as well as sashimi, crudo, green tea soba noodles and other izakaya-inspired treats; and the amusingly named Closed For Business (closed4business.com) "draught emporium," another top spot for interesting brews as well as decadent snacks, like poutine, beer-battered fish-and-chips and fried pork-cutlet sandwiches.
At see-and-be-seen Macintosh (themacintoshcharleston.com), sample the exceptional farm-to-table cooking of talented chef Jeremiah Bacon. The artful plates include a salad of fried duck skin with Asian pears and candied-ginger vinaigrette, and sautéed scallops with sunchokes and Brussels sprouts. Located in a landmark bank building, The Ordinary (eattheordinary.com) is a gorgeous space serving beautifully arranged portions of fresh seafood. Consider the Jonah crab toast with lemon and basil, and shad roe with bacon, potato and oyster mushrooms. Right next to High Wire, the Butcher & Bee (butcherandbee.com) is fun both for lunch or late-night (open on Friday and Saturdays only) snacking and drinking. This high-ceilinged space turns out addictively tasty fare from pulled-squash barbecue sandwiches to fried chicken with roasted tomatoes, garlic mayo and dill-verde sauce.
The neighborhood is also home to a pair of popular gay nightspots, the intimate and friendly Dudley's Pub (dudleysonann.com), where you can watch videos, shoot pool and mingle at a conversation-friendly decibel level, and nearby Pantheon (clubpantheon.net), a pulsing dance club open on weekends only. Although not specifically gay establishments, urbane and trendy bars like the retro-cool Belmont (thebelmontcharleston.com) and the endearingly dive-y Recovery Room Tavern (recoveryroomtavern.com) are fun hangouts for kicking off or winding down the evening, and they both draw diverse crowds.
Sunday
Start the day by crossing the modern Arthur Ravenel Jr. Bridge to Mount Pleasant, a suburb just east of the city with a lovely historic district. Enjoy brunch at Charleston's Cafe (charlestonscafe.com), which is set in a prosaic shopping center but serves anything-but-ordinary morning edibles, including lowcountry shrimp and grits with eggs, and a Southern Benedict with fried-green tomatoes and smoked bacon.
Mount Pleasant is a good jumping off point for exploring Boone Hall, one of the prettiest of the region's grand plantation museums and gardens, as well as the beaches of Sullivan's Island and historic Fort Moultrie, which is part of Fort Sumter National Monument. If plantation touring is high on your list of priorities, you might consider an alternate Sunday plan of driving northwest of the city along Hwy. 61 (Ashley River Road), where you can tour such legendary antebellum estates as Ashley Hall, Drayton Hall, Magnolia Plantation, and Middleton Place, which boasts the oldest formal gardens in the nation.
If you've spent the afternoon at Boone Hall or Sullivan's Island, backtrack to downtown Mount Pleasant for a stroll through the relatively new Shem Creek Park, a stunning wetland sanctuary traversed by more than 2,000 feet of boardwalk. Adjacent to the park, Vickery's (vickerys.com) is an enjoyable place to wrap up your walk. This gay-friendly bar and grill has stunning water views, making it a favorite spot for watching the sunset and sipping a cocktail accompanied by, perhaps, a bowl of Vickery's signature oyster bisque.
The historic village of Mount Pleasant is also home to one of the most romantic restaurants in the region, the Old Village Post House (mavericksouthernkitchens.com/oldvillageposthouse), which is part of the same illustrious group behind stellar eateries like High Cotton and Slight North of Broad. This handsome old inn also contains six charming, reasonably priced guest rooms. Weekend brunch and nightly dinner are both outstanding here, with dishes like Memphis dry-rubbed, bacon-wrapped pork tenderloin, and salt-and-pepper fried shrimp with smoky-blue sauce.
Where to Stay
One of Charleston's most playful and interesting accommodations, the Vendue Inn (thevendue.com) occupies a few connected 18th-century warehouse buildings near Waterfront Park and bills itself "Charleston's Art Hotel" – there's even an artist-in-residence program. The distinctive rooms feature original, often abstract contemporary works; many have large walk-in showers and gas fireplaces. Be sure to pop up to the sunny Rooftop for a cocktail, and to soak up some of the best views in the city.
The stately mid-19th-century Mills House–A Wyndham Grand Hotel (millshouse.com) is a pink beauty that rises seven stories above the central intersection of Meeting and Queen streets. The classic but contemporary rooms sparkle with Charleston-inspired reproduction antiques and modern perks like 36-inch LCD TVs and ergonomic work desks and chairs; some rooms have balconies, and others have French doors that open to the stunning hotel pool and sundeck. Enjoy breakfast in the sunny Fountain Courtyard of the Barbadoes Room restaurant, which is also a romantic venue for dinner and drinks.
The city has a few gay-owned B&B, including 4 Unity Alley (unitybb.com), a gem hidden down a tiny alley off historic Bay Street. This 18th-century former colonial warehouse contains airy, light-filled rooms with fine antiques. Keep in mind that the four guest rooms here often book up quickly, so it's wise to book well in advance.
Another of the swankiest addresses in town is the romantic Market Pavilion Hotel (marketpavilion.com), which is close to the riverfront and abounds with cushy furnishings and fine artwork. Grill 225 turns out delicious lowcountry steak and seafood. Around the corner, the five-story Harbourview Inn (harbourviewcharleston.com) is a handsome property with soaring ceilings, exposed-brick walls and four-poster beds (many accommodations overlook the Cooper River). The complimentary perks are many: Continental breakfast delivered to your room, afternoon wine and cheese, evening milk and cookies, local walking tours and Wi-Fi. 
February 2, 2015 - 8:03am
One of the largest cities in one of America's fastest-growing states, San Antonio (visitsanantonio.com) is also a land of exciting changes. The city has long been a favorite destination thanks to its attractive downtown River Walk and sterling museums, but in recent years San Antonio has also developed an increasingly innovative, hip and progressive culinary, design and arts scene, much of it centered on the impressive former Pearl Brewery complex, now a mixed-use neighborhood with cool shopping and dining. It's also begun to rival other major cities around the state – such as Houston, Dallas and nearby Austin – as a favorite getaway among gay and lesbian travelers.
There's much to see in this 400-square-mile metropolis, and there are fun things to do throughout the year, from the long-running Fiesta San Antonio in late April to the up-and-coming Culinaria wine and food fest in May to San Antonio's Pride Bigger Than Texas Festival held over July 4 weekend. Whatever time you choose to visit, here are tips on planning the ideal gay San Antonio weekend vacation.
Friday Night
On your first evening in town, stick around downtown and the River Walk, which abound with inviting restaurants, many with outdoor seating along this famed waterway. Good bets for dining include Kimura (kimurasa.com), a izakaya-style Japanese restaurant that turns out tasty pork-ginger gyoza and chashu ramen with pork belly, and trendy Ocho (havanasanantonio.com), at the LGBT-owned Hotel Havana. It serves delish pan-Latin tapas and creative cocktails and has a solarium-style dining room with lovely river views. There's also one LGBT nightclub downtown, the long-running Bonham Exchange (bonhamexchange.com), a multilevel complex with a huge dance floor.
Saturday
In the morning, spend some more time checking out downtown attractions, shopping and also the River Walk, which looks quite different by day. Be sure to check out La Villita, a nearby complex of more than two dozen arts and crafts shops; the Alamo (of course); and the new Briscoe Western Art Museum, which opened in the handsome former San Antonio Library following an $18 million revamp late in 2013.
Then venture north along the beautiful, and relatively uncrowded, Museum Reach span of River Walk, stopping by the stellar San Antonio Museum of Art, which is renowned for its strong collections of both Asian and Latin American works. Also take note of the new Tobin Center for Performing Arts – this architectural showcase presents Broadway touring shows, music concerts and performances by Ballet San Antonio, the San Antonio Choral Society, and Opera San Antonio.
You'll find excellent lunch options along Museum Reach, including the Luxury, whose kitchen occupies a converted freight container. Grab a seat in the large, shaded courtyard and enjoy a local beer and such downhome fare as pulled-pork and fried-chicken sandwiches, followed by fried Snickers bars with condensed milk. Just a bit farther up the River Walk, at Pearl Brewery, other great lunch spots include trendy Sandbar (sandbarsa.com), a seafood restaurant, and casual La Gloria (chefjohnnyhernandez.com), which is dedicated to interior Mexico–style street food.
As the day wears on, spend more time at what's become one of the most intriguing creative neighborhoods in Texas, the 20-acre Pearl Brewery District (the historic neighborhood just east, along Broadway, has also seen quite a lot of notable redevelopment). Built in the 1880s, the Pearl complex has morphed into an eco-friendly, mixed-use urban village rife with fine shopping, nightlife and dining as well as a state-of-the-art campus of the Culinary Institute of America and a new Kimpton lodging, Hotel Emma.
Browse the several diverting boutiques around here, breaking for artisan coffee inside the Local (localcoffeesa.com), a hip artisan roaster with a high-ceilinged contemporary sipping room. Or come down on Saturday morning to check out the outstanding Pearl Brewery Farmers Market, which runs from 9 a.m. until 1 p.m.
In the early evening, pop into one of the area's fun nightspots, such as Stay Golden Social House, a "boozeteria" with plenty of outdoor seating, run by the same team behind downtown's hipster-approved Brooklynite; or Tuk Tuk Taproom (tuktuktaproom.com), a lively lounge specializing in Asian-style street food and craft beers (the tamarind pork belly soup is a favorite). There's also one lovably divey gay bar in the neighborhood, the One-O-Six.
Outstanding dinner venues abound at the Pearl, with Cured (curedatpearl.com) among the hottest dining spots in central Texas. It's set in a modernly redesigned 1904 building and serves a tantalizing selection of charcuterie (jalapeño sausage, goat-citrus terrine, 120-day-aged pancetta), plus New Orleans-inspired meaty adventures like pork cheeks poutine and corned-beef tongue. Or consider NAO (naorestaurant.com), with its exhibition kitchen and curvy dining room. Operated by the Culinary Institute of America, this snazzy spot specializes in "new world flavors" – think mahimahi ceviche, Caribbean-spiced roasted pork belly and char-grilled octopus with cilantro pesto.
Following dinner, it's a short drive west to the cluster of gay bars in Tobin Hill. Here, just a few steps from one another, are several very popular gay bars, including the high-energy dance clubs Heat (heatsa.com) and Pegasus (pegasussanantonio.com), and the more laid-back Sparky's Pub (sparkyspub.com), which has a couple of patios and serves pub food too. In the same vicinity, check out Essence, a roadhouse-style bar known for its sultry male dancers; the Saint, which puts on some pretty fun and campy drag shows; and the Annex (theannex-satx.com), a low-keyed gay neighborhood bar with a strong leather-and-Levi's following.
Sunday
This is a good day to head in the opposite direction along the river from yesterday's explorations, toward hip Southtown and historic King William, two eclectic neighborhoods just south of downtown, and then continuing on – by car or, better yet, bicycle – the Museum Reach stretch of River Walk to visit the string of San Antonio missions.
These neighborhoods have some terrific brunch options, including Fruteria (chefjohnnyhernandez.com), the Southtown outpost of the small empire of superb modern Mexican restaurants run by charismatic chef Johnny Hernandez. Grab a seat on the patio and enjoy one of the delicious tortas, or seasonal fruit blends. At night, the restaurant serves wonderful cocktails, premium tequilas, and creative botanas (snacks), from gorditas to crab-jalapeño–stuffed chile rellenos. Also consider Feast (feastsa.com), located in a natty Southwest-meets-Deco building and serving terrific contemporary American fare with Mediterranean influences (for brunch try the "eggs in hell" – three baked eggs in a spicy tomato sauce with grilled bread and charred-lemon polenta).
Over the past several years, the River Walk has been extended from three to 15 miles, with Museum Reach added in 2009 – and the Mission Reach opened in fall 2013 – and providing access to the city's four Spanish Colonial missions. Collectively operated as San Antonio Missions National Historic Park (nps.gov/saan), this string of religious structures created in the 18th century begins with the iconic Alamo, downtown. As you continue south, you'll come to Mission Conception, the especially picturesque Mission San Jose (also home to the park's official visitor center), Mission San Juan and Mission Espada. From downtown, it's about a 10-mile car or bike ride – you can rent from the B-cycle program (see sanantonio.bcycle.com for a map of stations) or Blue Star bike rentals in Southtown.
In the evening, return to Southtown for dinner and drinks at one of the hip venues in these parts, such as the convivial Friendly Spot (thefriendlyspot.com), with its large pet-friendly outdoor seating area and encyclopedic selection of beer. Hot Joy (hotjoysa.com), a sister to the also excellent Monterey (themontereysa.com) bar and restaurant, specializes in pan-Asian made-for-sharing fare, such as smoked-brisket ramen and migas-fried rice with tortilla chips, tomatillo jaew, egg, cheddar and cilantro.
If you have a little time or are staying in San Antonio more than a couple of days, keep in mind the many other outstanding attractions in the city. Highlights include the McNay Art Museum, the San Antonio Botanical Garden and Brackenridge Park, which is also home to the San Antonio Zoo, Japanese Tea Gardens and Witte Museum.
Where to Stay
The Pearl Brewery District receives its first hotel in spring 2015: the 146-room Hotel Emma (thehotelemma.com), a snazzy boutique property operated by LGBT-popular hotelier Kimpton that's been created inside the 1880s brew house (it's named for Pearl Brewery founder Otto Koehler's wife, Emma). The historic St. Anthony Hotel (thestanthonyhotel.com), part of Starwood's Luxury Collection following a $25 million restoration, is another hot spot. This 1909 beauty on downtown's Travis Park has contemporary, art-filled rooms and a new restaurant created by the LGBT restaurateur behind Southtown's Feast, Andrew Goodman.
Hotel Contessa (thehotelcontessa.com) is notable for its handsome, spacious rooms with floor-to-ceiling river views and 12-story atrium lobby. The rooftop pool is a lovely place for a swim or a soak in the hot tub while admiring downtown skyline views. Set inside a former saddlery on the River Walk, the Mokara Hotel (hmokarahotels.com) occupies a former saddlery and has 99 of the most luxurious in the state, as well as a cushy spa and fantastic dining in its Ostra restaurant.
A hip, intimate hotel set inside a 1914 Mediterranean Revival former boarding school, the 28-room Havana Riverwalk Inn (havanasanantonio.com), opened by Austin-based lesbian design maven and hotelier Liz Lambert, is on a gorgeous stretch of River Walk, right beside the new Tobin Center for the Performing Arts, and it's home of the sceney restaurant and bar Ocho.
Excellent, gay-friendly smaller options include the Arbor House (arborhouse.com), run by innkeepers Ron Stinson and Adolph Garcia, which has seven spacious suites (including a large Jacuzzi suite) and a great location near La Villita and the River Walk, and Eva's Escape at Gardenia Inn (evasescape.com), a stately white-columned mansion with a double veranda and stunningly appointed rooms. It's on a quiet residential street in historic King William, near several lively restaurants along South Alamo Street. The stupendous breakfasts served each morning, such as baked French toast with praline topping, have earned this elegant hideaway plenty of fans.
January 5, 2015 - 10:15am
Since its rapid transformation in the early 1990s into one of the world's leading gay vacation destinations, Fort Lauderdale has continued on a steady path of exciting new developments. Swanky contemporary hotels have risen along its neatly manicured beachfront, which is within a short walk of several excellent gay resorts. The small city of Wilton Manors, which fringes Fort Lauderdale to the northwest, has become a vibrant hub of LGBT-popular nightlife, dining and shopping. And a growing number of impressive arts and historic attractions have helped turn Fort Lauderdale into one of Florida's premier arts and cultural hubs.
High season in Fort Lauderdale (sunny.org/lgbt) spans from late autumn to early spring, but Broward County is more of a year-round destination than you might think. As the region has become a top getaway among LGBT travelers, many gays and lesbians of all ages – from recent college grads to retirees – have moved here full-time. The acclaimed gay men's resort Pineapple Point is currently developing an upscale retirement complex in an up-and-coming corridor of downtown Fort Lauderdale – plans are for this flagship residence to serve as a prototype for similar communities throughout the country. And throughout the city, neighborhoods, businesses and hotels tend to draw a diverse crowd.
Fort Lauderdale also has a number of LGBT-driven events throughout the year: Pride Fort Lauderdale in late February and early March, Stonewall Pride in Wilton Manors in June, the transgender Southern Comfort Conference in late September and early October, the Fort Lauderdale Gay and Lesbian Film Festival in mid-October, Wicked Manors over Halloween, and Gay Days Fort Lauderdale week in late November.
What to See and Do
Fort Lauderdale has several notable attractions of particular interest of gay visitors. Adjacent to the city's public library in the historic Victoria Park neighborhood, the Stonewall National Museum & Archives contains an amazing trove of artifacts and exhibits on LGBT history (the lending library and archives contain countless gay publications, from vintage erotica to community newspapers). The Stonewall Museum has a second gallery in the heart of Wilton Manors, with compelling exhibits on everything from the battle for transgender civil rights to timeline of key moments in LGBT history.
Opened in fall 2014 in Wilton Manors, the World AIDS Museum and Educational Center is both a moving tribute to those who have battled with the disease and an eye-opening, informative awareness center on HIV and AIDS. Exhibits here trace the beginnings of the disease, and how public perceptions and media coverage about it have changed over the years. Additionally, it may not sound like a conventional attraction, but the Pride Center at Equality Park in Wilton Manors is well worth visiting – it's one of the more impressive LGBT community centers in the country, and a great resource for learning about the local gay scene.
As for the region's many other appealing draws, Fort Lauderdale is one of the state's top shopping destinations. Fans of retail should definitely visit the famed Sawgrass Mills Mall, whose more than 300 designer outlets include Giorgio Armani, Barneys New York, Kate Spade, Michael Kors and Steve Madden. Or just stroll along lovely Las Olas Boulevard, which abounds with fashion boutiques and jewelry shops.
It's also a city built on and around water, and there are myriad opportunities for sightseeing cruises, fishing charters, sailing trips, scuba-diving excursions and kayak tours (many of the local accommodations work closely with area boating and sailing outfitters). Something of a hidden gem, Hugh Taylor Birch State Park is close to the beach and makes an especially nice spot for canoeing and jogging (you can also rent Segways and jet skis from M. Cruz Rentals). Also, be sure to visit the nearby Bonnet House Museum & Gardens, which comprises a grand historic estate filled with art and acres of lush gardens.
In the vibrant downtown corridor, you can catch a play or concert at the superb Broward Center for the Performing Arts. The Museum of Art Fort Lauderdale is also a great place to while away the occasional rainy afternoon. It's known for its first-rate collection of works by leading American impressionist painter William Glackens.
Where to Eat and Play
Broward County's dining scene has evolved rapidly in recent years. For creative contemporary cuisine, check out stylish Johnny V (johnnyvlasolas.com), helmed by celeb chef Johnny Vinczencz. At this hip Las Olas Boulevard restaurant, you might try jerk-seared local black grouper or duck served three ways (foie gras, leg of confit and breast). At the trendy W Hotel, sup on choice chops and creatively prepared seafood at Steak 954 (starr-restaurant.com), part of the buzzy culinary empire of celeb chef Stephen Starr. A casual option overlook Fort Lauderdale Beach, airy Casablanca Café (casablancacafeonline.com) has a breezy patio and serves reasonably priced American and Mediterranean fare, including delish lobster rolls.
The outstanding Market 17 (market17.net) is just a short drive from the beach and serves deftly plated, farm-to-table cuisine – it's become quite celebrated for its intriguing "Dining in the Dark" option. Downtown's Tap 42 Bar & Kitchen (tap42.com) offers an outstanding craft-beer list along with well-prepared gastropub fare. For a lavish night out, look to Lobster Bar Sea Grille (buckheadrestaurants.com/lobster-bar-sea-grille), a see-and-be-seen downtown brasserie that serves superb seafood and has one of the city's best wine lists. For stellar Pan-Asian food, head to Dapur (dapurkitchen.com), a trendy gay-date spot with a lively bar area that serves colorful cocktails (the lycheetini being a favorite). Chef Edi Mulyanto turns out delicious modern cuisine with a Thai, Indonesian and Malaysian bent.
Owners of the former lesbian bar New Moon, Nancy Goodwin and Carol Moran operate one of the most enjoyable and romantic restaurants in Wilton Manors, 13 Even (13-even.com) which earns praise for its menu of reasonably priced, creative small plates, from smoked-salmon tostadas to crisp pork belly tossed with feta and watermelon. On the same block, Mind Your Manors is a convivial spot for filling and tasty pub fare. The neighborhood is also home to Rosie's (rosiesbng.com), a dishy and very social spot for casual pub fare, including huge burgers, sandwiches, coconut-shrimp platters, and more. The Naked Grape (nakedgrapewinebar.com) is a handsome little wine bar with light food and a well-curated selection of vino from all over the world.
Fort Lauderdale pulses with gay bars, with the lion's share of them in Wilton Manors. The handsome two-level Manor (themanorcomplex.com) complex can be a fine place to kick off the evening or dance into the wee hours. This snazzy space has a nightclub aglow with crystal chandeliers plus myriad bars and a kitchen serving inventive tapas. B. Bar & Grille (billsfillingstation.com), formerly Bill's Filling Station, is popular especially among the 35-and-older crowd. There's food, excellent cabaret and saucy drag shows, and four different bars. Another good bet for piano cabaret is Tropics (tropicsofwiltonmanors.com), which offers above-average dinner fare too.
Sidelines Sports Bar (sidelinessports.com) draws a great mix of folks to shoot pool and watch sports on TV, the Village Pub (villagepubwm.com) has a nice little dance floor, a good-size patio, and a stage with drag shows; and the hip and stylish Progress Bar (progressbarsouthflorida.com) is a friendly neighborhood spot with great dancing on weekends and a strong following among both men and women. Hunters (huntersftlauderdale.com), Rumors, and the Alibi are slick, happening video and dance bars nearby, all three of them good places to meet locals and converse with friends. And leather bars like the dungeonesque Ramrod (ramrodbar.com), with its Tom of Finland artwork, and Cubby Hole (thecubbyhole.com), always draw dedicated crowds of butch guys. At just about any of the bars, themes changes nightly - from karaoke to country-western dancing to drag bingo.
Where to Stay
Many of the top gay resorts in Fort Lauderdale are just two or three blocks in from the beachfront (and the popular gay beach at Sebastian Street and A1A). One of the classiest and most relaxing options, the Grand Resort (grandresort.net) stands out for its warm and professional service and thoughtful amenities, which include a first-rate day spa (open both to non-guests and those staying on property) offering a wide range of massage and body treatments. There's also a gym, a large pool with a swimsuits-required policy, a more secluded courtyard and sunning area with a hot tub that's clothing-optional, a nice gym, and some of the largest suites of any gay resort in town. Some of the 33 units have full contemporary kitchens, separate living rooms and private outdoor showers.
With its dapper Mid-Century Modern design, the Royal Palms Resort & Spa (royalpalms.com) exudes sexiness. The thoughtfully maintained resort has an "all-welcome" policy but caters heavily to the LGBT market. There are 66 rooms with a sleek and unfussy aesthetic and such cushy perks as iHome docks and rain-forest-style glass showers, close proximity to the beach, a scene-y bar and grill, and a luxe spa, and a well-designed fitness center with yoga classes available. Another good bet is the sister property, the Lush Royale (lushroyalefortlauderdale.com), formed when two neighboring resorts (the former Royal Palms and Orton Terrace) combined. The 28 upscale units here are eclectic and attractive, ranging from compact Junior Queens with small kitchenettes to Superior Royal Suites with king beds, huge living-dining areas and full modern kitchens. There are two pools and ample, clothing-optional sunning areas. The same owners also operate the nearby Grand Palm Plaza (grandpalmplaza.com) and Elysium Resort (elysiumresort.net).
Another good bet in the neighborhood is the complex comprising three neighboring, mid-priced gay resorts: the Worthington (theworthington.com), Alcazar Resort (alcazarresort.com) and Villa Venice (villavenice.com). Together, these centrally located, clothing-optional hideaways rank among the cruisiest resorts in South Florida, with playful vibes, energetic fun-in-the-sun patrons, and attractive grounds for sunning and swimming au naturale.
For pure luxury, it's hard to beat Pineapple Point (pineapplepoint.com), a handsome 1930s spread that has the grace and style of a Caribbean plantation, and quite possibly the cushiest suites of any gay resort in the country. With top-notch service and gorgeous grounds spread across two tropically landscaped acres, this compound is slightly inland, in the desirable Victoria Park neighborhood, and offers standard rooms, cozy cottages and fabulous villas – the latter with rooftop decks, big kitchens and other perks.
One of the closest resorts to the many gay bars and restaurants in Wilton Manors, Cabanas Guest House (thecabanasguesthouse.com) appeals to social butterflies (note the10-man Jacuzzi and eight-man aromatherapy steam room). The posh rooms have goose-down comforters, DVD players and CD/MP3 players. There's also a full-service day spa. Also in the heart of Wilton Manors, the Calypso Inn (calypsoinnwiltonmanors.com) is a fun little B&B with four charming, reasonably priced rooms.
Fort Lauderdale also has some terrific, gay-welcoming mainstream resorts. The chic W Fort Lauderdale (wfortlauderdalehotel.com) cuts a dashing profile along the Route A1A beachfront, its sybaritic Bliss Spa offering deluxe treatments, and its large pool hosting fab parties all weekend; rooms are decked out with state-of-the-art media centers and supremely comfy beds. The nearby Atlantic Hotel & Spa (atlantichotelfl.com) offers unobstructed ocean views from the majority of its spacious, airy rooms, all of them with Bose CD-stereos, lovely patios and small kitchens. Other mainstream properties along the beachfront with fine views and attractive rooms include the Westin Fort Lauderdale Beach Resort (westinftlauderdalebeach.com), the Courtyard Fort Lauderdale Beach (marriott.com), the Hilton Fort Lauderdale Beach (hilton.com) and the Ritz-Carlton Fort Lauderdale (ritzcarlton.com).
December 1, 2014 - 12:44pm
It's hard to name a gay resort destination in North America that has more going for it than Puerto Vallarta, a fast-growing city on the Pacific Coast's fabled Mexican Riviera. PV's historic downtown (El Centro) is hemmed in by the verdant slopes of the Sierra Madre Mountains. Just south of El Centro, in Zona Romantica, you'll find a bustling gay scene comprising trendy cocktail bars, hopping dance clubs, scene-y open-air restaurants, and inviting hotels and condo rentals just steps from the beach. Despite its growing popularity, the city is still a relative bargain compared with the United States, the Caribbean, and even some other resort areas in Mexico. On just about any budget, you can eat well and stay in a comfortable room near the beach in this inviting, friendly destination that's now one of the hottest LGBT resort communities in the world – a favorite place both to vacation and retire to.
With a population of roughly 255,000, Puerto Vallarta (visitpuertovallarta.com/travel-guide/lgbt-friendly) no longer bears much resemblance to the carefree and isolated fishing port that provided the 1963 filming location for the critically acclaimed film adaptation of Tennessee Williams's play The Night of the Iguana. In recent years, PV has developed into a world-class gay mecca. Resources for LGBT visitors are many, including GayGuideVallarta.com and GayPV Magazine (gaypv.mx).
Zona Romantica is a compact patchwork of hilly lanes tucked beneath the Sierra Madre foothills. The neighborhood fringes Los Muertos Beach, and narrow auto and pedestrian bridges connect the district with El Centro. The beachfront location of Zona Romantica, as well as its elegantly faded veneer and historic charm, accounts for its ever-increasing draw among gay visitors and bohemian types. It's a neighborhood that celebrates its diversity – everyone is welcome, but especially during the bustling high season (from about December through April), certain blocks of Zona Romantica seem about as gay as any in North America.
There are a few more general attributes that further enhance Puerto Vallarta's standing. Again, it's reasonably priced. Dinner entrées at top restaurants rarely cost more than $20 and often run for $10 to $15. Hotel rates, cab rides, cocktails, fashionable clothing and handcrafted gifts also tend to come at fair prices, although it's definitely possible to find high-end exceptions.
It helps to understand Spanish, but you can get by easily in PV speaking only English. And finally, this city set stunningly in the center of Bahia de Banderas (the largest natural bay in Mexico) enjoys a spectacular climate. The city is generally dry and breezy with temperatures in the 80s, the exception being the summer rainy season (generally June through September), when highs often reach the low 90s and humidity can sometimes be oppressive. Puerto Vallarta receives far fewer visitors off-season, and some businesses close for extended periods in summer.
If you're a fan of outdoor activities or are interested in some of the many side excursions available from this area, book a trip through the gay-friendly outfitter Vallarta Adventures. One excellent tour option is the company's thrilling Extreme Zip Line Adventure, which is a tree-top canopy tour, off-roading trip and waterslide experience in a high-jungle adventure park. The company also offers tours of secluded beaches like Yelapa and Las Caletas, as well as whale-watching, scuba and snorkeling, sailing trips, and up-close encounters with bottlenose dolphins and sea lions.
Where to Eat
PV has dozens of outstanding restaurants as well as a slew of hip bars, and the scene is continuously evolving. At the upper end, don't miss Cafe Des Artistes (cafedesartistes.com), a sumptuous spot with refined service and deftly prepared contemporary cuisine. For authentic regional Mexican food served in a charming, warmly furnished dining room, try lesbian-owned El Arrayan (elarrayan.com.mx), where you can sample everything from duck carnitas in an orange-guajillo chile sauce to roasted crispy Oaxacan crickets sautéed with tomatillo-avocado salsa.
Along the beachfront, Daiquiri Dick's (mdi.ddpv.com) is a picturesque spot for a leisurely brunch or lunch, with or without a potent cocktail, and overlooking the water on the north side of El Centro, open-air El Barracuda (elbarracuda.com) serves superb, fresh-caught seafood, such as shrimp al pastor tacos and blacked rare-seared tuna steak.
Just inland from Zona Romantica, the less-touristy Colonia Remance has a few wonderfully romantic restaurants, including the famed Red Cabbage Cafe (redcabbagepv.com), an art-filled dining room that's known for some of the best moles and other classic Mexican dishes in the city, and dapper Casa Naranjo, which serves consistently delicious and inventive Nuevo Latino fare.
You'll find dozens of mostly casual, affordable spots in the heart of Zona Romantica, many along the "restaurant rows" of Basilla Badillo and Olas Altas, which intersect a block from the beach. Reliable options along the latter street include Café San Angel for burgers and tapas, Kabuki Sushi Bar for Japanese food, and The Swedes Bar & Bistro for European classics with a Scandinavian flair. Along Basilla Badillo, check out intimate and lively Joe Jack's Fish Shack (joejacks-fishshack.com) for first-rate seafood, El Mole de Jovita for expertly prepared regional Mexican cooking, and Boccon di Vino for modern Italian fare in a romantic dining room.
Puerto Vallarta's Gay Nightlife and Beach Scene
When the mood to socialize strikes you, keep in mind that dance clubs don't get going until late, and they keep pulsing into the wee hours. Socializing over beer or cocktails begins for many visitors quite early in the day at, for instance, one of the beach clubs along scenic Playa Los Muertos (a few blocks south of Zona Romantica's stunning pier, which glows at night with colorful lighting). At three très gay spots along here – Blue Chairs (bluechairs.com), Mantamar (mantamarvallarta.com), and Ritmos Café (ritmoscafe.com) – you can enjoy hobnobbing, dining and eating while lazing under a thatched beach umbrella overlooking the sea.
Early in the evening, head to one of lounges and cocktail bars along Olas Altas and the surrounding blocks. These include convivial lesbian-owned Apaches bar, the jazz club and piano cabaret Garbo, trendy Sama bar, festive La Cueva Cantina and friendly Los Amigos. One of the swankiest and trendiest bar options, La Noche is a gorgeous bi-level lounge with a highly popular upstairs patio. Across the street, CC Slaughters is a hot spot for late-night dancing, and Spartacus Spa is the top gay sauna in the city. And within a few steps of this bustling intersection, you'll also find Paco's Ranch, a fun option for late-night drinking and dancing; and Wet Dreams, which, as its name suggests, showcases buff dudes stripping in showers. Fans of male strippers should also be sure to check out the hot roster of talent at Antropology club, which is a few blocks north.
Other nightlife highlights include one of the campiest bars in town, Reinas, which is decorated as an homage to the British royal family; the Act II Stages complex (actiientertainment.com), which includes a theater, piano bar,and cabaret that presents both local and internationally renowned touring acts, musicals and concerts; Diva's, with its well-attended, dishy drag shows; and Club Enter, which is arguably the top PV venue for late-night dancing, with an emphasis on electronica.
Where to Stay
In Zona Romantica, visitors can choose from a nice mix of gay-friendly options. If you're on a budget and seek a clean, comfortable and friendly gay property in the center of the action, check into the 28-room Hotel Mercurio (hotel-mercurio.com), which is just steps from many gay bars and restaurants (and two blocks from the beach), and offers compact but pleasant rooms and a youthful, social vibe – there's always plenty of frolicking going on around the pool, and the staff is super-friendly. A handsome, contemporary property that's also in the center of the action, Olas Altas Suites (olasaltassuites.com) has three types of reasonably priced units, all of them with full kitchens, flat-screen TVs and attractive, well-chosen furniture. The best units have balconies. A short walk north of Zona Romantica in the historic Old Town, gay-owned Villa David (villadavidpv.com) is the only clothing-optional men's property in PV. This historic hacienda with a tree-shaded pool and courtyard has 10 beautifully appointed rooms – the vibe here very much captures the city's Spanish Colonial heritage.
Puerto Vallarta is also home to one of the most alluring, dramatically situated gay resorts in the world, the stellar Casa Cupula (casacupula.com), which excels as much at its stylish accommodations as it does at its staff, who are friendly, knowledgeable and charming. The 20 rooms range from cozy, more economical rooms to ultra-plush suites with magnificent ocean views and private soaking pools. The on-site restaurant Taste (taste.com.mx) serves outstanding Latin-Asian-Mediterranean–fusion fare and is popular both with hotel guests and visitors staying in town. Facilities include a well-stocked gym, a pool and a large open-air lounge with adjacent computer room. The property tumbles down a hillside high above Zona Romantica, a 15-minute walk from the gay beach.
Most gay travelers opt to stay in or near Zona Romantica, but if you'd prefer to chill out at a large mainstream resort that's a bit far from the fray, you'll find plenty of swanky options north of downtown, around the marina. The stylish Westin Resort & Spa (starwoodhotels.com/westin) occupies a gorgeous stretch of beachfront. A 45-minute drive up the coast in a once-sleepy fishing village that's now a chic resort, the Four Seasons (fourseasons.com/puntamita) is one of the most luxurious getaways on Mexico's Pacific Coast. This secluded compound of beautifully appointed casita-style rooms is perfect for a special getaway. Amenities include an inviting spa, two outstanding golf courses, plus tennis, uncrowded beaches, stunning pools and fine restaurants.
The Four Seasons is still close enough to Puerto Vallarta to venture in for dinner or clubbing, and it's just a quick 30-minute hop down the coast from the laid-back surfing village of Sayulita, a bohemian, artsy community with a growing LGBT following and even a couple of gay-owned vacation retreats, including chic Casa Brava (casabravasayulita.com) guest house and inviting, eco-conscious Xocotla (xocotla.com), a bluff-top hideaway with four inviting apartment.
September 28, 2014 - 10:13pm
If you've been keeping up with the country's most buzzed-about hipster destinations of late, you've probably heard Asheville mentioned in the mix, perhaps alongside cities like Austin, Brooklyn, and Portland, Ore. This relatively small mountain metropolis in western North Carolina has long been a creative-spirited, relatively progressive island in one of the nation's more socially conservative regions. LGBT-owned businesses, top-notch art galleries and furniture studios, along with inviting Victorian and Arts and Crafts-style inns – and independently owned shops, music clubs, theaters and cafes – have thrived here for decades, but more recently, the Asheville has cultivated an urbane, artisan-driven food and drink scene that's particularly impressive for a city with just around 85,000 residents.
With a fairly reasonable cost of living and a moderate climate, Asheville (exploreasheville.com) is becoming a popular place to relocate among not just hipsters but all sorts of professionals of all ages, many from larger and more crowded cities. Additionally, young college grads are moving in at a steady pace – something that seldom happened in Asheville before the city began to undergo a renaissance a couple of decades ago. This leafy, hilly community just a 2-hour drive from Charlotte, a 3.5-hour drive from Atlanta and a 4.5-hour drive from Nashville has become a top weekend destination, too, with a sizable gay following. 
Downtown Asheville rests like a saucer balanced precariously amid the slopes of forested hills and mountains. It's an impressively preserved city, with dozens of fine old buildings, many of them striking Art Deco beauties. The surrounding Blue Ridge Mountains account for much of the region's appeal – it's an hour's drive west to reach Great Smoky Mountains National Park. You can also navigate a stretch of the winding, scenic Blue Ridge Parkway, which passes right through the center of Asheville on its way north toward Virginia. Many other state parks and forests are within a short drive, and right in the city you can appreciate nature with a hike through the 10-acre Asheville Botanical Gardens or the 434-acre North Carolina Arboretum.
The downtown area is great for strolling – it's also quite hilly, though, so prepare to get some exercise. Be sure to stop by the Asheville Art Museum, which has a celebrated collection of contemporary American works, and if you're a fan of modern American literature, don't miss the Thomas Wolfe Memorial, which includes a visitor center and the boarding house in which the author of You Can't Go Home Again grew up.
Almost every visitor to Asheville pays a visit to the Biltmore Estate (biltmore.com), one of America's few true castles. The 250-room mansion and resplendent grounds were commissioned by the phenomenally wealthy railroad tycoon George Vanderbilt and executed by Richard Morris Hunt in 1895. Touring the mansion's grandiose, if rather solemn, interior can feel a bit overwhelming, especially on a sunny day, but the 8,000-acre property's outdoor features are arguably its greatest draw - you could easily spend the day sauntering along the 2.5 miles of paths through the gorgeous manicured gardens, or along the many more rugged trails through dense woods and open meadows. Other highlights include the Biltmore Winery, the working dairy farm at Antler Hill Village, and the Outdoor Adventure Center, where you can book a wide range of activities, from river float trips to bike excursions. Right on the property, the luxurious, 213-room Inn on Biltmore Estate offers swank accommodations, and nearby Biltmore Village abounds with upscale shops and restaurants.
A little southwest of downtown and northeast of Biltmore Estate, you'll find one of Asheville's more recent developments, the rapidly evolving River Arts District (riverartsdistrict.com), which is home to both new buildings and converted industrial spaces now filled with art galleries and studios, as well as a handful of cool restaurants and nightspots. The neighborhood extends north along Lyman Street from across the river from French Broad River Park all the way to the I-240 bridge, with plenty of businesses on both sides of the railroad tracks, which bisect the neighborhood.
With its rapidly emerging culinary scene, Asheville has become a favorite foodie hub. Highlights are many, but here are a handful of notables. Chef-owned by a team who trained with famed Spanish elBulli chef Ferran Adrià, Cúrate (curatetapasbar.com) is one of the hottest spots in town, turning out authentic tapas with creative twists – consider the Catalan sausage bocadillo (baguette sandwich), or the tender skewered lamb marinated in Moroccan spices. The owners also operate the trendy and eclectic restaurant and cocktail lounge, Nightbell (thenightbell.com), just around the corner. Another top table is Rhubarb (rhubarbasheville.com), a sleekly swish bistro helmed by chef John Fleer and situated across from the Asheville Art Museum. Favorites from the contemporary Mediterranean menu include rabbit-leek rillettes, octopus a la plancha, and charmoula-grilled flat-iron steak. A snazzy spot specializing in locavore-minded cuisine, Table (tableasheville.com) has an intimate, insider vibe and serves tempting victuals like duck confit with carrots, fennel kraut and medjool dates in its handsome street-level dining room. Head upstairs to the bar, Imperial Life (imperialbarasheville.com), for lighter late-night snacking and old-school cocktails.
Set inside one of Asheville's landmark 1920s buildings, the Grove Arcade, you'll find a wonderful wine bar and tap room, Sante (santewinebar.com). On the other side of the arcade, Carmel's Restaurant and Bar (carmelsofasheville.com) specializes in contemporary seafood and American fare and has a handsome little dining room plus plenty of seating outside along the sidewalk. Next door, you can browse thousands of new and used tomes and sip bubbly at the whimsical Battery Park Book Exchange & Champagne Bar (batteryparkbookexchange.com).
Other good bets around downtown include Limones (limonesrestaurant.com) for mod California-Mexican fare (the weekend brunch is particularly popular); Chai Pani (chaipaniasheville.com), a purveyor of cheap and delicious Indian street food, such as kale pakoras, spicy lamb hash, and bhel puri, a traditional puffed-rice snack; and Wicked Weed (wickedweedbrewing.com), a rambling brewpub on two levels producing outstanding craft beer and great bar food too. 
In the hip River Arts District, stop by Wedge Brewing Company (wedgebrewing.com) not just to sample fine brews but also to nosh from the several excellent food carts – the rotation changes daily (El Kimchi, which appears Mondays and Saturdays, is a highlight, serving Korean-Mexican fusion fare). There's also live music and, during the warmer months, an outdoor cinema. A bit south along bustling Depot Street, the Junction (thejunctionasheville.com) serves delectable Southern comfort fare (pan-seared peaches, sweet-tea-brined fried chicken), while airy and contemporary Blue Kudzu (bluekudzusake.com) is one of the nation's premier sake breweries and also a source of outstanding Pan-Asian fare, such as crisped-pork-belly ramen and kimchi Rueben sandwiches.
A neighborhood very much on the rise and becoming increasingly popular with the LGBT set, West Asheville is a short hop from downtown and is home to a handful of inviting, laid-back eateries, including Biscuit Head (biscuitheads.com), where you can tuck into a plate of fluffy biscuits prepared in a variety of ways (sweet potato-coconut gravy, with fried green tomatoes and poached eggs); and Oyster House Brewing (oysterhousebeers.com), a fun little neighborhood spot that specializes in Southern pub fare.
Good spots for casual snacking include City Bakery Café (citybakery.net), an airy space with a few tables on the sidewalk and superb sandwiches; Dobrá Tea (dobrateanc.com), a Czech-inspired tearoom with tasty Middle Eastern food; and funky Izzy's Coffee Den (izzyscoffeeden.com), which fits the bill for high-octane java, craft beer and simply hanging out and people-watching. French Broad Chocolate Lounge (frenchbroadchocolates.com) handcrafts exquisite truffles, caramels and bars of chocolate – you can also sip wine, beer and coffee in a cozy lounge space. One of the most venerable indie bookstores in the South, Malaprops Bookstore and Café (malaprops.com) has a large LGBT section and a nice little coffeehouse inside. And also very popular with the gay crowd, Edna's of Asheville (ednasofasheville.com) is on the north side of the city and serves terrific coffee drinks, breakfast fare and sandwiches. 
Virtually all of Asheville's nightspots, including many of the drink-centric restaurants described above, have a strong following with the LGBT crowd. There are also a few predominantly gay hangouts, the largest being the Grove House Entertainment Complex (thegrovehouse.com), a rambling building that contains Scandals dance club, the Boiler Room live-music venue, and Club Eleven on Grove for events and parties. Nearby Club Hairspray (clubhairspray.com) is beloved for its kitschy interior, entertaining drag (queen and king) shows and friendly vibe. Drawing a mostly male crowd, O'Henry's (ohenrysofasheville.com) is a fun neighborhood hangout that's particularly popular with bearish types and fans of leather – the bar has been going strong for more than 35 years and adjoins neighboring dance bar, the Underground. Downtown bar-hoppers might want to stop by Smokey's After Dark (facebook.com/smokys.afterdark), a laid-back, no-attitude neighborhood spot that's fun for shooting pool and meeting locals. And women-owned Tressa's (tressas.com) – with live jazz and blues, comedy, and dancing – has a loyal following in the LGBT community.
Asheville has several inviting, gay-friendly inns, from upscale historic mansions to cozy Arts and Crafts cottages. The city's most renowned accommodation is the Grove Park Inn Resort and Spa (groveparkinn.com), one of the nation's foremost historic hotels, which has been fully restored to its original 1913 Arts and Crafts design. You'll find one of the South's most impressive spas on the lower level, and restaurants and bars affording panoramic views of the city skyline and surrounding mountains. Among the dining options, don't miss Edison, which serves tasty small-plates fare (goat-cheese flatbread, an awesome burger with bacon jam and American cheese) and terrific craft beers. Even if you don't stay here, sitting in the grand lobby before the enormous fireplace, and looking out over the countryside from the terrace is a real treat.
Herb and rose gardens surround the 1889 shingle-style White Gate Inn & Cottage (whitegate.net), one of the city's gay-owned properties (commitment ceremonies are frequently held here). The romantic, antiques-filled rooms have Wi-Fi and flat-screen TVs with DVD and CD players – they're named for poets (Whitman, Wilde, Sandburg, etc.), and one cottage has a gas fireplace and full kitchen. Also gay-owned and a 10- to 15-minute drive north of downtown, the 1847 Reynolds Mansion B&B (thereynoldsmansion.com) has 13 beautiful rooms (many with gas or wood fireplaces), a seasonal pool and lavish three-course breakfasts included in the rates. Another stunner is the shingle-style Inn on Montford (innonmontford.com), which dates to 1900 and sits on beautifully landscaped grounds that include the largest Norway maple tree in North Carolina. Rooms contain a priceless mix of 18th- and 19th-century English and American pieces. 
Fans of larger chain properties should consider the contemporary Aloft (aloftashevilledowntown.com), which is right on Biltmore Avenue, steps from a number of great restaurants, bars and shops. With super-clean rooms and terrific service, the Hampton Inn Asheville-Tunnel Road (hamptoninn3.hilton.com) ranks among the best mid-priced chain options in the region. And with a convenient location near the Grove Arcade, the sleek Hotel Indigo Asheville (ihg.com) is another great choice, with crisp, attractive rooms – the penthouse suites on the upper stories have floor-to-ceiling windows and amazing views of the countryside. 
September 28, 2014 - 10:09pm
The ninth largest city in the country, and one of the nation's most important centers of commerce and culture, Dallas (visitdallas.com/things-to-do/diverse-dallas/lgbt) carries a reputation as a powerful business center, a highly influential retail and restaurant hub, and a gay community with high visibility in just about every sphere of city life. It's also home to a vibrant downtown arts district that's grown considerably in both size and stature in recent years, and it offers some of the hottest gay nightclubbing in the country. 
In short, there's plenty to see and do here – the challenge for weekend visitors is trying to pack everything into a relatively quick visit. Here's one strategy for making it happen: 
Friday evening
On your first night in town, ease into the city's friendly, relaxed pace by spending some time in Oak Lawn, the core of Dallas's gay scene. Here you'll find several fun fashion shops and boutiques as well as inviting bars and restaurants on or near the neighborhood's main drag, Cedar Springs Road. At the intersection with Throckmorton Street, nicknamed "the Crossroads," you're in the heart of one of the most vibrant gay nightlife districts in the world.
Among dining highlights, you can go casual with a jalapeno-cheddar burger at Hunky's (hunkys.com), a fun local fast-food restaurant in the heart of the action. Or opt for a more leisurely meal at trendy Dish (dish-dallas.com), with its sleek dining room and first-rate contemporary, globally inspired fare and well-crafted cocktails. Another vibrant spot, with strong margaritas and tasty Mexican fare, is Cyclone Anaya's (cycloneanaya.com), which turns out spicy carne asada and lobster enchiladas.
On your first evening in town, you might want to take it easy and stick to a couple of the more easygoing options in the neighborhood, such as Alexandre's, which presents softly sophisticated jazz and cabaret shows; the Latin-inflected bar Havana; and Woody's (dallaswoodys.com), a classic gay video bar that airs comedy clips on Friday nights.
Saturday
Kick the morning off with a big breakfast at the Original Market Diner (originalmarketdiner.com), which is something of a Dallas institution for filling, hearty omelets and breakfast burritos along with homemade cherry and chocolate–peanut butter pies – the people-watching at this '50s-era drive-in-style greasy spoon is highly entertaining. 
Then head downtown to explore the Dallas Arts District (thedallasartsdistrict.org), which comprises 68 acres of often-striking performance halls and art museums – it's the largest neighborhood of its kind in the country. On Saturday afternoons or evenings there's typically always something interesting staged at the spectacular I.M. Pei-designed Morton H. Meyerson Symphony Center, home to the Dallas Symphony Orchestra; the Dallas City Performance Hall, where the acclaimed GLBT Turtle Creek Chorale often performs, as do dance troupes, musicians, and theater groups; and the AT&T Performing Arts Center, which is home to the strikingly modern Winspear Opera House and presents everything from Broadway tours to exceptional opera. 
On the visual arts side, check out the phenomenal Dallas Museum of Art, whose distinctive building, designed in 2007 by Edward Larrabee Barnes, houses more than 24,000 works spanning many centuries and cultures. The nearby Trammell & Margaret Crow Collection of Asian Art focuses on works from throughout China, Indian and Japan, and the neighboring Nasher Sculpture Center has impressive indoor galleries but is perhaps best regarded for its leafy, tree-shaded 2.5-acre sculpture garden, a wonderful place to stroll on a sunny afternoon. 
The Nasher has a popular Wolfgang Puck Café, and the Dallas Museum of Art's DMA Café is also an appealing lunch spot. But the coolest lunching in the Arts District these days is at the collection of food trucks assembled beside the lush green lawns of Klyde Warren Park, a 5.2-acre swath of greenery opened in 2012 atop the Woodall Rodgers Freeway – you'll find everything from gourmet ice cream sandwiches at Coolhaus to Cajun-inspired oyster po'boys and gumbo at The Lab.
It's a short drive or 20-minute walk to one other must-see downtown landmark, the West End Historic District. Here you'll find Dealey Plaza, where President John F. Kennedy was assassinated on Nov. 22, 1963. At the northeast corner of the plaza, stop by the infamous Texas School Book Depository, now home to the poignant and fascinating Sixth Floor Museum, which preserves the space where Lee Harvey Oswald fired on the president. 
Saturday evening
As the sun descends on the Big D, there's a choice place to take in the views: the Jetsons-esque, 561-foot Reunion Tower, which was built in 1979 but last year added an awesome new Ge-O Deck observation platform, with a high-definition zoom cameras and impressive telescopes that you can use to zero in on local landmarks. You can eat dinner up here, too, enjoying the same snazzy views from Five-Sixty by Wolfgang Puck (wolfgangpuck.com). Or, if you're catching a performance later, head back to the Arts District, where nearby dinner options of note include Stephan Pyles (stephanpylesrestaurant.com), the eminent, eponymous restaurant of the city's openly gay celeb chef and cookbook author (be sure the check out the ceviche bar). Tei-An Soba House (tei-an.com), which serves fine sushi and creative Japanese fare, and Jorge's Tex-Mex (tacosgarcia.com), are other great bets in the area.
Later in the evening, return to Oak Lawn's Crossroads neighborhood for a proper night on the town. Several fun establishments here cater to a colorful mix of revelers, including J.R.'s (jrsdallas.com), a festive video bar that draws the stand-and-model set; Sue Ellen's (sueellensdallas.com), a swanky women's dance club with live music; Station 4 (station4dallas.com), a cavernous dance club that's home to the campy Rose Room cabaret, a must for fans of drag shows; and the Mining Company (tmcdallas.com), a somewhat cruise-y  place known for its hunky dancers. Across the street, the Round-Up Saloon (roundupsaloon.com) caters to country-western fans and has some of the best line-dancing you'll ever see. 
A short drive up the road, fans of strippers make a b-line to The Brick (brickdallas.com), while Kaliente (kaliente.cc) tends to draw a friendly Latino crowd.  Keep going north to find a few more gay party spots – leather-and-Levi's dudes enjoy the Dallas Eagle (dallaseagle.com), which has a great on-site boutique selling leather and gear, while the quirky neighborhood joint the Tin Room (tinroomdallas.com) is a welcoming spot for admiring dancers and chatting with fellow patrons. If you're still looking to admire hot go-go boys, drive over to the small cluster of gay bars on North Fitzhugh Avenue, including the sassy and fun BJ's NXS (bjsnxs.com) and the more intimate lounge Zippers. 
Sunday
If you made it out last night to even half of the clubs mentioned in this article, pat yourself on the back and sleep in – then treat yourself to a nice big brunch. In Oak Lawn, aforementioned Dish restaurant is well-regarded for its campy drag brunch, while art deco-style Lucky's Café (luckysdallas.com) earns kudos for Belgian waffles, huevos rancheros and other short-order specialties. Another good bet is gay-owned Komali, which serves delicious contemporary Mexican cuisine (the same chef here also operates neighboring Salum, which is well-regarded for seasonally driven American fare). 
After yesterday's decidedly downtown focus, Sunday is a nice time to see the city's greener pastures. If you're seeking a more naturally scenic setting to tan your hide than the pool at your hotel, head to White Rock Lake, a 1,000-acre reservoir that's encircled by a 9.3-mile jogging and biking trail. A 20-minute drive east of Oak Lawn, the lake is also home to the stunning Dallas Arboretum and Botanical Gardens, which contains 66 acres of fragrant and colorful floral displays and an art- and antiques-filled Spanish Colonial-style mansion. 
Another fine way to experience the outdoors is by setting out along the lushly landscaped Katy Trail, a 3.5-mile multi-use trail that passes through Oak Lawn and Uptown along a disused rail track. A perfect stop along the way for refreshments is the Katy Trail Ice House (katyicehouse.com), which has picnic tables under a grove of trees (there's a huge beer selection plus delicious burgers and barbecue).
Sunday evening
One Dallas neighborhood that continues to develop cachet among everybody from hipsters to gay scenesters is Oak Cliff, a historic and formerly downcast residential neighborhood a few miles southwest of downtown that's home to a clutch of inviting boutiques, design shops, bars, and restaurants. Late on Sunday, hit the blocks around Bishop Avenue and Seventh Street, an area known as the Bishop Arts District, stopping by Emporium Pies (home of the decadent Cloud Nine three-layer caramel, butterscotch, and brown sugar pie), Dude Sweet Chocolate artisanal chocolatier, and Bishop Street Market gift and housewares shop. 
Then settle in for dinner at one of the neighborhood's inviting restaurants, such as gay-owned Hattie's (hatties.com), a homey yet romantic spot specializing in Lowcountry-inspired Southern fare, or Boulevardier (dallasboulevardier.com), a delightful French wine bar and bistro. Wind down the evening with a drink or two in Oak Cliff's unabashedly cute neighborhood gay lounge, Barbara's Pavilion (barbaraspavillion.com), which is known for karaoke on Sunday nights. 
Where to stay in Dallas
Dallas has seen an influx of trendy, upscale hotels over the past decade, with many of them going up downtown or in nearby hip neighborhoods. That said, the longtime favorite address of those wishing to be steps from Oak Lawn bar-hopping is the Warwick Melrose (warwickhotels.com/dallas), a grand 1924 hotel with smartly updated rooms and an inviting, old-world bar, The Library. Also within easy walking distance of the city's many gay bars, the intimate Daisy Polk Inn (www.daisypolkinn.com) is named for the opera star who once owned it and contains six romantic, antiques-filled rooms with hardwood floors and top-quality linens (an extensive full breakfast is included in the quite reasonable rates).
Just a short drive from Oak Lawn, the Hilton Anatole (hiltonanatolehotel.com) has spacious, stylish, art-filled rooms and oodles of amenities. Take advantage of the full-service spa, extensive fitness center and several restaurants, including one of the best venues for steak and seafood in the city, SER, which affords spectacular skyline views from its 27th-floor perch. 
Downtown's Omni Dallas (omnihotels.com) is another larger property, this one LEED-certified and close to several key attractions – it's especially known for its heated infinity pool with dazzling views of the downtown skyline. Far more intimate is downtown's Hotel Joule (thejouledallas.com), which also has a gorgeous infinity pool angled high above the city, plus gorgeous, sleek rooms with a design by vaunted style-maker Adam Tihany.
Pages