Local News
January 30, 2019 - 6:05pm
Get the chance to see Black Panther back on the big screen for free!
Today we are excited to announce #BlackPanther will return to the big screen to celebrate #BlackHistoryMonth from Feb 1-7 at participating AMC theaters. Tickets are free! We will also donate $1.5M to @UNCF to make the dream of higher education a reality for more students.

— Robert Iger (@RobertIger) January 28, 2019
Academy Award®-nominated "Black Panther" returns to the big screen to celebrate Black History Month for a one-week engagement, February 1-7, at 250 participating AMC Theatres locations. Simply check availability below and click 'Book now.' Once tickets are all claimed, they will open up a limited waiting list for cancellations before showing it as 'Fully booked'. Book your ticket now by CLICKING HERE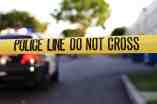 October 23, 2018 - 7:14pm
A transgender woman was stabbed in the stomach in central Las Vegas in early May.
The woman, 37, was stabbed in an apparent street robbery during the early morning of May 4. At the time of this writing, the suspect is still at large.
Las Vegas police are investigating the stabbing, which was reported after the woman walked into a 7-Eleven in the central valley (531 E Sahara Ave., near Paradise Road) at 1:30am on Friday, May 4. The police blocked off the store and a neighboring apartment complex.
Metropolitan Police Department Lt. Peter Kisfalvi told the Las Vegas Review-Journal that the woman was hospitalized with non-life-threatening injuries. 
According to the Review-Journal, "Metro is not investigating the stabbing as a hate crime."
October 23, 2018 - 7:06pm
Army veteran LaDon Henry could become Nevada's first openly transgender legislator.
A trans man, Henry served for nearly four years while closeted. This is his first bid for political office.
"I know the type of discrimination that happens on a day-to-day basis that has been swept under the rug for far too long," he told KTNV.
According to the Las Vegas Review-Journal, Henry, 41, is currently "a small-business owner and radio host."
Henry is running for the assembly in District 42 (Spring Valley). He will be up against fellow Democrats Alexander Assefa and Kathleen Lauckner in the June 12 primary.
The Review-Journal wrote that Henry's platform promises include focusing on "improving Nevada's education system, diversifying the economy and fighting for underrepresented communities, including immigrants, at-risk youth and ex-prisoners."
"It wasn't just me being transgender that made me want to run," said Henry. "There are so many different marginalized communities right now who feel like they're not citizens."
Henry is running to fill Democrat Irene Bustamante Adams' vacated seat (Adams chose not to seek re-election). The district has twice as many registered Democrats than Republicans, meaning if Henry gets the Democratic nomination he'll be well positioned to win the seat.
"I think it's so important to be able to see yourself in the people who represent you," Briana Escamilla, Nevada director of the Human Rights Campaign, told the Review-Journal.
"It could be a lifesaving message to a transgender kid who is struggling and afraid to come out. Being able to see themselves in the Legislature could be lifesaving for them."
October 23, 2018 - 11:59am
eBay for Charity US, – a platform that easily connects buyers and sellers with the causes they care about – has announced its partnership with GLAAD, an LGBTQ nonprofit, GLAAD, to launch a campaign in celebration of Pride Month this June 2018.
Launching on Monday, June 11 – Thursday, June 21, shoppers can visit eBay.com/GLAAD to enter into once-in-a-lifetime sweepstakes as well as bid on one-of-a-kind auction items and experiences donated by their favorite celebrities. 100% of proceeds from this campaign will benefit GLAAD, a non-profit working to rewrite the script for LGBTQ acceptance.
This campaign will continue eBay's commitment to support diversity and inclusion within eBay and beyond.
As part of this campaign, eBay for Charity and GLAAD have teamed up with the full cast of Bravo's The Real Housewives of Beverly Hills to offer a once-in-a-lifetime sweepstakes experience for one lucky fan to join the housewives for a VIP lunch and dine in housewife style for the day. GLAAD supporters and Housewives fans alike can enter for a chance to win starting at $10.00.
GLAAD's biggest celebrity supporters including Debra Messing, Iggy Azalea, Halsey, and more, have united to celebrate Pride Month and support GLAAD's important work benefiting the LGBTQ community through donating once-in-a-lifetime experiences and unique auction items. 
In addition, eBay for Charity has partnered with PINTRILL to design two limited-edition Pride-themed pins that will be available exclusively on eBay for Charity. The designs include a "Love Is Love" pin and a "Rainbow" pin. Shoppers who enter the sweepstakes at a donation value higher than $50.00 will receive a PINTRILL pin.
eBay is continuing their celebration of Pride Month and support for the LGBTQ community by participating in San Francisco Pride on Sunday, June 24. Colleagues from eBay's headquarters and the surrounding offices will walk together as one eBay, in solidarity with LGBTQ colleagues and community.
February 22, 2018 - 9:39pm
A very large crowd formed inside and outside of the Edward A. Greer Education Center for a regular meeting of the Clark County School District Board of Trustees. Many attended to show their support for discussions and policies in regards to gender diverse students which was scheduled as Agenda Item 4.02.  
When it was time to discuss scheduled agenda item 4.02, Clark County School District Board of Trustees President, Deanna L. Wright stated, "Per our attorney, I need to take a recess for this meeting. Trustees, I need you all in the back room please."
After a 19 minute meeting, Deanna returned stating, "Thank you, everyone, for letting us consult with our attorneys. After hearing from Mary Anne Miller who is our attorney for the district attorneys office and our attorney for the school district", "We will be pulling agenda item 4.02 tonight."
The announcement was followed by many gender diverse policy supporters vocalizing their disappointment. Deanna continued, "We will have another meeting at a larger venue at another date and time."
Attorney Mary Anne Miller was overheard saying, "There's just too many people outside." 
Agenda Item 4.02
GENDER DIVERSE. Review and discussion of the recommendations from the gender diverse working group indicating the need for a policy, regulation, and guidelines for gender diverse students; and possible action to direct staff to create a policy, regulation, and guidelines in support of the gender diverse working group recommendations. By direction of the Board, any changes recommended at this meeting will not be implemented unless adopted by the public policy review process at a regular meeting of the Board of School Trustees. (For Possible Action) 
 
SIGN UP FOR NOTIFICATIONS FROM EQUALITY NEVADA
Let us be clear: There was no violation of the open meeting law and no good reason to pull the agenda item.

Check the AG's manual on open meeting laws. #ccsdafterdark #ccsdlgbt #ProtectTransKids @CCSD_Trustees pic.twitter.com/UstlvkH6NR

— ACLU of Nevada (@ACLUNV) February 23, 2018
Shoutout to all those who waited outside in the cold and wind to have their voice heard. Too bad @CCSD_Trustees don't have it together #ccsdafterdark #ccsdlgbt #protecttranskids pic.twitter.com/wT8p6h4WtT

— Battle Born Progress (@BattleBornProg) February 23, 2018
December 1, 2017 - 11:11pm
A father has shot and killed his 14-year-old son, with people close to the victim saying his death occurred because he was gay.
Giovanni Melton of Henderson died on Nov. 2 after being shot in the apartment where he had been staying without any family since March. He succumbed to his injuries at St. Rose Dominican Hospital's Siena Campus. Giovanni was a student at Coronado High School.
Henderson police have charged his father, Wendell Melton, 53, with murder, child abuse and firearms possession. 
Sonja Jones, who identified herself as Giovanni's former foster mother, told KSNV that a family member told her Wendell killed Giovanni because of his sexuality.
"He hated the fact that his son was gay," she said. "I'm sure that inside of his mind, he would rather have a dead son than a gay son."
"Giovanni was abused physically and mentally and spiritually for many, many years."
Jones also said Wendell threatened his son before. "I'm hearing his dad had caught him with his boyfriend before and pulled out a gun on him."
But for his part, Wendell has told police he "accidentally" shot his son after they got into an argument over Giovanni skipping school. Wendell was the one to call police.
The Las Vegas Review-Journal obtained the arrest report for this case. The newspaper reported the following: 
[Giovanni's] father moved him into a Henderson apartment, a decision he later told police was necessary because his son didn't get along with his new wife.

A criminal records check revealed Melton was prohibited to possess firearms because of a prior domestic battery conviction.
The Review-Journal went on to explain Wendell's version of events:
Wendell told police that he drew his handgun after an argument about his son's truancy escalated and Giovanni pushed him to the ground.

Wendell Melton told police that as he got up, the gun, which was pointed at his son, accidentally went off. The bullet landed in Giovanni's chest.

Based on evidence at the scene, detectives suspect that Wendell Melton did not fear for his life when he drew the gun.
ABC 13 included more of the report:
Melton told police that he had a gun with him because he was afraid of some of the people that Giovanni hangs out with.

Melton says that after he got up off the ground, he warned Giovanni to stay back. However, Giovanni moved to attack him.

Police say that Melton's version of what happened changed several times and he was untruthful about where the gun came from until evidence contradicted his statements.
According to court records obtained by LasVegasNow.com, the family had a "complicated past":
There was a lingering custody battle for  Giovanni and his sibling, that included being abandoned by their mother, along with Wendell illegally having guns and threatening his family with them.

There was even an allegation against Wendell that he beat Giovanni.
Furthermore, according to Mic, Henderson Police Department Public Information Officer Scott Williams confirmed the teenager "was living alone in the apartment where he was fatally shot, but said he couldn't confirm that the teen's death was related to his sexual orientation."
Those who knew him have described Giovanni as energetic and friendly.
"It's just sad. He was young and he had a lot to live for," classmate Bailey Schultz told KSNV.
A memorial was held for Giovanni on Nov. 5.
"He was my brother, my everything," said Alexander Melton, according to the Review-Journal. "He was never afraid to try new things and he was such a smart, young man who everyone loved."
State by state, one by one, the laws changed. Sometimes by popular vote, sometimes by legislative action. For the activists creating this social change, it could feel incredibly slow and remarkably fast, all at the same time. Are we talking about the freedom to marry -- or the right to medical marijuana? Both!
Now that gay marriage has been accomplished in all 50 states -- and the right to medical marijuana is at the halfway point, we can look back at their shared history. Both have roots in the AIDS crisis -- when partners fought for the right to take care of each other -- and to relieve their suffering with marijuana. Both movements had to fight against unfair stigmas and false concerns that change would somehow harm children.
What once seemed like pipe dreams, have become reality.
Four and a half decades ago, in Baker vs. Nelson, two University of Minnesota students, John 'Jack' Baker and James Michael McConnell, first fought for the right for a same-sex marriage license. The Minnesota Supreme Court ruled against them, and the case set a precedent for blocking same-sex marriage efforts.
It wasn't until 14 years later in 1984, when the Nation's first domestic partnership laws were passed in California. What started in California, slowly spread to the rest of the nation. The same was true for medical marijuana. California was the first state to legalize medical marijuana in 1996.
More than 15 years later, that change spread to Nevada. In 2013, our state passed comprehensive medical marijuana legislation -- with the first dispensaries opening in recent months.
Not surprisingly, the California dispensary most associated with the LGBT community, The Apothecarium, has now opened a sister dispensary in Las Vegas at West Sahara and Buffalo (www.Apothecarium.com).
The original Apothecarium is located in the heart of the Castro, S.F.'s world famous gay district. A majority of their employees are queer and they probably serve more LGBT patients than any other dispensary in the world.
"Pride Weekend is probably the busiest time of the year at the dispensary," said Chase Chambers, The Apothecarium's General Manager and an out gay man. "We've been proud to make donations to support marriage equality, AIDS nonprofits and all sorts of groups supporting the LGBT community. We want to bring the same spirit of inclusion and community engagement to our Las Vegas store."
Both medical marijuana and the freedom to marry movements had to overcome more than their fair share of fear and ignorance. Marriage equality ultimately succeeded through the efforts of a united community. Here's to hoping the right to medicate in all 50 states isn't far behind!
Apothecarium Official Website: 
Instagram: https://www.instagram.com/apothecarium_lv/
Twitter: https://twitter.com/ApothecariumLV
Facebook: https://www.facebook.com/ApothecariumLV/
Chappy, the new gay dating app, championing choice and 'dating' has finally launched, giving men the opportunity for romance - as well as something more casual. Backed by Whitney Wolfe, co-founder of Tinder and now CEO of Bumble, Chappy positions itself as the app offering men choice – depending on their mood.
Disenchanted by the current market offering, which is often cited as facilitating purely short term connections, and seeking to end the stigma associated with online gay dating, co- founders Ollie Locke and Jack Rogers were compelled to create a welcoming and exciting new dating app for the modern gay man. "Gone are the days of the gay community being defined by platforms that don't offer choice," said co-founder Jack Rogers.
Chappy is an app that facilitates, and mirrors the realities of 21st Century dating. Through its unique sliding 'Chappy scale', users searching for 'Mr. Right' or 'Mr. Right Now' are given ultimate control and only matched with compatible guys looking for the same experience - thereby eliminating the awkward 'what are you looking for' conversation.
In a market saturated with headless torsos, Chappy profile pictures must show a face, creating a far more genuine user experience - and all profiles are verified via Facebook making Chappy a safe, responsible, and empowering new chapter in gay dating.
In 2017, the gay community is arguably in a state of flux. With a dating culture defined by apps, as well as gay venues closing at an alarming rate across the country, it's becoming increasingly difficult to meet new people. Chappyrecognizes that people want choice when looking for relationships, and current app offerings fail to offer options beyond instant hook-ups. Whatever mind-set the user is in, Chappy's exclusive features can accommodate their needs.
Existing apps have been accused of the dearth of off-line socializing, undermining real-world connections and being the anti-cupid to serious romantic relationships. For many, meeting new people, finding dates, or a potential boyfriend has become increasingly difficult in a virtual environment – especially one in which the majority of users demand immediate gratification.
"We want to give gay men the opportunity to have conversations that match their intentions. 
Choice is at the heart of Chappy, it's why we created the 'Chappy Scale' offering 'Mr. Right' or 'Mr. Right Now'. We appreciate that for many men the 'Mr. Right' function will be their default - and we're very proud to finally give Chappyusers that opportunity," said Ollie Locke, Chappy co-founder.
The 'Chappy scale' has created two parallel functions, which work alongside one another, for something spontaneous or more significant - meaning that whatever someone is after, no one gets frustrated. In this new era of gay dating, love, not just sex, is now available on an app.

Today, MillerCoors announced it raised $72,000 through its 2017 Tap Into Change program. Through Tap Into Change, MillerCoors works directly with local bars and restaurants to promote equality by donating a percentage of sales to nonprofits in support of the LGBTQ community in select cities nationwide. Now in its sixth year, MillerCoors has donated $175,000 to local groups and organizations focused on lesbian, gay, bisexual, transgender, and queer (LGBTQ) issues as a result of the program.
"We are thrilled with the results of this year's Tap Into Change program," said Karina Diehl, MillerCoors director of community affairs. "As a company that celebrates Pride all year long, we'll continue to extend our support to the LGBTQ community through long-standing partnerships, like HRC, and our employee resource group: LAGER (LGBTQ and Allies Group Employee Resources)." MillerCoors has a proven track record of supporting the causes most crucial to the LGBTQ community and we remain committed to advancing diversity and inclusion within the company and across the communities we serve."
MillerCoors has a long history of improving diversity within its workplace and was awarded the 2016 Corporate Equality Award from the Human Rights Campaign (HRC), receiving a 100 percent rating on HRC Corporate Equality Index for the past 14 years. MillerCoors was also the first company in the alcohol beverage industry to provide domestic partner benefits and has donated $300,000 toward LGBTQ nonprofit organizations in 2017. This is part of the company's ongoing commitment to promote diversity within the company and the communities it serves as part of the new 2025 Global Goals, developed in partnership with Molson Coors. MillerCoors partnerships with the HRC, Matthew Shepard Foundation, and other nationwide LGBTQ organizations are working to advance equality for the LGBTQ community.
MillerCoors partnerships with the HRC, Matthew Shepard Foundation and other nationwide LGBTQ organizations are working to advance equality for the LGBTQ community.
"Complementing their inclusive policies, MillerCoors has been a visible force within the LGBTQ community for many years and has showcased this support loud and proud," said Jason Bricker, Director of Corporate Relations, Human Rights Campaign. "MillerCoors has supported the Human Rights Campaign since 1995 through various event sponsorships within the organization both locally and nationally. This level of support and commitment allows our organization to thrive and continue to do the work we do for the LGBTQ community."
About MillerCoors
Through its diverse collection of storied breweries, MillerCoors brings American beer drinkers an unmatched selection of the highest quality beers, flavored malt beverages and ciders, steeped in centuries of brewing heritage. Miller Brewing Company and Coors Brewing Company brew national favorites such as MillerLite, Miller High Life, Coors Light and Coors Banquet. MillerCoors also proudly offers beers such as Leinenkugel's Summer Shandy from sixth-generation Jacob Leinenkugel Brewing Company, and Blue Moon Belgian White from modern craft pioneer Blue Moon Brewing Company, founded in 1995. Beyond beer, MillerCoors operates Crispin Cider Company, an artisanal maker of pear and apple ciders using fresh-pressed American juice, and offers pioneering brands such as the Redd's franchise, Smith & Forge Hard Cider and Henry's Hard Sodas. Tenth and Blake Beer Company, our craft and import division, is the home to craft brewers Hop Valley Brewing, Revolver Brewing, Saint Archer Brewing Company and the Terrapin Beer Company. Tenth and Blake also imports world-renowned beers such as Italy's Peroni Nastro Azzurro, the Czech Republic's Pilsner Urquell and the Netherlands' Grolsch. MillerCoors, the U.S. business unit of the Molson Coors Brewing Company, has an uncompromising dedication to quality, a keen focus on innovation and a deep commitment to sustainability. Learn more at MillerCoors.com, at facebook.com/MillerCoors or on Twitter at @MillerCoors.
Pages