Featured Articles
February 1, 2019 - 6:04pm
"You're my first. Be gentle with me. Can we start with, like, a foreplay thing where you can just take it easy on me? Some gentle licking perhaps, and then we'll get into the heavy stuff." And so my interview with Michael Bublé, who has almost made me forget he has a wife, Argentine actress Luisana Lopilato, begins. 
Returning to music with a new heart-emoji-titled album called love that he will support on a world tour in 2019, Bublé – who introduces himself by that mononym when he rings me directly – spoke openly on a variety of topics, including the difficulties of being a public figure amid familial distress, atoning for his "sexist" Christmas song and doing his part to support the LGBTQ community. 
It's sweet that this album uses the heart emoji for its title, though the gay community certainly wouldn't have argued with you naming your album using the eggplant emoji.
Oh god, I wanted to use the eggplant. You have no idea.
You fought for that.
I did. I had long conversations about it. And you think I'm joking. I've already said this a million times when talking to my friends: They were like, (in a deeply bro voice) "Why didn't you use the eggplant?" and I'm like, "Oh, I would have."
Did you intend for the album to be a Band-Aid for our divisive times? 
Yeah, it's funny that you just said that: I've actually said that in private. You know what, man, obviously everything I've gone through has everything to do with this record and what I want to put out to the world. I had different names that I'd come up with, but there was nothing that really explained the record and the concept as well as just one word could. 
The record is about love, but it's not simply about romantic love. It was really a record that was kind of my theory on this word, this emotion that has so much range. When you hear it you think, "Oh god, romantic and lovey-smovey," but there's so many different things that happen with that word. 
"When I Fall in Love" is such a beautiful track and people say, "Oh, it's so romantic." It is romantic. But for me, it's really sad. As I put myself into the character of that song, I thought about a guy sitting at the bar at 4 o'clock in the morning, drunk, looking over at another couple, wishing that he had that because it hasn't happened for him. It's very unique in that way. It's a very sad song about longing. I could go on through the whole tracklist. They all have a story for me. 
Did you personalize any of the songs? 
I wanted to do the best I could to be as personal and honest in the storytelling, in becoming the characters for the song, but at the same time give the audience a way to be able to hear and have their own opinions.
If I want to use this album to get a guy to fall in love with me, which song do you suggest I play to make him swoon?
Honestly, I think "La Vie En Rose" (a duet with jazz vocalist Cecile McLorin Salvant) is incredible because when I did this song my concept was to build a mirror of the relationship I had with my wife. It was me going to this foreign land with someone who didn't speak my language and having this kind of dance of love with them. 
I felt like there were these two characters and one is singing to the other, where I was singing to her in my language and my culture and she was answering in hers. Though we were on this path together, we were still apart; and by the middle of the song we have this beautiful dance together, this incredible night, and by the morning we were walking through the streets of Paris. I have sort of assimilated to her culture and I am singing in her language, and I loved that because that's exactly what happened in my life. 
I don't think you thought you'd be recording music again after your 5-year-old son, Noah, was diagnosed with liver cancer in 2016, days after our last conversation. But I've heard you say he's holding up and is in remission. Was creating this album more cathartic than past albums? 
I don't think I ever fell out of love with making music or being a creative person; I just think I knew it had to be put aside. The part of being a public person, that part I didn't know if I was ready for. There are always reminders every time you go out and people speak and you're trying to move on with your life or yourself and your family. At first, there were always these reminders of it and so it was hard to just move on. 
I made a promise to myself that it would be organic and that it would be joy and it would be blissful – and if it ever becomes what I consider work, or egotistically driven, then I would step away. But I never fell out of love with making music. You know, I'm having to leave the family and stuff for little bits, and if I do then it has to be for the right reasons. 
Harder than usual to leave the family right now?
No, it's not. When I do something, I know that there's a great reason for it. We can make more money and we can make more music and we can make more this and more that, but it's time – you can't make time. I wanna make sure I'm spending time doing what I love and that it's all worthwhile.
You talked about being an LGBTQ ally in our last interview. Why did you decide to express your compassion and advocacy for the LGBTQ community at that moment in your career? 
I don't know if it was about that moment. I think I had an opportunity to speak with you, and I felt like it was a really good chance to say how I felt. Now more than ever I think it's important for me to just be honest, and it's what I believe. It's part of who I fundamentally am, how I was raised. And it's about equality. It's simple. That's it. 
I wish it were so simple. When we last spoke, Trump hadn't been elected, and a lot has changed in the last couple of years politically. How are you feeling about the way this administration has treated the LGBTQ community and other marginalized groups?
I don't… (pause)... it sounds crazy, but after what I've been through, I really promised myself that I would try not to get into – and when I say "get into," I just didn't want to be a part of negative things. So I stopped reading things. I stopped reading things about myself. I stopped reading things that made me feel badly. 
I really, truly feel like more than ever in my life actions speak much louder than words do and how you treat people is – it's funny, a friend heard me talking to my son. My son was going to his first day of kindergarten and he saw me kneel down to my boy and I said to him, "Noah, I just want you to know that" – and it sounds like a cliché, but I said, "You treat people the way you want to be treated, kid." I said, "If you're kind to people and you're good to people, life will always be OK for you." And I got up and I walked away and my friend said to me, "They may not remember what you did or what you said but they'll remember how you made them feel." 
I can't stop the politicians or stupid, uneducated people from thinking and saying and doing stupid things, but I can make a stand, I can talk to you, and when I'm with groups of friends or I'm in public places or when I'm with people who I think can use that sense of love and education, I can open my mouth and tell them how I feel. And one at a time, you can change the world like that. 
Listen, I've gone through too much not to feel this way. I just feel this way really strongly. I also think it's important – it's really easy for someone selling something, an artist, to say that they support or love the gay community; I just think it's a different thing to say it than to do it.
When we spoke in 2016, you told me you had plans to get involved with the Harvey Milk High School in New York City, but then, of course, you had to tend to your family. Do you plan on picking up where you left off? 
As a matter of fact, (my publicist) Liz (Rosenberg) and I have spoken many times and talked about the plan that we have. We have a plan (that involves) the Hetrick-Martin Institute (a NYC-based professional provider of social support and programming for LGBTQ youth and host agency for the Harvey Milk High School). 
To start, I just wanted to go. I wanted to go and just let people know they had my support. Young kids who have been bullied and haven't felt comfortable have a place to go, which is just disturbing in the first place, that in 2018 they didn't. There wasn't an environment where they felt they could be who they are. Listen, I can't get into the details. I can't. 
You can't get into details about the project? 
Not those details, but within my family there are things that I can't really speak to that have made this even more pressing for me. It's because it's not my story to tell. But I'll just say that within my family these are the same issues that every family has. I wouldn't and I couldn't talk about something so personal. Definitely, I just know there needs to be advocates. Being a public person is having a responsibility sometimes to show that kind of love and that kind of support and to step out there and to do that. It's not an edgy fucking thing to do. It's not. 
For some public figures it seems so. 
Why? Because what – half of the audience doesn't buy your records anymore? Well, that's fucking stupid, isn't it? Then you gotta ask yourself if you want half of those people buying your records in the first place, and what's really important to you. Because if you're gonna tell people that you know what's important or that you've had an epiphany in your life that you know what matters then, again, actions speak louder than words, don't they?
Knowing what Noah has gone through, has the feeling of loving your kids no matter who they are, which we discussed in 2016, intensified in the last couple of years? 
No, it was always the same. I could tell you the truth: I never had to find that perspective, I always felt that way. And I think I'm very lucky because I really do think that came from the way I was parented. I really do think I was very lucky to be raised in a family that was so open and liberal and loving. I just think they were always so unconditionally loving – not just toward us children, but toward our family. 
Again, clichés, but I just tell both of my boys now that they're old enough to understand: "You know, boys, the things that make you different are what makes you special." What's amazing to me about that school and wanting so badly to go to that school is, I just feel so strongly that the difference between a child and an adult is only life experience. An adult's life experience is, "It's gonna get better. This isn't how it has to be, and this isn't how it's going to be." So for me, it's really massive to be able to meet kids and to say publicly – really: "It's not going always going to be like this."
In light of the holidays, you do realize your gay fans would've gone wild for a version of "Santa Baby" by you that was actually called "Santa Baby," right?
(Laughs) Yeah, exactly. Instead of "Santa Buddy." I think I used "Santa Baby" in one of the lines.
You did.
I should've gone full. 
I mean, a straight man can shop at Tiffany's. 
(Laughs) Yeah, no, you're right. It's funny: When I did that song, I tried to put it into my perspective and modernize it. I changed words; I asked for a Rolex or Mercedes or things I would want. The best part about it is: I get to sing those kinds of songs now in my life, and if I do concerts and I wanna add a Christmas song, then you know what? I can amend it and I can sing "Santa Baby." 
A straight guy singing "Santa Baby" is the progress we need. 
Fuck yeah. You're right, you're absolutely right. It was sexist of me not to. 
I'm looking forward to your live rendition of it. 
I'll do it for you. That's a promise. I promise I'll do it for you even if it's not fucking Christmas. 
Even if it's the middle of summer?
You think I'm kidding, but you shout it out and I promise you I'll get it done. Madison Square Garden, fucking done.
You can see Michael Bublé perform live in Las Vegas on Sat, Mar 30 inside the T-Mobile Arena.
February 1, 2019 - 5:34pm
Axis Mundo: Queer Networks in Chicano L.A.
An art exhibition at the UNLV Marjorie Barrick Museum of Art of work by a collaborative network of over 50 LA-based queer Chicanx artists produced through the 1960s to 1990s
Curated By: C. Ondine Chavoya, David Evans Frantz 
Exhibition Dates, UNLV Marjorie Barrick Museum of Art:
January 11-March 16, 2019 
Axis Mundo: Queer Networks in Chicano L.A. is a traveling exhibition that explores the intersections among a network of over fifty artists. This historical exhibition is the first of its kind to excavate histories of experimental art practice, collaboration, and exchange by a group of Los Angeles based queer Chicanx artists between the late 1960s and early 1990s. While the exhibition's heart looks at the work of Chicanx artists in Los Angeles, it reveals extensive new research into the collaborative networks that connected these artists to one another and to artists from many different communities, cultural backgrounds, sexual orientations, and international urban centers, thus deepening and expanding narratives about the development of the Chicano Art Movement, performance art, and queer aesthetics and practices.
As referenced in its title, the exhibition also sheds light onto the work of Edmundo "Mundo" Meza (1955-1985), a central figure within his generation. Primarily a painter, but also known for his performances, design, and installation work, Meza collaborated with many of his peers towards developing new art practices amid emerging movements of political and social justice activism.
Axis Mundo presents over two decades of work — painting, performance ephemera, print material, video, music, fashion, and photography — in the context of significant artistic and cultural movements: mail art and artist correspondences; the rise of Chicanx, LGBTQ, and feminist print media; the formation of alternative spaces; fashion culture; punk music and performance; and artistic responses to the AIDS crisis. As a result of thorough curatorial research, Axis Mundo marks the first historical consideration and significant showing of many of these pioneering artists' work.
 
Artists included in the exhibition:
Laura Aguilar, Jerri Allyn, Carlos Almaraz, Skot Armstrong, David Arnoff, Steven Arnold, Asco, Judith F. Baca, Alice Bag, Tosh Carrillo, Monte Cazazza, Edward Colver, Vaginal Davis, DIVA TV, Jerry Dreva, Tomata Du Plenty, Simon Doonan, Tomata du Plenty, Elsa Flores, Anthony Friedkin, Harry Gamboa Jr., Roberto Gil de Montes, Gronk, Jef Huereque, Louis Jacinto, Ray Johnson, Alison Knowles, Robert Lambert, Robert Legorreta (Cyclona), Zoe Leonard, Les Petites Bonbons, Scott Lindgren, Mundo Meza, Judy Miranda, Ray Navarro, Nervous Gender, Graciela Gutiérrez Marx and Edgardo Antionio Vigo, Richard Nieblas, Dámaso Ogaz, Pauline Oliveros, Ferrara Brain Pan, Genesis Breyer P-Orridge, Clemente Padín, Phranc, Ruby Ray, Albert Sanchez, Teddy Sandoval, Joey Terrill, Cosey Fanni Tutti, Patssi Valdez, Ricardo Valverde, Jack Vargas, Gerardo Velázquez, Johanna Went, Faith Wilding
Exhibition tour has been organized by Independent Curators International (ICI).
Axis Mundo: Queer Networks in Chicano L.A. is curated by C. Ondine Chavoya and David Evans Frantz as part
of Pacific Standard Time: LA/LA, an initiative of the Getty to encourage ambitious research and exhibitions at Southern California cultural institutions. The exhibition is organized by ONE National Gay & Lesbian Archives at the USC Libraries in collaboration with The Museum of Contemporary Art, Los Angeles, and organized as a traveling exhibition by Independent Curators International (ICI). Lead support for Axis Mundo is provided through grants from the Getty Foundation.
This exhibition is supported in part by an award from the National Endowment for the Arts. Additional support has been provided by The Calamus Foundation of New York, Inc., the City of West Hollywood through WeHo Arts—the City's Arts Division and Arts & Cultural Affairs Commission, Kathleen Garfield, the ONE Archives Foundation, the USC Libraries, and the Luis Balmaseda Fund for Gay & Lesbian Archives, administered by the California Community Foundation. Funding for the exhibition tour has been provided by the generous support from ICI's International Forum and the ICI Board of Trustees.
The presentation at the UNLV Marjorie Barrick Museum of Art has been organized in collaboration with support from Meow Wolf, The Intersection, UNLV Department of Interdisciplinary, Gender, and Ethnic Studies, MGM Resorts Art & Culture, and an anonymous gift in honor of Hilda Roop. Additional partners include UNLV Spectrum, Latinos Who Lunch, and The Art People Podcast, UNLV Student Diversity & Social Justice, the UNLV Department of Art, UNLV Public History, the UNLV College of Fine Arts.
February 1, 2019 - 5:18pm
The Board of Directors for The Center is pleased to announce the election of a new slate of executive officers. The Centers bylaws state that we must elect officers every two years and each officer can serve a maximum of three terms. 
Joseph S. Oddo, Jr., former Vice President of the Board of Directors and Regional Manager for Cox Business has been elected unanimously to serve as President of the Board of Directors. In a memo that went out to staff on Tuesday evening, Oddo stated "Our first order of business remains the same, find a permanent Executive Director that we need, that you need and that our community needs with the skills to be able to lead our center with dignity, passion and strength for years to come!" He continues on to say, "We have some work to do and I know that with our shared love of this community, there is nothing we can't achieve."
In addition to a new President, a new Vice President, Treasurer and Secretary have been elected unanimously by the board.
Brian Hosier has been elected Vice President; Scott Ramer has been elected to Treasurer and Garrett Pattiani has been elected Secretary. Hosier, Ramer and Pattiani are elated to serve in this leadership capacity for The Center and are eager to get to work to increase our reach to the community!
The Board of Directors would like to thank our outgoing officers for their years of service to The Center and our community! Wendy Kraft departs as Secretary, Donya Monroe, current Interim Executive Director departs as Treasurer and Wayne Cassard departs as President. The Center is in a better place today because of the 2017-2018 Executive Committee and we thank them for their service. Cassard will continue as a member the Executive Committee as Past President and serve as council to the committee. 
February 1, 2019 - 4:35pm
The University Medical Center (UMC) in Las Vegas has recently adopted broader testing for HIV.
On Dec. 1, which also marked the 30th anniversary of World AIDS Day, the UMC adopted 12 year old guidelines from the Centers for Disease Control and Prevention that recommended testing for all Americans, not just those classified most at risk.
"We have the tools available right now to eliminate [AIDS]," Dr. Jerry Cade of UMC's HIV program said, according to the Las Vegas Review-Journal.
The CDC's 2006 recommendation was not widely adopted. In Nevada, the number of new HIV cases has increased since 2012.
Now UMC's response to this will be to test just about every patient who receives treatment there.
Reports the Review-Journal:
UMC is adopting what is called "opt-out" testing guidelines. Patients who are getting blood drawn in the hospital's adult ER will be automatically tested for HIV unless they request otherwise. The change, which falls in line with the CDC's guidelines, should reduce the number of new cases in a state that had the sixth-highest diagnosis rate in 2016 nationwide.
The hospital announced the protocol change as part of an effort to help Southern Nevada reach the United Nations Programme on HIV/AIDS's 2020 "90-90-90" target goal to get 90 percent of all HIV-positive people to know their status, 90 percent of diagnosed people on antiretroviral treatment and 90 percent of people on antiretrovirals to achieve undetectable viral load levels, so the disease doesn't spread.
"That will be one more patient who knows they're positive," said Cade. "For that individual patient, it means they're going to live a longer and healthier life."
UMC hopes their work will encourage other Las Vegas Valley hospitals to follow suit, together lessening the number of new patients living with HIV/AIDS in Nevada.
February 1, 2019 - 4:23pm
Nov. 20 marked the Transgender Day of Remembrance (TDoR), and Las Vegas joined communities around the world recognizing the day.
Jamie Lee Sprague-Ballou, founder of Las Vegas TransPride, organized a week's worth of events around TDoR, culminating in a vigil hosted the evening of Nov. 19 at 1140 Almond Tree Lane.
According to the Las Vegas TransPride website:
This is the original day that TransPride week has been built around, as we remember those who boldly lived as their authentic selves. We carry their voices with us, as we continue to fight for justice and equality. 
TDoR recognizes the transgender lives lost through violence around the world that year. In 2018, 369 transgender men and women were killed, up more than 100 from 2017. Of those 369 deaths, 30 happened in the United States.
"These are hate crimes," said Sprague-Ballou, according to Las Vegas Now. "We're trying to bring the awareness of the hatred that exists against our community."
During the vigil, 369 cards with names and faces of the victims could be seen covering a wall. All their names were read aloud, as happens every year with a new batch of names.
"Here in Las Vegas we are privileged, but we need to remember other places that don't have the privileges like we do," said Sprague-Ballou. "We would love there not to be a Transgender Day of Remembrance where we don't have to have this day; where people would just know how to exist with us, and we'd not have that fear."
"We carry their names, and we carry their hurt with us," explained Sprague-Ballou further. "I would love it if we can come one year and say, 'We have no names to read this year because everyone is treating us like people.' What kind of world would that be?"

February 1, 2019 - 3:38pm
Police are investigating an attack on a Las Vegas gay couple in November as a hate crime.
Suspects Kealan Abraham, 34, and Andre W. Duncan, 39, have had a hate crime enhancement added to their battery charges. If convicted, the enhancement means a longer sentence.
In addition to the hate crime charges, the two face charges of battery with a deadly weapon resulting in substantial bodily harm, as well as conspiracy to commit battery. 
The attack occurred outside the couple's apartment. Their names were redacted in the arrest report, but detectives concluded they "were verbally attacked regarding their sexual orientation during the battery," reports the Las Vegas Review-Journal.
Writes the paper:
The battery happened on Nov. 29 as the couple was arriving home on the 1900 block of Simmons Street, near Rancho and Vegas drives. One of the victims was thrown onto a glass table during the fight, at which point, according to the report, Duncan picked up a piece of broken glass and began stabbing the victims. The couple's injuries included broken ribs, a punctured lung, numerous lacerations and puncture wounds, the report stated.
However, the suspects and one of the victims already knew each other before the attack. At one point, they all worked at a single Walmart location, where issues began several weeks prior.
Abraham and the victim are reported to have had a verbal altercation while on the same shift, which included Abraham allegedly calling him an 'abomination,' this "because of his sexual orientation and the fact that the suspect knew that he had a boyfriend," claims the report. Walmart was aware of the alleged comments and moved Abraham to the graveyard shift to separate the two.
According to the Review-Journal:
During that same argument, Abraham also allegedly used a derogatory word to refer to gay people in saying he "wants to kill" homosexuals, according to the report.

Two days before the attack, according to the report, Duncan also showed up at Walmart while the victim was working and confronted the victim, "calling him by the same derogatory terms previously used by the other suspect."
February 1, 2019 - 3:16pm
Mott 32, one of Hong Kong's most award-winning restaurants and a culinary icon in contemporary Chinese cuisine, will open its first U.S. outpost this winter, bringing their Eastern concept West to The Palazzo at The Venetian Resort Las Vegas. The acclaimed menu combines authentic Chinese recipes handed down from generations with progressive cooking techniques. Paired with exceptional mixology methods and stunning design, the experience at Mott 32 is truly one of a kind. 
"We wanted to do something different by bringing a little of Hong Kong to Las Vegas. Mott 32 is one of the only upscale Cantonese restaurants born in the Far East that will come to The Strip," said Patrick Lang, vice president of restaurant and nightlife development for Las Vegas Sands. "Mott 32 is known for stunning design, innovative yet authentic Chinese cuisine, delicious hand-crafted cocktails and first-class service wrapped up in a vibrant, energetic environment. It is a unique brand that appeals to both Western and Asian customers perfect for our guests at The Venetian."
The name Mott 32 comes from New York's first Chinese convenience store that opened in 1891 at 32 Mott Street and was the nucleus for what is now a vibrant Chinatown in one of the most exciting cities in the world. Mott 32 is thus a celebration of Hong Kong culture and culinary tradition, and represents a modern Chinese city. 
Farm-to-table cooking is at the heart of the restaurant's menu. Led by Group Executive Chef Man-Sing Lee – a two-Michelin star chef in his previous role – and Vegas-based Head Chef Alan Ji, Mott 32's culinary team meticulously sources the finest ingredients, allowing the authentic flavors to shine with delicacies derived from Cantonese, Szechuan, and Beijing cultures. The signature dishes at Mott 32 will include Apple Wood Roasted Peking Duck with Mott 32's "Signature Cut," Barbecue Pluma Iberico Pork glazed with Yellow Mountain Honey, Iberico Pork with Soft Quail Egg and Black Truffle Siu Mai and Crispy Triple Cooked Wagyu Beef Short Ribs.
Mott 32 is a playful scene with a design that dares to be different. Renowned interior designer Joyce Wang will oversee the design of Mott 32 Las Vegas after the critical success of her Mott 32 designs in Hong Kong and Vancouver, which includes winning the "World Interior of the Year" award out of all categories for Mott 32's Hong Kong outlet. 
In addition to pairing New York industrialism with classic Chinese elements, The Palazzo location of Mott 32 has an added layer of details rich in Las Vegas culture. Various areas within the venue are delicately lit by neon signage – a cerebral trick on the viewer, who could find this reminiscent of either urban Chinese street market signs or the glimmering lights of Las Vegas.
The designs pay tribute to the history of Las Vegas – from a dining table made out of a vintage Roulette wheel, or the chandelier adorned with a feather boa. These intricate design elements, along with the venue's open, spacious and inviting layout, provide the perfect setting for a full night experience. 
"This is a most exciting period in our company's history," said Malcolm Wood, Founder & Group Managing Director of Maximal Concepts. "With the addition of its fourth global branch, set to open in Las Vegas, Mott 32 will reinforce its position as the leading luxury Chinese restaurant around the world. We're excited to introduce the U.S. to a unique, luxurious yet comfortable fine-dining experience with a standard of authentic Chinese cuisine that does not exist here yet."
Mott 32 will be located inside The Palazzo at The Venetian Resort, spanning 11,715 square feet with five private dining rooms, and can accommodate up to 242 seats at any one time. Mott 32 will be open for dinner seven days a week.
February 1, 2019 - 3:00pm
The Howard Hughes Corporation®, owner of the Las Vegas 51s®, the city's professional Triple-A baseball team of the Pacific Coast League (PCL), and developer of the Summerlin® master planned community and the Las Vegas Ballpark currently under construction at Downtown Summerlin®, announced today the team's new name - the Las Vegas Aviators®. 
The announcement of the new name included the unveiling of the team's new logo was made at a special event at Downtown Summerlin hosted by The Howard Hughes Corporation. The event was attended by close to 2,000 guests, including representatives from Minor League Baseball, former Major League Baseball players now living in Las Vegas, as well as season ticket holders, community leaders, and nearly a dozen little leaguers from throughout the valley.
The name change comes on the heels of the team's September announcement of its new two-year Player Development Contract (PDC) with the Oakland A's and in advance of the spring 2019 completion of the Las Vegas Ballpark. The new, state-of-the-art Triple-A baseball stadium will serve as home of the newly named Las Vegas Aviators with the home, season and stadium opener slated for April 9, 2019.  
The Aviators name officially went live today with newly branded merchandise and apparel available for purchase at the Las Vegas Ballpark Sales Center at Downtown Summerlin, as well as online at AviatorsLV.com. 
According to Weinreb, the name change pays homage to the company's namesake, Howard R. Hughes, Jr., one of the twentieth century's most successful businessmen whose passion for aviation and legacy of innovation includes significant aviation-related firsts and accomplishments. In the H-1 Racer, a plane he designed and built, Hughes set the land speed record of 352 miles per hour in 1935. Hughes went on to set other records, including the fastest coast-to-coast flight in 1937 and the fastest circumnavigation of the globe in 1938, then acquiring and successfully operating major airlines and aviation companies. 
"Hughes' vision and ambition was unmatched," said Weinreb. "That, along with his imprint on Las Vegas, where his legacy has helped shape the community for decades, makes the decision to name the team in his honor an easy one. The Las Vegas Aviators is the perfect name for the city's oldest professional sports team, one that is now launching a new chapter with a state-of-the-art stadium in Summerlin and a new major league affiliation."
The name, the Las Vegas Aviators, was chosen from hundreds of names submitted by the general public through a competition in which the community was invited to participate in the naming process. According to Weinreb, the Aviators was a popular name nominated by many Southern Nevadans. 
"Everyone is excited about our new name," said Don Logan, the team's President and Chief Operating Officer, who has been with the franchise for 35 years. "With new ownership, our impending move into the Las Vegas Ballpark and our new professional affiliation, this is the perfect time to rebrand the city's beloved baseball team.  The Aviators was a popular nomination from our fans, and it's a fitting new moniker for the city's first professional sports franchise as we start our next exciting chapter."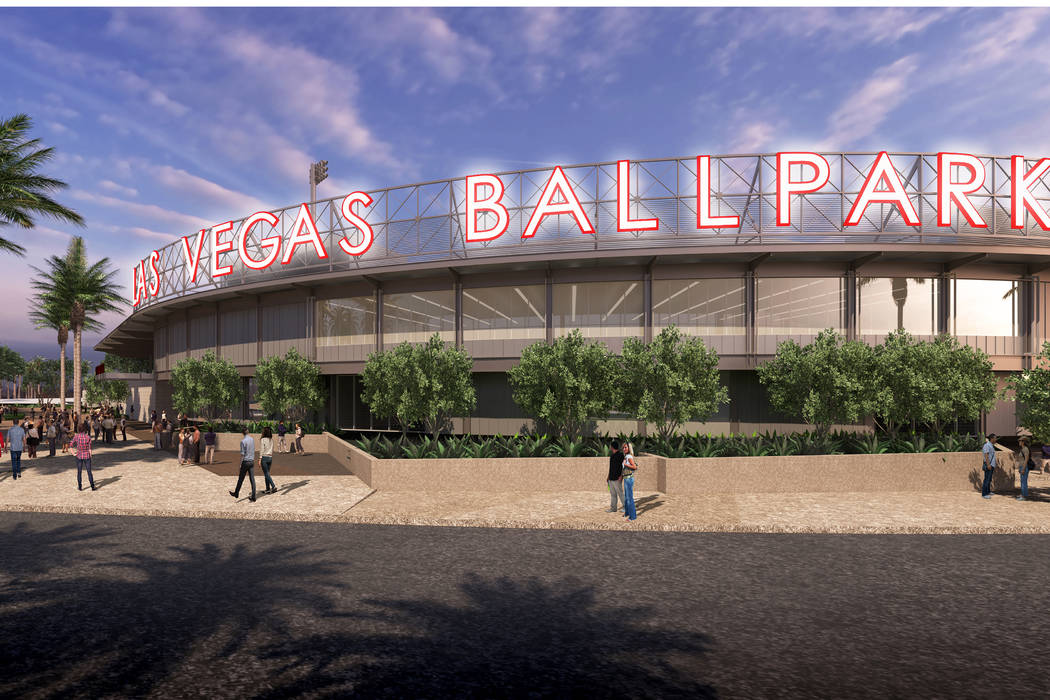 February 1, 2019 - 2:49pm
On Saturday, Dec. 22, Cirque du Soleil and Blue Man Group brought their imaginative acts to the T-Mobile Arena as they performed on ice during two intermission breaks at the Vegas Golden Knights game against the Montreal Canadiens. Before the intermission performances and to mark the start of the game, audience members enjoyed the Canadian National Anthem serenaded by Rochelle Collins, regularly seen on stage at KÀ at MGM Grand.
During the first intermission, 25 cast members of the fan-favorite resident show KÀ, dazzled the audience as they rappelled from the ceiling cascading to the ice. Drawing inspiration from KÀ's theme, a theatric battle took place between the imperial court and the chief archer and his spearmen when the court's festivities were interrupted.
For the second intermission performance, Blue Man Group awed audience members with a one-of-a-kind musical performance of Creature Feature, an exclusive piece found only in their Las Vegas production. Featuring electrifying sounds made with unexpected instruments, like the Percussipedes and the Chimeulum, Creature Feature concluded with a unique tribal drumming experience that only the Blue Men could create.
Attendees also enjoyed KÀ and Blue Man Group virtual reality experiences on the plaza ahead of the game and were able to pose for photos with interactive billboards as their backdrop.
January 30, 2019 - 6:05pm
Get the chance to see Black Panther back on the big screen for free!
Today we are excited to announce #BlackPanther will return to the big screen to celebrate #BlackHistoryMonth from Feb 1-7 at participating AMC theaters. Tickets are free! We will also donate $1.5M to @UNCF to make the dream of higher education a reality for more students.

— Robert Iger (@RobertIger) January 28, 2019
Academy Award®-nominated "Black Panther" returns to the big screen to celebrate Black History Month for a one-week engagement, February 1-7, at 250 participating AMC Theatres locations. Simply check availability below and click 'Book now.' Once tickets are all claimed, they will open up a limited waiting list for cancellations before showing it as 'Fully booked'. Book your ticket now by CLICKING HERE
Pages