Entertainment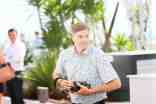 January 23, 2016 - 11:30pm
Gus Van Sant to deliver When We Rise
So Roland Emmerich's Stonewall might not have gotten its history lesson across as effectively as planned. OK, fine, it was a disaster. But now another LGBT narrative history project is in the works, the eight-hour ABC miniseries When We Rise, from director-producer Gus Van Sant. He'll reunite with Milk screenwriter Dustin Lance Black for the series, which will cover the personal stories and political struggles of a large group of LGBT activists. No word on the time-span the series will cover, or if it's going macro or micro, but because Stonewall's failure hovers over it like a too-white storm cloud, they're already making sure that the press releases talk about its diversity. And that's good. No one project will be all things to all people, but setting the record un-straight involves listening to every kind of queer story. Cautiously optimistic on this one.
Sick will make you angry all over again
You don't have to have devoured all of Making a Murderer to know that injustice served to the powerless is a rage-making proposition. And for all the progress enjoyed by the LGBT community in recent years, it's still a scary world out there for too many queer people, especially young people and those outside Northern Europe and the United States. So here comes the infuriating documentary Sick (Bolesno). The Croatian film from director Hrvoje Mabic tells the story of 16-year-old Ana, whose parents put her in an institution for five years to cure her of lesbianism. As a young adult, she is paranoid and depressed, involved in a relationship that might not be good for her, and suing her parents. Harrowing stuff, to say the least, but still vital viewing for anyone who thinks that marriage equality was the last battle. Look for Sick to make film festival rounds this year, and don't be afraid to encounter its sadness.
Saffron Burrows, from the Jungle into the Night
Its Golden Globe wins might be the first you've heard of Mozart in The Jungle (it's OK, there's just too much TV to watch out there, new Golden Age, etc.), but like us you're probably binge-watching it right now. Bisexual actress Saffron Burrows (married to Ellen writer Alison Balian) is one of the stars – her character will be having a secret affair with Gretchen Mol this season, so enjoy that – and she's got another project upcoming with fellow queer actor Russell Tovey. The indie feature is called Night of the Lotus; it's from filmmaker Henry Mason and writer Thomas Martin, and it revolves around a young woman (Adelaide Clemens, The Great Gatsby) suffering guilt over the death of her new husband. She then lives out the honeymoon she never had with a stranger she meets on a train. Look, you have to use the tickets or you lose them.
Anne Heche, Sandra Oh, Alicia Silverstone have a Catfight
Writer-director Onur Tukel just wrapped a lesbian brawl. It was for the filmmaker's latest feature, Catfight, which stars Anne Heche, Sandra Oh and Alicia Silverstone. Oh plays wealthy housewife Veronica Salt (hat-tip to Willy Wonka, obviously), whose life-long rival, played by Heche, meets her again at a birthday party. The sparring begins. They're making a big deal out of the "intense" fight scenes, which is great, of course. And there's also a plotline about war in the Middle East, even though we're not quite sure how that fits into the Dynasty-style beatdowns. Bottom line: Silverstone plays Heche's girlfriend and we've loved her since Clueless and that's pretty much enough for us to want to see this one. In post-production now, look for it at better LGBT film festivals before its proper release later in the year.
December 17, 2015 - 5:35pm
Jane Fonda was so moved by a question she cried. Josh Groban recalled the moment he learned about his big bear following – and how he mistook them for a sports team. And Sarah Paulson opened up in a candid conversation about her sexuality. Here's a look back at the most memorable words from some of Hollywood's hottest gay-adored celebs:
"When I sent that tweet a few years ago just letting people know that I am gay it was the most amazing day of my life after the birth of my kids." – Ricky Martin
"I'm so excited. What a big day. It's a huge step toward equality. Everyone should be able to be who they are, love who they want and marry who they want. It's 2015; for us to still have judgment about people being gay is ridiculous, so I can't believe it's taken this long. It's definitely a big day in history, and I'm just so excited." – Hilary Duff, on June 26, the day the Supreme Court ruled in favor of marriage equality
"I find the question so moving that it makes me cry. I had never thought of it before, and it makes me so moved." – Jane Fonda when asked why there's always been a place for older women in the gay community
"I was at some kind of shop, and I was walking around with someone – it was probably my girlfriend. And this guy comes up to me and goes, 'Hey, I just want you to know, the bears love you.' I'm like, 'Excuse me? What?' And I didn't know what that meant! I'm like, 'Are you a baseball team?'" – Josh Groban
"All I can say is, I've done both, and I don't let either experience define me. I don't let having been with a man make me think I am heterosexual, or make me want to call myself that, because I know I have been attracted to women – and have lived with women. So, for me, I'm not looking to define myself, and I'm sorry if that is something that is seen as a rejection of or an unwillingness to embrace (my sexuality) in a public way, but it's simply not. It's simply what's true for me, and that's all I can speak to." – Sarah Paulson
"It was the LGBTQ community that inspired me to be the kind of person I wanted to be. I wanted to be authentic and courageous, and for so long I wasn't." – Judith Light
"I think everybody does, no matter who they are. I do, yeah, of course. Absolutely. I think it's healthy to gain a perspective on who you are deep down, question yourself and challenge yourself; it's important to do that." – Selena Gomez on questioning her sexuality
"For me, having kids and being married, it was important to maintain the integrity of those relationships and not teach my kids that this is a shameful secret and that my husband (Simon Halls) has to be waiting in the wings all the time." – Matt Bomer reflecting on coming out
"What a child needs when they're growing up is support and love, mainly love. … And if they do happen to be gay, that's going to be a harder hurdle to get over. What a parent needs to do more than anything is jump in there with love and support. You made 'em. They're a gift from God. Love 'em as they are." – Reba McEntire
"I just hope she finds love. It took me a while, man. And there was a lot of heartache throughout those years. You know, as long as she's happy, I don't care either way, and neither does my husband. And we have two other kids as well, and we don't care either way for all of them." – Kelly Clarkson on how she'd feel if one of her kids were gay
"I do feel like I occupy – not in any self-aggrandizing way – a space where I have looked to my peers and looked around me and said, 'Well, who else can I look to?' And there isn't anybody else. That to me is significant and personally gratifying as I consider my own journey to self-acceptance." – Zachary Quinto on the lack of LGBT action heroes
"You always have to take their stories with a grain of salt. It's like when there's a traffic accident and you ask five witnesses and they tell you five different stories." – director Roland Emmerich on the Stonewall film controversy
"I would like to think I changed lives – I mean, I get lots of emails saying, "Seeing 'Torch Song' changed my life, seeing this changed my life,' and that's wonderful. But I don't need to worry about if I'm gonna be remembered. I ain't gonna be here to know if I'm being remembered or forgotten!" – Harvey Fierstein
"When we got marriage equality and there was a celebration for that in New York City, it was an honor to be a part of that. I can't explain it. There are some performances that you do and you're like, 'That was cool, that was fun.' That one was different fun. It was so memorable and an incredible thing to be a part of." – Carly Rae Jepsen
"What I like to say is that being unique and original is what makes me happy, and I think that rubs off on them. My sons did nails just the other day, and the only reason was because their nails were so disgusting! Like, they were in the mud and I was like, 'We have got to do your nails! Why don't we do 'Nail Salon'?!'" – Gwen Stefani
December 17, 2015 - 12:20am
Seeing Other People at Sundance
Maybe you've been watching Fargo. You should have been, anyway. And maybe you caught Jesse Plemons as Kirsten Dunst's husband. He's one of our new favorite character actors and now you know his name. But there's more. It turns out he's an ambitious sort, and he has written and directed a queer-themed film in which he stars. It's also the opening night film at Sundance. It's called Other People and it co-stars Molly Shannon, Bradley Whitford, Maude Apatow and June Squibb in a story of a comedy writer (Plemons), recently broken up with his boyfriend, who moves home to Sacramento to help his sick mother. Once again living with his younger sisters and very conservative father, he has to sort out what it means to come home, navigate family expectations, and possibly witness the death of a parent. In other words, it's a Sundance movie that sounds like a Sundance movie. But so what? We're in for queer characters whose lives intersect with everyday drudgery. It's sexy.
Gloria Vanderbilt and Anderson Cooper leave Nothing Left Unsaid
The very, very, very rich Vanderbilts, one of those old-money families that are as close to American aristocracy as it gets, have always been among the noisier mega-wealthy clans (see also: The Kennedys). But their more well-known members – famous-from-childhood heiress and fashion designer Gloria, and her superstar journalist son Anderson Cooper – have done rich the right way, by being both entertaining, endearing and not plagued by bad behavior, scandal or awful political leanings. So expect a bit of a lovefest when Nothing Left Unsaid, the new doc from Liz Garbus, hits Sundance and, then, eventually, arthouses. It's a film of personal and cultural history, all wrapped up in the kind of home movies only people who take ski vacations in Switzerland can make. And it will feature in-depth, candid conversations with the devoted mother and son (secret that's not so secret: mom is a pistol, so that's really the draw). Pro-tip: Before viewing, go find your old pair of vintage jeans with Gloria's swan on the pocket and see if you can still fit into them. Then wear them while watching.
Queen Latifah jumps on The Lee Daniels Train
There's no slowing down Lee Daniels, now that Empire has established Taraji P. Henson as this generation's Joan Collins. And with every black actor in Hollywood clamoring to be part of that show's wildly expanding world, it's no surprise that his next project attracted an A-lister like Queen Latifah. Fresh off The Wiz, she's signed on for his next TV project, tentatively called Star. Like Empire it's a musical, and like Dreamgirls and Sparkle, it's the story of three young women who form a group and dream of being as big as Beyonce. Co-written and co-created by Daniels and Tom Donaghy, the pilot has cast up-and-comers Jude Demorest (Dallas), Ryan Destiny (Low Winter Sun) and Brittany O'Grady (The Messengers) as the young ladies with the voices and the moves. Latifah will star as a beauty salon owner who becomes a kind of surrogate mother to the girls. Disapproving at first, you know she's going to come around. And sing. And sing some more. After that, she'll probably sing.
The little movies that could
Sure, fine, Star Wars and all that. We know. We're soaking in it. But for us, it's the small films that keep the experience of moviegoing worth being excited about, especially when small, LGBT-themed films of quality find their way into theaters. Then it's as exciting as when we encountered the New Queer Cinema of the early 1990s. So it's nice to know that more are on the way, thanks to early 2016 premieres at the Sundance (yes, more Sundance news, it's that time of year) Film Festival. Suited, the Lena Dunham-produced documentary about New York tailors Bindle & Keep, the business that custom-makes clothes for gender-nonconforming clients, will take its bow. So will Uncle Howard, a doc about Howard Brookner, a filmmaker whose Burroughs: The Movie captured a slice of downtown Manhattan in the early 1980s, and whose career was silenced by his death from AIDS. Directed by his nephew, Uncle Howard explores the unfinished, unseen work of a director whose talents were stolen from us. Finally, there's Spa Night, from director Andrew Ahn, about a young Korean-American man whose duties to his immigrant family, as they struggle in Los Angeles, come into conflict with his secret sexual habits and the realization that he's gay.
December 17, 2015 - 12:09am
Julianne Moore is Wonderstruck with Todd Haynes
Julianne Moore and director Todd Haynes – his recent film Carol is generating lots of Oscar buzz – go way back. In 1994 she starred in Haynes' critically acclaimed drama Safe, then again in 2002's critically acclaimed drama Far From Heaven, and again in the critically acclaimed drama I'm Not There. The two of them and "critically acclaimed" are kind of a thing at this point, that flashpoint where like-minded artists meet and make fire. So it's no surprise that the Academy Award-winning Moore and her preferred auteur are teaming up again. She'll star in Wonderstruck, Haynes' adaptation of Brian Selznick's children's novel. It's about two hearing-impaired children – a boy in the 1970s and a girl in the 1920s – whose lives entwine when they both flee their homes and run away to New York City. Yes, in different decades. Look, we trust these people to make it work. Longtime Haynes collaborator Christine Vachon will produce, and the words "critically acclaimed" are fairly certain to make another appearance when all is said and done.
Adele's 'Hello' director to keep working in English
Prolific and highly lauded, gay French-Canadian filmmaker Xavier Dolan is in his late 20s and has already directed several films that have made the arthouse world sit up and take a lot of notice: I Killed My Mother and Heartbeats, to name two. But it's his most recent work, his first big project in English, that has earned him half a billion YouTube views: Adele's "Hello" video. Now the director will tackle a feature film in that language, The Death and Life of John F. Donovan. It will star Susan Sarandon, Kathy Bates, Jessica Chastain, Taylor Kitsch, and Kit Harington in the title role. The film concerns a young actor who corresponds with an American TV star who dies, the fallout of that relationship affecting everyone connected. As of this stage in the development process, there would appear to be no role written for the world's most famous British singer. But you know it would only help raise the movie's profile.
Hey, remember that Freddie Mercury movie they keep promising?
It's still happening, for starters. Sacha Baron Cohen has dropped out, as we reported earlier, and frankly, after that, everything sort of seemed to be falling apart. But now it looks as though a new screenwriter is on board – Anthony McCarten, whose The Theory of Everything screenplay earned an Oscar nomination – and there might be a title: Bohemian Rhapsody. Smart move there, really. Instant name recognition and all that. As for a star? That's trickier. So many names have been tossed around. Currently the producers are hot for Ben Whishaw, which would be another smart move, because he's terrific, and also because he looks more like Mercury than Benedict Cumberbatch or Tom Hardy, England's other go-to hotshot young actors. And if they can't get him, then… well, we have no idea. This could go on for longer than that Janis Joplin movie that still hasn't shown up on screens.
Chris Colfer is in the Absolutely Fabulous movie, sweetie
Post-Glee life continues to look absolutely fabulous for Chris Colfer. Not only will he star as the legendary Noel Coward in an upcoming biopic, but he's also about to work with Kim Kardashian. OK, he might not share any scenes with the co-star of Tyler Perry's Temptation: Confessions of a Marriage Counselor, but he will share a credit crawl with the infamous reality star, because they've both taken roles in the Absolutely Fabulous movie. Colfer will play the (we assume gay) hairdresser/social media consultant to Edina (AbFab creator Jennifer Saunders) as she cavorts around Europe with Patsy (Joanna Lumley), desperately maintaining their connection to youth and glamour. The only thing more delightful than this news is the clip going around online where Colfer explains Absolutely Fabulous to a befuddled Larry King, who appears to have never heard of such a thing. Your day will be made, trust us.
December 16, 2015 - 11:47pm
David Bowie, Five Years 1969-1973
The iconic cover of the U.K. edition of David Bowie's 1971 release The Man Who Sold the World features the queer icon sprawled out in a silky gown, pensively gazing forward. His skin is soft; his hair is long. He looks like a pastel painting. The Man Who Sold the World was just Bowie's second album and already it was clear: Bowie would not be playing by the rules. Some 50 years later, he still doesn't.
A new album due in early January, Blackstar, Bowie's 25th, is said to bend all expectations, morphing his left-of-center rock genesis into Kendrick Lamar-influenced hip-hop. It sounds crazy, and hopefully it is. But even in the early '70s, Bowie's restless curiosity and his own fantastical forays were apparent as he challenged the zeitgeist with deviations of gender and genre. He crushed the paradigm. He made waves. He reinvented.
In just five years, from 1969-1973, he released six studio albums. His eponymous debut established his short-lived psychedelic folk phase, characterized by the landmark single "Space Odyssey" and the career-foreshadowing sound of Bowie's life-affirming, nine-minute anthem, "Cygnet Committee" (producer Tony Visconti and Bowie himself offer track-by-track commentary on the album in a comprehensive book within the collection). December 1971 signaled a shift in Bowie's sound. Hunky Dory was the first time Bowie shed his musical skin, introducing a prominent theatricality that would mark most of his later recordings. It surely wasn't coincidence that "Changes," a single from the disc, launched his latest career chapter. (Nor was it accidental that he exuded femininity as Marlene Dietrich on the album's glam cover – he was inspired by a photo book of hers he brought to the cover shoot.) 
With later releases, especially the sexually wound The Rise and Fall of Ziggy Stardust and the Spiders from Mars, Bowie continued to cut through convention, queering his aesthetic, mapping a road less traveled. Why yes we did need an entire album about a bisexual alien rock star, and this was it. Heck, we did need (and still need) David Bowie, period. And so did Boy George. And so did Adam Lambert. This expansive collection capturing Bowie's first very prolific five years, which also includes two live offerings, is a thorough exploration of the stage Bowie set – the one that would forever change rock music and queer culture.
Alanis Morissette, Jagged Little Pill (Deluxe Edition)
Alanis Morissette knows a good burn when she writes one. In 1995, she lashed out at an ex-lover, a transcendent career move that catapulted the Canadian songstress to international Grammy-winning stardom. "Are you thinking of me when you fuck her?" was the burn, the "Hello. It's me" meme of 1995. And the song it's from, Morissette's mega-hit "You Oughta Know," was one of the greatest early-'90s catharses.
By the time the song blazed the radio charts, Alanis had already recorded two other albums (this was her third), but "You Oughta Know" – and the album it would appear on, Jagged Little Pill – elevated the singer-songwriter to massive mainstream heights because who doesn't like a song about a woman taking the piss out of a man. With Tori Amos and Fiona Apple on her team, The Great Estrogen Takeover was in full force. When it came to Alanis, the world was transfixed and transformed. Her anger translated to unheard-of-these-days-unless-you're-Adele album sales, moving a whopping 33 million copies around the world. And for those who found moxie in Alanis' scathing tear-downs (a lot of us, apparently), or her not-so-ironic ironies or her chill "Hand in My Pocket," it was just what the music doctor ordered.
That emotion-fueled candor teemed throughout Jagged Little Pill, defining not only Alanis' career but the very complicated facets of our own lives. How we're all sinners. How we're all imperfect. How we're all still learning. Morissette wasn't even 20 when she recorded these songs, a fact made clear on a collection of demos released in conjunction with this anniversary reissue. The intriguing demos reveal an artist still in self-discovery mode. On "London," she muses on pimples, her cervix and "the boy with the androgynous song"; "Superstar Wonderful Weirdos" celebrates fringe life, and "No Avalon" examines white privilege.
The album's official tracks and those aforementioned demos make one thing clear: The truth of Jagged Little Pill is timeless. Morissette doesn't pretend to know everything. She knows we don't know everything. We still don't. "What it all comes down to," she says, "is that we haven't got it all figured out just yet." Twenty years later, the question Jagged Little Pill now poses is: Do we ever?
December 16, 2015 - 10:59pm
The buzz was even bigger than usual when Out magazine's annual Out100 list came out in early November. Why? Because the decision to name President Barack Obama Out's Ally of the Year and subsequently have him grace the cover of the magazine made him the first president to ever pose for an LGBT publication. The whole country felt the news, but here in Las Vegas we had even more reason to celebrate – local political activist Derek Washington made it to the Out100 list as well. All of this begs the question: what makes these two men so special?
With the next presidential election less than a year away, now really does seem like a great time to recap what President Obama has done for the LGBT community. This is the president who oversaw the following: the repeal of "don't ask, don't tell", getting an order on the books to prohibit federal contractors from discriminating on the basis of sexual orientation or gender identity, the passage of the Matthew Shepard and James Byrd, Jr. Hate Crimes Prevention Act (the first federal LGBT law), and more.
"One of the reasons I got involved in politics was to help deliver on our promise that we're all created equal, and that no one should be excluded from the American dream just because of who they are," said President Obama in his interview with Out.
But would he actually come out in support of equal marriage while in office? Remember, this is the same politician who came into the White House reaffirming his position that marriage was between a man and a woman. Yet by the time he was campaigning for his second term, Americans knew they were voting for the country's first pro-equal marriage president.
How fitting then that it would be this president who would witness the legalization of same-sex marriage across the country in the summer of 2015. Indeed, President Obama described the Supreme Court decision on Obergefell v. Hodges as a "victory for America."
Although he only has a much smaller platform at his disposal, Derek Washington is also trying to grasp that "victory". This Las Vegas-based political activist became active in the Democratic Party in 2008 and boasts an impressive CV that lists his efforts as new media and diversity outreach consultant for Aid for AIDS Nevada and chairman of Stonewall Democrats of Southern Nevada.
In 2014, the newly formed Black Democratic Empowerment Project came into being with Washington as its president. The organization's mission is to "educate and empower the black community politically and economically." Out quotes Washington as saying he's the "only gay person heading up a black Democratic partisan organization", but that he hopes he won't be the last.
We know this won't be the last we'll hear of him.
December 4, 2015 - 3:54am
Santa checked his list twice for who's naughty and nice so your Christmas is filled with sugar – and now some spice.
Slaphappy Flat Vibrator
Marketed as the Swiss Army knife of vibrators (which, granted, maybe isn't the best tag line for a device you're putting up your hoo-ha, but I digress), the Slaphappy bendable five-in-one flat dildo is made of 100 percent body-safe silicone, cycles through eight vibrating modes, and stays super quiet so family brunch isn't too awkward in the morning. $50, slaphappy.com
L. Condoms
Wrap up your love with "the most natural, pleasurable way to practice safe sex," according to Fast Company magazine. For every L. condom purchased, one is distributed in a developing country where the brand partners with developing organizations to support women and HIV/AIDS prevention. Plus, one-hour delivery is available in Brooklyn and San Francisco for all you bang bros too lazy to hit the bodega. $15 for 12, thisisL.com
Knix Women's Underwear
Figure-flattering Knix underwear for women features cutting-edge technology to keep your partner fresh, dry and confident in three outperforming fabrics: the original seamless basic, sexy lace for a special night out and a sporty cut for active lifestyles. $20-$38, knixwear.com
Adam & Eve Finger Bangers
For hesitant bottoms who like a light touch, Adam & Eve mini-vibrating finger bangers are designed with a tapered tip to focus vibrations for maximum pleasure in two styles – ribbed blue and nubby purple – to drive your partner wild with every pulse. $8, adamandeve.com
EZ Reach Prostate Massager
Backdoor play gets a boost with the EZ Reach Prostate Massager featuring a unique textured surface and curved shaped for ultimate satisfaction while a maneuverable tipped handle stimulates as he moves it around – because every time a prostate sings, an angel gets its wings. $15, adamandeve.com
K-Y Love Pleasure Gel Lubes
Intensify your sexual connection with this line of couples' pleasure gels from K-Y – which include "Sensuality" and "Passion" varieties – to take your body-connecting experience to a tingly new level. $17, k-y.com
Cheap Undies
There's a veritable smorgasbord of skivvies to choose from at Cheap Undies – including third-party brands like CIN2 and Ginch Gonch – but this holiday season you can make his assets shine with the Golden Luxe Briefs collection, a super-soft cotton blend in saturated tones and shimmering waistbands for that Midas touch. $10, cheapundies.com
December 4, 2015 - 3:49am
When the weather outside is frightful, your DVD player is delightful with this fortnight of holiday flicks that appeal to gay and lesbian sensibilities.
Home for the Holidays
Claudia Larson (Holly Hunter) navigates dysfunctional family dramedy during her solo trip home for Thanksgiving when her teenage daughter opts out of the year's celebration. Tensions predictably boil over at the family table, but the weekend is wrapped nicely in a bow when the special guest of Tommy, Claudia's gay brother, offers a second helping of stuffing. The Jodie Foster-directed Home for the Holidays celebrates its 20th anniversary this year.
Make the Yuletide Gay
Astonishingly, there are few holiday films that feature LGBT characters (this list is fairly comprehensive as a result), let alone films that have gay main characters. But out director Rob Williams changed that in 2009 by adding the spritely sweet Make the Yuletide Gay – about an in-the-closet college student (Keith Jordan) whose boyfriend (Adamo Ruggiero) suddenly shows up on his doorstep – to the Christmas-movie canon. MTYG has earned several awards, including Best Narrative Feature at FilmOut San Diego, Festival Favorite at Philadelphia QFest, and the Jury Award for Best Men's Feature at the Long Island Gay & Lesbian Film Festival.
Holiday Heart
Ving Rhames stars as a Christian drag queen (uh huh – how'd that fly under your radar until now!?) who takes in a drug addict (Alfre Woodard) and her daughter after his police-officer boyfriend dies. Based on the Cheryl L. West stage play of the same name, this made-for-Showtime movie has an astonishing 92 percent approval rating on Rotten Tomatoes.
Scrooge & Marley
A modern-day variation of Charles Dickens' A Christmas Carol, this reimagined version depicts Scrooge as a bitter old queen whose bah-humbug attitude gets a makeover from the ghosts of Christmases Past, Present and Future... and Bruce Vilanch.
Love, Actually
Widely regarding as one of the best holiday movies of the new millennium (by straight girls, at least), this romantic comedy told via 10 separate-but-intertwining stories throws the gays a bone with Billy Mack (Bill Nighy) and Joe (Gregor Fisher) – a rock star and his manager, respectively – who decide that getting drunk and watching porn together for Christmas is better than being alone. Because duh.
24 Nights
An unlucky-in-love gay man (Kevin Isola) thinks his new co-worker (Stephen Mailer) may be a gift from Santa Claus himself after making a Christmas wish for a boyfriend. Mental illness works in mysterious ways, y'all. David Burtka – before he was ever a twinkle in NPH's eye – also stars in this 1999 romantic comedy.
Red Lodge
An impromptu marriage proposal is given at a train station en route to a holiday celebration with family in Montana. In lieu of an engagement ring, there's a cock ring – because these dudes are classy AF.
Holiday in Handcuffs
There's not a chance you missed this ABC Family staple that premiered in 2007 – what with all the endless promotion the initial season (Clarissa and A.C. Slater are together on your TV for the first time – watch!) and the subsequent showings during the channels "25 Days of Christmas" schedule. It's about as well acted as any Melissa Joan Hart/Mario Lopez vehicle should be, but they're cute, so there's that.
The Family Stone
As if Carrie Bradshaw's alter ego, Sarah Jessica Parker, isn't enough to get you on board with this Home for the Holidays-esque romantic comedy-drama, the brood's deaf, gay son Thad (Tyrone Giordano) and his interracial partner Patrick (Brian J. White) should be. Plus Dermott Mulroney, Paul Schneider and Luke Wilson!
Too Cool for Christmas
Perhaps the Christmas film with the most interesting backstory, Too Cool for Christmas (a tale about a teenage girl who shuns the reason for the season – and her gay parents – in favor of a ski getaway with friends) actually has a straight-parent companion version that appeared on Lifetime in December 2004. Not much has changed since then – there are still no holiday movies with prominent gay characters on Lifetime – which is why you should support this festive anomaly all the more.
Miracle on 34th Street
Shirley Temple! Do you need another reason?
Holiday Inn
If it's an Irving Berlin musical, it must be Christmas! There's a void of LGBT characters in this 1942 black-and-white musical starting Mr. Holiday Bing Crosby and the light-on-his-feet Fred Astaire – well, none that are specifically labeled as such, at least. But we'd be fooling ourselves if we thought there's nary a nancy-boy singing and dancing around that hotel all day.
Rent
A year in the life of Bohemian New Yorkers set between Christmas Eve 1989 and 1990. You'll come for the story, but you'll stay for the soundtrack.
Love the Coopers
Technically you won't be able to pick up this newly released film on DVD until next year, so instead you'll have to head to your local cinema to watch yet another dysfunctional family handle the holidays the best way they know how – with binge eating and alcohol. But between bickering and laughing and crying – and more bickering  – there's Anthony Mackie (one of only a handful of black gay characters in a holiday film) as a closeted cop who doles out life advice… even if he should be practicing what he's preaching.
December 4, 2015 - 3:21am
Janet Jackson, Unbreakable
With her nipple safely tucked away, Janet Jackson resurrects a bygone bondage-less sound that's more Good Times than straight up sexy time. No "Would You Mind"-type on-tape masturbation. No Damita Jo-era "Sexhibition." "Miss Jackson if you're nasty"? Not so much, at least for the time being. Instead, Janet's 11th studio album, Unbreakable, is playful and PG, a welcome return to Jackson's many formative years as the girl-next-door pop star du jour, when she didn't rely on sex to sell a song – all she needed was her trademark sweetness. And, of course, Janet's heart, heard throughout Unbreakable, which was produced by her longtime dream team, Jimmy Jam and Terry Lewis. Striking the redundancy of the bedroom-play songs she cranked out post-Velvet Rope, her first album in seven years puts empowerment first, reflecting on love, kindness and hope – a Rhythm Nation for a new generation. "We all need to do better," she proclaims on the socially conscious "Black Eagle," a twinkly mid-tempo she dedicates to the "invisible people." Like a lot of Unbreakable, from the autobiographical title track through lead single "No Sleeep" and the penultimate nostalgia of "Well Traveled," this is a low-key, Janet-circa-"Runaway" affair. By the time she tributes her late brother Michael on the very-MJ-sounding "Gon' B Alright," surprisingly the most bouncy jam in the mix, it's clear Janet isn't just unbreakable – sometimes, she's still unbeatable.
Grade: B+
Patty Griffin, Servant of Love
The piano tiptoes to a crawl, and then – with adorning horns, and Patty Griffin's sky-high vocal climb – it briskly powers into an impassioned run. The song is "Servant of Love," the title track off Griffin's 10th release. Now self-employed (Griffin went indie for this, her latest), the celebrated singer-songwriter once again follows her transformative muse into the unknown, charting territory that eludes predictability and, instead, favors multi-genre alchemy – and that's just musically. Beyond the blurred sonic lines of folk, blues, soul and rock is a tapestry rich in earnest storytelling, a bloodletting of words beautifully strung together in typical Griffin fashion: from the world around us. Hanging out in the deep, dark corners of human suffering, Servant of Love is sometimes tragic, sometimes hopeful, but always compassionate and compelling. "Good and Gone" recounts the real-life fatal shooting of a young black man by police in a Walmart, and it's appropriately stark, rumbling about like the coldest and windiest of days. The jaunty jazz-flecked "Gunpowder" could easily be interpreted as a clever dig at the NRA, and "250,000 Miles," inspired by trafficked Nepali women, is drum-punched and heart-wrenching. But hope is never too distant. On "Shine a Different Way," she reacts to the darkness before her, imparting light where she can. "Made of the Sun" and "Rider of Days," a celestial stunner, also cut through the despair. Servant of Love is a world-weary reflection of our times, radiating optimism when so little of it seems to exist.
Grade: A-
Also Out
CHVRCHES, Every Open Eye
CHVRCHES's first album since their 2013 debut, Bones of What You Believe, eases into a steady synth build with "Afterglow," electro shimmer and Lauren Mayberry's pure voice guiding it through an otherworldly dimension. It's that space that CHVRCHES occupies so well, their vulnerable heart pouring out over the evocative framework of their carefully calibrated EDM. Here, they don't bend much musically. This is Bones… just better. But who are we to argue with the glistening pop brilliance of "Bury It" and "Clearest Blue" and "Keep You On My Side" and… the whole thing, really.
Lana Del Rey, Honeymoon
Lana Del Rey is sad again. On Honeymoon, the songs sway in the moonlight, softly, slowly. That kind of languid pacing is Del Rey's go-to, a style she's finessed ever since releasing her big breakthrough Born to Die. Her latest keeps that downer vibe alive, and in the way Ultraviolence didn't pay mind to radio, Honeymoon stays true to Del Rey's artistic intentions rather than faking them for mainstream consumption. Just listen to "God Knows I Tried," a haunting guitar-strummed confessional – and then rejoice in knowing that she's still blazing her own bittersweet path.
Various artists, We Love Disney
Dreams – they do come true. That is, if your dream is to have Jessie J slip into Ariel's mermaid flapper for "Part of Your World" and also hear Gwen Stefani interpret The Muppets' cutesy stargazer, "The Rainbow Connection." These all-new contemporary takes on classic Disney songs from today's biggest pop and country stars – including Kacey Musgraves' "Spoonful of Sugar" and Ariana Grande's "Zero to Hero" from Hercules – are pretty much magic, with UK sensation Jessie Ware being the perfect fit for "A Dream Is a Wish Your Heart Makes" and Rascal Flatts being Rascal Flatts on a foot-stompin' version of "Let It Go.".
December 4, 2015 - 2:54am
My Own Private Idah
Two years before a drug overdose ended River Phoenix's life in 1993, the dreamboat poeticized a tortured gay street hustler with gutting sorrow in out director Gus Van Sant's groundbreaking queer-cinema classic, My Own Private Idaho. The actor's piercing eyes and windblown hair were as aesthetically pleasing as Van Sant's languidly shot rural landscapes. The quiet countryside, the time-lapsing clouds. But it's Phoenix's lonely, lived-in performance that, to this day, and especially among those in the LGBT community with intensely emotional connections to the film, is heralded as a spellbinding turn for the then-21-year-old actor. As Mike Waters, he is broken and lost. His mother is gone. The man he loves doesn't love him. And exacerbating his crippled state is his long battle with narcolepsy. Searching for his mother – and himself – Mike sets off on the road with another gay hustler, Scott Favor (Keanu Reeves, also impressive). Their companionship unfolds both beautifully and tragically, most memorably amidst the crackling of a campfire and the sound of a breaking heart. Thanks to Criterion Collection, the Blu-ray debut of  My Own Private Idaho includes a candid conversation with Van Sant and fellow filmmaker Todd Haynes focusing on various elements of the film and its enduring impact as one of the earliest "New Queer Cinema Movement" films. Also included are a lengthy documentary, an interview with Phoenix's sister Rain and an extensive booklet featuring archival interviews.
Inside Out
Oh, emotions. Those crazy, complicated things that occupy our messy minds – they have lives of their own, don't they? In Pixar's moving new classic Inside Out, they even have names: Joy, Sadness, Fear, Anger and Disgust. Since birth, they've occupied Riley's noggin, overseeing every life-changing evolution as she faces those difficult tween years. You know the ones. And during those years, the film's emotions react to a variety of Riley's new surroundings as the once-newborn kisses her youth goodbye and faces those inevitable growing pains. This is a cute, colorful, emotional film – one of Pixar's best. Kids will adore it. It makes important assertions, like, without Sadness we couldn't fully appreciate Joy. But the film resonates on a different, deeper level for adults – for anyone missing that special imaginary friend who embodied childhood innocence. The ones wishing they were still pulling their little red wagon. In those nostalgic memory-laden moments, we are all Riley, and we are all experiencing the full range of misty-eyed emotions as we reflect on letting go and growing up. Among the release's two-disc extras: Lava, the sweet short about two lovestruck volcanos; hand-drawn deleted scenes with commentary; and interviews with voice actresses Amy Poehler, Mindy Kaling and the wonderful-as-Sadness Phyllis Smith.
Magic Mike 2
Butt floss was sexy before the jockstrap out-sexied it, but the '90s are dead and Sisqó is not popular anymore. So, let's retire the thong, OK? The skivvies the Magic Mike 2 men don around their you-know-whats in Channing Tatum's cinematic gift to the world should not be a thing. This is an important detail because this is a movie about men who dry hump metal poles. What conceals their bits is a supporting character. And the stripping itself – wait, what stripping? There's hot-and-heavy dancing, to that song "Pony"... in a workshop... with a saw, but rarely do clothes come off. Rarely is there nudity. THIS IS A STRIPPING MOVIE AND THE PEOPLE WANT NAKEDNESS. But whatever. If you have high expectations for Magic Mike 2, just stick to Sean Cody. This is not your movie. But if you want Joe Manganiello, as Big Dick Richie, giving a not-having-it store clerk a good time with his trusty Cheetos and a bottle of water? Matt Bomer's overdone hippy-dippy character, Ken, sexing up the stage as he sings D'Angelo? The whole hot herd voguing at a drag club? Then get those $20s out. Behind the scenes, we get to meet one very lucky choreographer. Channing Tatum grinds her. You know, just another day on the job.
The Gift
New home. Happy couple. Dog. Shower. In The Gift, you know inevitable stranger danger looms just around the twisted and twisty corner, each shot a setup for the messy fallout. When Gordo (Joel Edgerton, who also wrote and directed the film) comes into the picture, creepily stopping by unannounced with presents, it's only a matter of time before things go awry. Another shower scene. The dog again. When weird stuff starts happening, Gordo's former classmate, Simon (an intensely serious Jason Bateman), tries to keep his distance, but one by one, the gifts keep coming; Simon's too-nice wife, Robyn (Rebecca Hall), though, is charmed by Gordo's weirdness... and the gifts. For a while, anyway. As Gordo's motives become clear, the characters come undone, challenging our initial perceptions and then smashing them to smithereens. The movie's mind bends make Edgerton's film a top-notch thriller, toying with your expectations all the way through that doozy of an ending. It wraps with the highest caliber of '90s-thriller, leave-you-speechless crazy, messing with your mind as much as your moral compass. The Gift, in all its demented deliciousness, certainly is a gift. Extras include a wisely-changed alternate ending, some deleted scenes and an Edgerton commentary.
Spy
See big woman run. See big woman fall. See big woman try to hop a fence and fail. So funny, right? … No? Uninspired weight-centric punchlines have been the bread and butter of Melissa McCarthy's IMDB after her Bridesmaids breakthrough in 2011, cheapening the actress' natural comic instincts. But leave your Melissa McCarthy hate at the door. Spy is a game-changer for McCarthy skeptics, as Paul Feig's sharply scripted comedy gives the actress her best big-screen role yet. Fine with just blending in, McCarthy's Susan Cooper is a frumpy middle-aged CIA analyst with a schoolgirl crush on her hunky partner, Agent Bradley Fine (Jude Law). When she's compelled to step in, Cooper puts on her brave belt and goes undercover, disguising herself in some really hideous costumes, one of which, she jokes, resembles a "homophobic aunt." Laughs don't let up, especially during two of the film's funniest scenes – one on a plane, another at a fancy restaurant – involving McCarthy and her Bridesmaids co-star Rose Byrne, who plays Susan's diva-haired nemesis Rayna Boyanov. Luckily, there's no shortage of supplements, with bloopers, character-centric features, a making-of, and alternate and extended scenes. The best? Watching Byrne hold it together while McCarthy goes on a wine ramble.
Also Out
Cinderella (2015)
Anyone still grappling with the fact that Angelina Jolie turned Maleficent into a wounded saint in the dreadful film of the same name, fear not. Cinderella at least remains faithful to its source, and Cate Blanchett knows not to screw with an evil icon. As the stepmother, Blanchett is masterfully torturous, while the lovable Lily James, as Cinderella, imbues authenticity as she channels the film's two constants: courage and kindness. Helena Bonham Carter also stars, radiating the winsome aura of the Fairy Godmother, "bippity boppity boo" and all. This live-action take on the legendary 1950 Cinderella is handsomely rendered and lovingly retold, and if that and Blanchett still aren't doing it for you, there's always the magic happening in the prince's pants. The "Frozen Fever" short is included among a slight collection of extras.
Pitch Perfect 2
Crushed it? Not quite. Even Rebel Wilson, who returns to steal scenes from her co-stars as Fat Amy, can't give this off-pitch sequel enough of that Rebel Wilson-y ridiculousness for the film to achieve the same novel flair of the original. Wilson is fine and funny enough, but the script doesn't hit many high notes. The Aussie fave's only truly die-from-laughing scene? A cheesy showstopper wherein she belts Pat Benatar's "We Belong" on a boat; it ends with a make-out session, a parody of every big, goopy rom-com climax. As for the rest of the Barden Bellas, they're vying for another title, they do "Cups" by the campfire (awww), a new girl joins, Anna Kendrick moves up in the world, the end. When does the third one come out again? Among a plentiful heap of special features: a behind-the-scenes feature with director Elizabeth Banks.
Aladdin
It's true – there won't ever be another "friend like him." As the Genie, Robin Williams wasn't just the wish-making magic behind one of Disney's classics – he was the big, beating heart. Williams' Genie is still one of Disney's most celebrated sidekicks, boosting the fun factor to extremes (even doing drag) as he grants a misunderstood street criminal, Aladdin, three wishes. Naturally, there's a pretty girl, Jasmine. Aladdin pines for her, they sing a song ("A Whole New World" is just as sweet as you remember it), and it's all so enchanting. Supplements include several Genie-centric features, as filmmakers reflect on Williams' "warmth." 
The Rocky Horror Picture Show
How's this for a time warp: It's been 40 years since newlyweds Janet (Susan Sarandon) and Brad (Barry Bostwick) stumbled upon a transvestite scientist's sex chamber in the film version of the 1973 London-produced musical romp. And talk about a "hello from the other side" – things get weird. A queer cast of freewheeling fishnet-clad eccentrics spice up the otherwise spice-less lives of Janet and Brad – and anyone else needing to let their guard and girdle down. Can't get enough of the cult classic's delicious tastelessness? With a feature on the shadow cast craze, along with from-the-vault extras like outtakes and a sing-along (as if you don't already know it by heart), the Blu-ray will rock your world.
Pages