Celebrity Features
February 1, 2019 - 6:04pm
"You're my first. Be gentle with me. Can we start with, like, a foreplay thing where you can just take it easy on me? Some gentle licking perhaps, and then we'll get into the heavy stuff." And so my interview with Michael Bublé, who has almost made me forget he has a wife, Argentine actress Luisana Lopilato, begins. 
Returning to music with a new heart-emoji-titled album called love that he will support on a world tour in 2019, Bublé – who introduces himself by that mononym when he rings me directly – spoke openly on a variety of topics, including the difficulties of being a public figure amid familial distress, atoning for his "sexist" Christmas song and doing his part to support the LGBTQ community. 
It's sweet that this album uses the heart emoji for its title, though the gay community certainly wouldn't have argued with you naming your album using the eggplant emoji.
Oh god, I wanted to use the eggplant. You have no idea.
You fought for that.
I did. I had long conversations about it. And you think I'm joking. I've already said this a million times when talking to my friends: They were like, (in a deeply bro voice) "Why didn't you use the eggplant?" and I'm like, "Oh, I would have."
Did you intend for the album to be a Band-Aid for our divisive times? 
Yeah, it's funny that you just said that: I've actually said that in private. You know what, man, obviously everything I've gone through has everything to do with this record and what I want to put out to the world. I had different names that I'd come up with, but there was nothing that really explained the record and the concept as well as just one word could. 
The record is about love, but it's not simply about romantic love. It was really a record that was kind of my theory on this word, this emotion that has so much range. When you hear it you think, "Oh god, romantic and lovey-smovey," but there's so many different things that happen with that word. 
"When I Fall in Love" is such a beautiful track and people say, "Oh, it's so romantic." It is romantic. But for me, it's really sad. As I put myself into the character of that song, I thought about a guy sitting at the bar at 4 o'clock in the morning, drunk, looking over at another couple, wishing that he had that because it hasn't happened for him. It's very unique in that way. It's a very sad song about longing. I could go on through the whole tracklist. They all have a story for me. 
Did you personalize any of the songs? 
I wanted to do the best I could to be as personal and honest in the storytelling, in becoming the characters for the song, but at the same time give the audience a way to be able to hear and have their own opinions.
If I want to use this album to get a guy to fall in love with me, which song do you suggest I play to make him swoon?
Honestly, I think "La Vie En Rose" (a duet with jazz vocalist Cecile McLorin Salvant) is incredible because when I did this song my concept was to build a mirror of the relationship I had with my wife. It was me going to this foreign land with someone who didn't speak my language and having this kind of dance of love with them. 
I felt like there were these two characters and one is singing to the other, where I was singing to her in my language and my culture and she was answering in hers. Though we were on this path together, we were still apart; and by the middle of the song we have this beautiful dance together, this incredible night, and by the morning we were walking through the streets of Paris. I have sort of assimilated to her culture and I am singing in her language, and I loved that because that's exactly what happened in my life. 
I don't think you thought you'd be recording music again after your 5-year-old son, Noah, was diagnosed with liver cancer in 2016, days after our last conversation. But I've heard you say he's holding up and is in remission. Was creating this album more cathartic than past albums? 
I don't think I ever fell out of love with making music or being a creative person; I just think I knew it had to be put aside. The part of being a public person, that part I didn't know if I was ready for. There are always reminders every time you go out and people speak and you're trying to move on with your life or yourself and your family. At first, there were always these reminders of it and so it was hard to just move on. 
I made a promise to myself that it would be organic and that it would be joy and it would be blissful – and if it ever becomes what I consider work, or egotistically driven, then I would step away. But I never fell out of love with making music. You know, I'm having to leave the family and stuff for little bits, and if I do then it has to be for the right reasons. 
Harder than usual to leave the family right now?
No, it's not. When I do something, I know that there's a great reason for it. We can make more money and we can make more music and we can make more this and more that, but it's time – you can't make time. I wanna make sure I'm spending time doing what I love and that it's all worthwhile.
You talked about being an LGBTQ ally in our last interview. Why did you decide to express your compassion and advocacy for the LGBTQ community at that moment in your career? 
I don't know if it was about that moment. I think I had an opportunity to speak with you, and I felt like it was a really good chance to say how I felt. Now more than ever I think it's important for me to just be honest, and it's what I believe. It's part of who I fundamentally am, how I was raised. And it's about equality. It's simple. That's it. 
I wish it were so simple. When we last spoke, Trump hadn't been elected, and a lot has changed in the last couple of years politically. How are you feeling about the way this administration has treated the LGBTQ community and other marginalized groups?
I don't… (pause)... it sounds crazy, but after what I've been through, I really promised myself that I would try not to get into – and when I say "get into," I just didn't want to be a part of negative things. So I stopped reading things. I stopped reading things about myself. I stopped reading things that made me feel badly. 
I really, truly feel like more than ever in my life actions speak much louder than words do and how you treat people is – it's funny, a friend heard me talking to my son. My son was going to his first day of kindergarten and he saw me kneel down to my boy and I said to him, "Noah, I just want you to know that" – and it sounds like a cliché, but I said, "You treat people the way you want to be treated, kid." I said, "If you're kind to people and you're good to people, life will always be OK for you." And I got up and I walked away and my friend said to me, "They may not remember what you did or what you said but they'll remember how you made them feel." 
I can't stop the politicians or stupid, uneducated people from thinking and saying and doing stupid things, but I can make a stand, I can talk to you, and when I'm with groups of friends or I'm in public places or when I'm with people who I think can use that sense of love and education, I can open my mouth and tell them how I feel. And one at a time, you can change the world like that. 
Listen, I've gone through too much not to feel this way. I just feel this way really strongly. I also think it's important – it's really easy for someone selling something, an artist, to say that they support or love the gay community; I just think it's a different thing to say it than to do it.
When we spoke in 2016, you told me you had plans to get involved with the Harvey Milk High School in New York City, but then, of course, you had to tend to your family. Do you plan on picking up where you left off? 
As a matter of fact, (my publicist) Liz (Rosenberg) and I have spoken many times and talked about the plan that we have. We have a plan (that involves) the Hetrick-Martin Institute (a NYC-based professional provider of social support and programming for LGBTQ youth and host agency for the Harvey Milk High School). 
To start, I just wanted to go. I wanted to go and just let people know they had my support. Young kids who have been bullied and haven't felt comfortable have a place to go, which is just disturbing in the first place, that in 2018 they didn't. There wasn't an environment where they felt they could be who they are. Listen, I can't get into the details. I can't. 
You can't get into details about the project? 
Not those details, but within my family there are things that I can't really speak to that have made this even more pressing for me. It's because it's not my story to tell. But I'll just say that within my family these are the same issues that every family has. I wouldn't and I couldn't talk about something so personal. Definitely, I just know there needs to be advocates. Being a public person is having a responsibility sometimes to show that kind of love and that kind of support and to step out there and to do that. It's not an edgy fucking thing to do. It's not. 
For some public figures it seems so. 
Why? Because what – half of the audience doesn't buy your records anymore? Well, that's fucking stupid, isn't it? Then you gotta ask yourself if you want half of those people buying your records in the first place, and what's really important to you. Because if you're gonna tell people that you know what's important or that you've had an epiphany in your life that you know what matters then, again, actions speak louder than words, don't they?
Knowing what Noah has gone through, has the feeling of loving your kids no matter who they are, which we discussed in 2016, intensified in the last couple of years? 
No, it was always the same. I could tell you the truth: I never had to find that perspective, I always felt that way. And I think I'm very lucky because I really do think that came from the way I was parented. I really do think I was very lucky to be raised in a family that was so open and liberal and loving. I just think they were always so unconditionally loving – not just toward us children, but toward our family. 
Again, clichés, but I just tell both of my boys now that they're old enough to understand: "You know, boys, the things that make you different are what makes you special." What's amazing to me about that school and wanting so badly to go to that school is, I just feel so strongly that the difference between a child and an adult is only life experience. An adult's life experience is, "It's gonna get better. This isn't how it has to be, and this isn't how it's going to be." So for me, it's really massive to be able to meet kids and to say publicly – really: "It's not going always going to be like this."
In light of the holidays, you do realize your gay fans would've gone wild for a version of "Santa Baby" by you that was actually called "Santa Baby," right?
(Laughs) Yeah, exactly. Instead of "Santa Buddy." I think I used "Santa Baby" in one of the lines.
You did.
I should've gone full. 
I mean, a straight man can shop at Tiffany's. 
(Laughs) Yeah, no, you're right. It's funny: When I did that song, I tried to put it into my perspective and modernize it. I changed words; I asked for a Rolex or Mercedes or things I would want. The best part about it is: I get to sing those kinds of songs now in my life, and if I do concerts and I wanna add a Christmas song, then you know what? I can amend it and I can sing "Santa Baby." 
A straight guy singing "Santa Baby" is the progress we need. 
Fuck yeah. You're right, you're absolutely right. It was sexist of me not to. 
I'm looking forward to your live rendition of it. 
I'll do it for you. That's a promise. I promise I'll do it for you even if it's not fucking Christmas. 
Even if it's the middle of summer?
You think I'm kidding, but you shout it out and I promise you I'll get it done. Madison Square Garden, fucking done.
You can see Michael Bublé perform live in Las Vegas on Sat, Mar 30 inside the T-Mobile Arena.
October 15, 2018 - 12:38pm
Oh, sure, actress Natasha Rothwell's scene-stealing drama teacher in out director Greg Berlanti's groundbreaking gay teen rom-com Love, Simon is bitter – and therefore, funny as all hell – about overseeing amateur teens in a student production of Cabaret. Hey, she had an oh-so-prestigious part in The Lion King musical! (As, um, an extra.)
But Ms. Albright is a dogged ally for life, demonstrating heartfelt compassion for her LGBTQ students when Simon and his queer schoolmate, Ethan, are bullied in the lunchroom. Enter Ms. Albright, who breaks up the fight in true Ms. Albright fashion: "That's mine now," she scolds, confiscating the bullies' speaker. "I'm'ma sell it, get my tubes tied."
Rothwell knows the teacher life well: She was a high school teacher in the Bronx for four years. Queer students confided in her, some even came out to her. Now, the 37-year-old actress and former SNL writer returns for a third season of actress-writer Issa Rae's terrific HBO comedy Insecure, as Issa's freewheeling, zero-fucks friend Kelli. And no details on her role just yet – she couldn't reveal any during our recent interview, sorry – but Rothwell is also set to star in director Patty Jenkins' Wonder Woman sequel. 
Plenty to chat about until then, though, including the importance of LGBTQ inclusion in her projects and her reaction to the criticism Love, Simon received for not being progressive enough. 
Why do you think the women on Insecure have resonated with the queer community? 
I think what attracts the queer community to Insecure is authenticity and seeing a group of women being celebrated on television for being their authentic selves. The courage that it takes for marginalized groups like the LGBTQIA community to be authentic – it's so difficult and so brave and so admirable to do so that when you see a group of people doing that on screen I can understand why that resonates with the queer community. I feel that way when I see other marginalized groups of people on TV shown as full-fledged characters. I'm like, "Yes, yes, yes!" 
It should be noted how effortlessly LGBTQIA just rolled off your tongue. You didn't stumble over a single letter. 
(Laughs) I think having been a part of Love, Simon and doing press for that I was like, "I'm gonna get this! They're not gonna get me on camera or on tape!" Because I'm an ally through and through, and they better know I know what I'm talking about. (Laughs)
So, Kelli: Surely her unapologetic boldness – I mean, in season two, she got fingered at a diner – resonates with the community. 
(Laughs) She was living her best life. She's not gonna apologize for it. Until I got into my 30s, I felt like I was apologizing for being a woman, for being black. The beauty of playing Kelli is I get to have a character match how I now feel, and I get to play a woman who's never known any different. Like, I imagine this is Kelli from the crib; when she was an infant, till now, she's only ever known this version of herself. I love playing someone who doesn't experience doubt in the way I do. 
Do you write Kelli?
We all write Kelli. We'll do internal table reads of the script and I'll sit down and get to see what the other room was working on, and I'm like, "Oh shit, I'm getting fingered? OK!" It's a real team effort to develop her and all the characters. 
You've cited Lily Tomlin as an influence. How did she influence your comedic voice?
Female comedians that weren't trapped by femininity is what resonated with me most. She was such a chameleon, subverting expectations. She plays a little girl (Edith Ann) and she's sitting in this giant, oversized chair and having this monologue, and she's so playful and inventive and completely embodies the POV of a small child, and using her body to tell a story. I just remember watching that and being obsessed. 
You're writing a rom-com called Bridal Recall for Paramount Pictures, and you also have a development deal with HBO to write and produce and star in your own project. Will the queer community have a place in those projects? 
If I have a say. To me, I don't think talking about inclusion and diversity is enough. We have to do it in actuality and in action. One of the brilliant things about Issa's writers' room? It's not all black. We have representation from all over the spectrum. We have different sexualities represented, different ethnicities represented, and we can tell a nuanced story that way. So, I have every intention of making my writers' room reflect the nuance that I want to tell in those stories, that I feel make worthwhile stories. 
What did it mean to you to be a part of Love, Simon?
It meant everything. When I read the script and the book, I was just honored that I could participate in a project that really felt bigger than myself. The response has been insane and continues to be. People are discovering the movie even still and are responding to it in a really visceral way. I imagine it being that way for young people of color watching Black Panther for the first time. To me, that's powerful to see your story represented and it's not – it's a love story first and a coming out story second. 
It's one of the things where it's just, I want more of this. I want more people to see themselves represented in this very specific, common way that straight white people have had the privilege of. So, I want to see more of those stories being told, because I'm a child of the '80s. John Hughes is my jam, and I loved Pretty in Pink and Sixteen Candles. So, to see this story get that treatment was a magical thing. I will be forever grateful to Greg Berlanti for thinking that I could play Ms. Albright. He's such a wonderful man and encouraged me and brought me to tears. He pulled me aside after I finished shooting and he was just like, "I have the same feeling about you I did when I directed Melissa McCarthy." And I was like, "You just said a lot in that sentence!" And then I burst into tears. (Laughs)
Do gay fans recognize see you as Ms. Albright on the street?
I don't get "Hey, Ms. Albright!" I live in West Hollywood and the LGBTQIA community is en masse here and I love it. So, I'll get recognized from Love, Simon and as Kelli, sometimes at the same time. It's a great community, and I feel so welcomed and thankful for it. 
In an episode during season two of Insecure, you and Issa call out Molly for being revolted by a male suitor because he has sexual history with another man. The episode acknowledges a glaring double-standard between men and women, and also hypermasculinity in black versus white communities. What part did you play in bringing that storyline to light? 
We all talked about our experiences and something that would give us pause before entering into a relationship, or something that we wouldn't even stop and think twice about. It varied by gender, by sexuality, by age. What boiled up to the top was the hypertoxic masculinity of communities of color, especially the black community. So, we really loved to present that specific part of the show to our audience because it caused conversation around the topic. One of the things that I love about our show is we don't present answers – we present questions. We want people to have these conversations in a public way. 
Recently, a massive Twitterstorm ignited when GQ featured the straight male cast in a photo spread that some deemed "gay." One of the featured actors, Sarunas Jackson, called out the homophobic tone of the comments. I'm thinking, we've already been here. 
We've already been here, we already did this, guys. We've already evolved. Let's just move on. But this just goes to show that continued conversation and continued moments for educating yourself are helpful. One of the more palpable things that I think that photo spread did was spark that conversation again, so people can really, once and for all, understand their own toxic masculinity. I was shocked by the number of women jumping on board. I'm like, you were indoctrinated to think that way, and we have to unlearn some things in order to be the progressive, thoughtful, inclusive people that I know we are capable of being.
You responded to people who don't feel represented by Insecure by telling them, well, then you tell your story, because no one story can encompass all of our stories. Love, Simon received similar criticism for featuring a white man in its lead role, versus someone of color. Would you respond to that criticism in the same way? 
Absolutely. I think I would be remiss to say, "We did it guys. Let's pack it up! We fixed it! We fixed inclusion in Hollywood!" I think that would be a gross mistake to be made. I don't look at Insecure and even see myself represented all the time and I write on the show, because this is a story. This is Issa and her girlfriend in Inglewood, California. But what it requires is more art to be made to reflect those things that aren't being shown. Let's tell those stories because, if there's anything I've learned when really resonating with audiences lately, it's a hunger for diversity. 
"Yes, this is an interview," a schoolgirl-giggly Adam Rippon deadpans to fellow figure skater Charlie White who, naturally, is curious about the current topic of conversation: sex and harnesses, and how both come together to inspire his uniquely nontraditional collection of on-ice ensembles. Rippon is chatting while putting on his performance makeup in a locker room inside a Rhode Island arena, about to serve a graceful two-song solo during a Stars on Ice stop, featuring his Olympic peers. 
"(Charlie is) like, 'I've never done an interview like this before,'" Rippon tells me. "He said he's never been honest and open." Rippon takes a long, very "Adam Rippon for dramatic effect" pause, the kind you know and love if you've been obsessing over every fabulous, filterless turn of phrase our self-proclaimed "glamazon bitch" has turned: "You should try it out!" 
No kidding: The 28-year-old ice champion leads by example, proving with unapologetic defiance – he fiercely came at the vice president of the United States for his anti-gay rhetoric – and iconic Folsom elegance, like the S&M gear he wore during the Oscars this year, that being yourself can take you places. If you're Rippon, who's from Scranton, Pennsylvania, it can take you to Pyeongchang, South Korea, where Rippon set fire to the ice during the 2018 Winter Olympics, becoming the first openly gay U.S. male athlete to win a (bronze) medal in a Winter Olympics.
Rippon's mere existence as a brazenly gay global inspiration with a tongue as sharp as the blades on his skates has been celebrated for his "faggy magic," as coined by journalist Peter Moskowitz. And at a recent Stars on Ice show in Detroit, Michigan, he elicited the wildest applause, from suburban moms to girl tweens and a squadron of genuinely proud queers. Reese Witherspoon loves him. So does Elmo. And like any good mother, Sally Field tried to set him up with her gay son. 
My roommate was starstruck even before Rippon rang me, so nervous just knowing Adam Rippon would be calling that she left our Airbnb apartment. I share this with Rippon, who's, again, all giggles: "It's a really high compliment that your roommate needed to leave." (Later, during our goodbye, he playfully says, "Tell your roommate I said 'hi.'")
Rippon would make his Dancing with the Stars debut weeks after our call, slaying a vogueing cha-cha to RuPaul's "Sissy That Walk." But before he competed against Tonya Harding with partner Jenna Johnson during the ABC dance-off, the skater opened up about how booze kills his wit game and what he tells guys on Tinder who want a second chance with him and inspiring suicidal queer youth, all the while, being his irresistible self. That's all you can really ask for – and in Rippon's case, want.  
I want to give you a phone hug and say thanks for giving this 35-year-old man a new level of realness to aspire to. 
I'm hugging you back. 
You stood next to Britney Spears at the GLAAD Media Awards recently for a pic. I heard she liked the way you smelled.
Yes, she did. It's just, like, weird – you've seen somebody your whole entire life, and then you walk up to them and you're like, "Oh, you're real." But she was really nice. We just congratulated her on her award and she was like, "You smell really nice," and I was like, "Thank you so much, 'cause that's so important to me." 
Is it weird that now I want to know how you smell?
I smell nice. 
Like primrose?
Yes. 
And that night was special because gay Olympian Gus Kenworthy kissed you on stage. How exactly would you describe your relationship with Gus at this point?
Umm (laughs), so, I mean, we're just friends, obviously. His boyfriend was backstage laughing at him, and so he was just trying to be funny. Gus is a nut. 
But you're so close. And both of you being gay Olympians, it seems you've really bonded.
Oh, absolutely. We're just like brothers. I guess brothers who kiss. But no, I love him, he's so nice, and we're very good friends. 
You seem like the kind of person who likes a few nice things in his dressing room. What is on your Stars on Ice tour rider?
I try to keep it super simple so I don't forget a lot of things. So, when I am traveling I literally just have my skates, my costume, and that's basically it. I try to keep it so super simple or I'm gonna lose all my shit. 
Don't you have people who can remember this stuff for you? An entourage?
It's getting there. Slowly. But I still want to, like, be able to be self-sufficient, you know what I mean? 
For a while, at least. 
At least for the rest of the month.
I think that's a lofty goal. 
You know, dream big. 
So, Dancing with the Stars: Can you even believe that you're competing against Tonya Harding?
(Sighs) Ah, I cannot. 
What is that like? 
It's not a super big deal, but I think she's got a lot going on, so I'm just gonna let her do her own thing, probably. Probably best. 
You've met?
I did meet her. She's very pleasant.
Team Tonya or Team Nancy?
Well, I mean, Tonya tried to kill someone, so I'm Team Nancy, probably. 
Honestly think that's probably the safe choice to make.
I think it's probably the right choice. 
What did you think of I, Tonya? 
I loved it. I thought Margot Robbie (who played Harding) was great. Amazing.
Who would you cast as Adam in I, Adam? 
Well, Margot did so well, so maybe just Margot Robbie is a safe bet. 
Who inspires your on-ice style?
The skating world inspires it a little bit, and then…  you're just gonna know that I'm trashy. I look at like, um, sex stuff and stuff people wear – harnesses and stuff – and the design is quite amazing. I will bring them to my costume designer and we will make them more appropriate for a competition. 
For a PG audience?
Yes. But actually, it's not for that audience. But I make it for them. 
That harness you wore to the Oscars in March: Where is it?
It's in (fashion designer) Jeremy Scott's office. The suit was by Moschino, and so it was from Jeremy's office and he lent it to me. I'm obsessed with Jeremy. He's amazing.
Do you get to keep these costumes? 
I keep my own costumes. Because, like, I bought them, outright. But the Oscars outfit was for the runway – from the carpet back to the office. 
Hard to give that up. So many opportunities to wear something like that.
I know! Like to a wedding. 
Or a funeral. 
Yeah, anything. The grocery store. 
What's the biggest difference between 12-year-old Adam Rippon and the Adam Rippon I'm talking to right now?
I think the biggest difference is all of the things that I've been through. I think now I have a better idea of who I am, and I think I had a lot of self-discovery to go through when I was young. I was just as trash – but now I'm just older. 
More comfortable with the trash?
Yeah, I'm just more comfortable being trashy. 
Were you a sassy kid?
I don't think I realized how sassy I was till I was at the Olympics and people were like "Ahahaha, you're so sassy" and then I was "Ahahaha… you think so?" And they're like, "Oh yeah, you're, like, SASSY." And I was like, I just thought I was fresh. Like, "No – you're sassy." Oh. OK. 
Who inspires your sassiness? 
The person who inspires me to be sassy is my mom. 
So it's in the blood. 
(Laughs) Yeah, it's definitely in the blood. It's something I can't control. You know how you're born – you sometimes have curly hair or blue eyes, and I have curly hair, but I don't have blue eyes. But I also have my mom's sassy attitude.
Born this way. 
Born this way, for sure. Genetics. 
Your future: What's off the table? Where do you draw the line?
Like, I'm not gonna do porn. That's drawing the line, I guess. 
A reality show?
I don't think I would do a reality show – I mean, I'm doing Dancing with the Stars. That's a reality show. I'm not gonna do, like, Big Brother or anything. 
Are you getting a lot of offers? 
Yeah, I'm getting a lot of offers to do stuff. A lot of it's ghetto. 
What percentage of these offers are you turning down? 
I'm talking a little bit to everybody, and honestly my schedule's so crazy right now I don't even know who. I barely even know where I am right now. 
You've been asked to do a lot of things you may not have done if it weren't for the Olympics, such as getting custom-made condoms from Thrillist because you thought the condoms in South Korea were "generic." The New York Times also basically wrote an entire feature on your abs. What is the most ridiculous request that's been asked of you?
I don't know if I've had a super ridiculous request, one that I can really think that I took seriously. I think people have asked me to do crazy things and I'm like, "Hahaha." And then I forgot about it a minute later. 
The media loves getting you drunk.
Here's the thing: I don't drink a lot. Barely anything. And so everyone's like, "Haha, come on the show and just have drinks!" And I'm like, "OK." So, I'll have one or a little bit, but I feel like I'm way funnier not drunk. I'm not as sharp, I'm not as witty; I'm not myself when I'm drunk. I mean, I feel like I like to be in the moment, and if I'm in the moment, I can focus and then I can be quick and witty.
This wild ride: If you could relive any part of it, which part would that be?
I don't know, because I still feel like I'm in the middle of a wild ride. I haven't had a moment to really be like, "This Olympics experience is over," 'cause right now I'm still skating a bunch with Stars on Ice, and I think when I finally have a day off, I'll be like, "Oh, wow, there's a lot going on." But I haven't had a day off, which I actually think is amazing and great, and I'm trying to enjoy every single second. I think one thing that saved me is, I don't really know what my schedule is. I just kind of plan a few days in advance; I don't feel overwhelmed. I'm just having a good time with it. 
How will you spend that day off?
Um, probably napping. 
The whole day?
The whole day. 
Anything you haven't been able to do since you've been on this all-consuming ride?
Honestly, the only thing I haven't been good at doing is sleeping. 
There you go: a 24-hour nap.
A recharge, yup, exactly.
Reese Witherspoon is one of your biggest fans. Which Reese movie do you most identify with?
Legally Blonde. It's true. It's the first Reese movie that I ever watched and how I always still think of her, which isn't fair cause she's done so much. But yeah, I adore her. 
What is it about the character of Elle Woods you most identify with?
That she just thinks she can get into Harvard and it's not gonna be a big deal, and she does. And I, in my life, am like, "It's not a big deal, I can do it, and I can make it happen."
You have a new man, named Jussi-Pekka Kajaala. He's very good-looking. 
I do. He's super cute, but more than that, he's super nice and funny and everything that everybody should be. 
Before you met, what criteria did you have for a boyfriend? 
So, I've known him for a little over half a year, and really wasn't looking for anybody. I mean, I was on Tinder for just fun. You know how if you've ever been on Tinder you swipe left and right and it basically turns into this game? 
Oh yeah, I have Tinder. 
So you know the game.
It's like the new Hot or Not. 
It's absolutely that. So we just started chatting and basically I was looking for some – my criteria for a good boyfriend would be somebody who has passion. Passion is super important to me because no matter what you do, if you have passion for it, then that's kind of what life is all about – that you have passion for something. I think that it's important to stay motivated, to always want more for yourself – yeah. I'm being serious. Usually when I get asked this question, I'm like, a job, goes to the gym – which is also important. 
When you were on Tinder, how many people actually thought you were really Adam Rippon? 
I think when I was on Tinder nobody really gave a shit that I was Adam Rippon. But I can tell you that everyone I've ever matched with who's ghosted on me has messaged me since the Olympics. My favorite is, "Oh, it's been a while. How ya doing?" And I'm like, "Bye." 
You give them more than they deserve, honestly.
Usually I don't answer. 
What's a place you wish you could go where you wouldn't be recognized? 
I don't mind being recognized at all. I don't mind it. But if I could go somewhere right now, I would wanna go to Maui. Just a vacation. Get some sun. Doing Dancing with the Stars, it definitely changed my skin tone – due to, like, sprays, not sun. 
Do you expect there will be a day when an openly gay figure skater can just be a figure skater?
Yeah. And I think more than that, I hope there's a day that an openly gay Olympian will just be an Olympian. But I think that right now it's important to share your story. It's important for everybody to share your story, especially in a day and age when an athlete can go to the Olympics and you can be like, oh, let me know a little bit more about that athlete. You go on their social media page, you know what their likes are, you know what they're doing, you know where they are, you know what their interests are; you can just so easily find out information about everybody that I think it's important to show the world who you are, what you stand for, and what's important to you.
For me, it's not being gay that I share – I share my coming out because it was really liberating for me, and when I came out, when I was able to share that, that's what I found so much power in. It wasn't like, "Oh, I'm gay and I'm powerful" – which is, like, so true – but it was my coming out experience of when I started to really own who I was and that's where I found a lot of power. I was always me, but I didn't always own it. And when I owned it, that's when I found that I was my strongest. 
Have you had any particularly moving exchanges with young queer fans?
Yes. There have been many. I've run into a few young people who told me that they tried to kill themselves at one point, which is incredibly hard to hear, especially from really young kids. It's incredibly bizarre to be thanked for just being who you are, and for someone to tell you that you really helped them. It's incredibly humbling, but I can tell you that I was not expecting that kind of response after the Olympics. 
Is there a responsibility or pressure on you to act or be a certain way because of that?
No more than the way that I've been acting. 
Good. To end, which Golden Girl are you?
Probably Blanche. Isn't everyone Blanche? And I'm a little – OK, I'm mostly Dorothy. 
It's the snark.
It is the snark.
During the inaugural LoveLoud Festival in August 2017 on the campus of Utah Valley University in Orem, roughly 40 miles outside Salt Lake City, 17,000 people fell into the embrace of Dan Reynolds.
Amid performances of his band's towering anthems, like "Radioactive," Reynolds' message rang loud and clear: love yourself, and love the young queer people who need it most, unconditionally. 
Hugs for LGBTQ youth from the Imagine Dragons frontman, recipient of The Trevor Project's 2017 Hero Award, don't get much bigger than they did that day. Except they will, soon. 
Reynolds, 30, takes his ally platform seriously, so this year's second annual LoveLoud Festival, on July 28, will be held at Rice Eccles Stadium in Salt Lake City.
Capacity: 46,000. Comedian, actor and writer Cameron Esposito, an out lesbian, will perform and emcee, with performances from Imagine Dragons, Zedd, Linkin Park's Mike Shinoda, Grace VanderWaal, Neon Trees' Tyler Glenn, and Vagabon and A.Q. 
Proceeds will benefit local and national LGBTQ charities, including Encircle, Trevor Project, Tegan and Sara Foundation, and more.
Reynold's foundation serving the LGBTQ community, also named LoveLoud, was launched in 2017 to "bring communities and families together to help ignite the vital conversation about what it means to unconditionally love our LGBTQ youth."
In mid-April, Reynolds called from Zurich while touring to reflect on reconciling his LGBTQ support with Mormonism and reconnecting with young gay friends he couldn't wholeheartedly support because of his past religious beliefs. He also talked about his doc Believer, which chronicles his journey from deep Mormon faith to passionate LGBTQ activist, and the undercurrent of queerness running through Imagine Dragons' latest album, Evolve.
LoveLoud started with a phone call between you and Tyler Glenn, right? 
Yeah. We knew each other from a distance before, because we both served the same Mormon mission, in Omaha, Nebraska. When we got home, even before I started Imagine Dragons, I went to a Neon Trees show and they were playing little clubs in Utah. We both came up at the same time, and there's not a whole lot of Mormons in the music industry, so you just kind of know each other through that. But eventually, I called him, and when he put out his solo record (in 2016), Excommunication, I connected with him in a lot of ways. 
How open to the queer community were you when you first met him? 
We were both trying desperately to be textbook Mormons, but I think both of us were finding we weren't fitting into that box for different reasons. I got kicked out of BYU, and that really shook me up and threw me down a road of feeling needless shame and guilt. For Tyler, it was a whole other level for him of having to live a compartmentalized life and trying to find happiness within the guidelines of an incorrect teaching. It was just debilitating for him. There was always such a heaviness around him. 
I remember when we played a show, he was on stage wearing a sequined shirt and a very kind of glamorous outfit, and somebody in the crowd heckled him. This was before he came out, and I remember him saying something from the stage to the extent of, "You don't know me and I'm struggling with things right now and fuck you," and he flicked off the crowd. 
Watching him, what was going through your mind? 
I felt what I've always felt since probably seventh grade when one of my best friends was gay and Mormon and I watched him never want to talk about it because it was so heavy. There were no answers to be had at that young of an age when you're raised in a really religious family. It's hard to find any resolution other than leave your home or get kicked out of the house, so I had seen that from a young age in middle school and felt super conflicted as a religious person thinking, I'm supposed to believe all these things, but with it comes this teaching that doesn't sit right in my heart at all. Even as a 13-year-old, I saw my friends be conflicted with their sexuality and religion and I was thinking, "OK, something's wrong here." 
At the time, were you the support system for them you wanted to be?
We just didn't really talk about it. They were my friends, so I didn't stop being their friend, but I think we just didn't talk about it because neither of us had an answer. It was this heavy thing that was lingering over their heads, and I didn't have any answers as a 14-year-old kid who was going to church every Sunday and being told what to say.
I look back: I'm a strong believer in the whole "You should live life with no regrets." But you know, I can't tell you, honestly, that I don't have regrets in this specific way. I wish as a 14-year-old boy I could've had the words to say, "Hey, this is not great, and if there is a God and it's this loving God that we're taught about, how could we rationally believe that that God would make you have this sense of love that you don't get to act upon?" Which is supposedly the most beautiful part of existence and human nature – to love. How could any of that make sense? I wish that I had the mental and spiritual capabilities to see that as a kid, but I didn't. 
I was just dealing with my own guilt complex and feeling bad about being a 14-year-old boy dealing with my own sexuality. Even as a heterosexual and a 14-year-old kid in the Mormon church, you're immediately feeling guilt and shame about masturbation and sex before marriage. Certainly, on my mission I would've hoped to be a 19-year-old kid who had, again, the mental capabilities or life experience to get out of an incorrect teaching, but I didn't. For two years you're given a white handbook that tells you the answer to everything, so when someone asks you a question, you're supposed to be this 19-year-old kid who has the answer. 
So yeah, I really do regret that for those two years I turned to a white handbook rather than my heart and my mind, which already knew the answers, ever since I was a little kid. 
My little girl, she's raised to believe what she believes in her heart, and so as a little kid who's raised that way, this is such an easy concept for her. She's 5 years old and I can say, "What does it mean to be gay?" and "How does that feel?" and to her I didn't even have to teach her that concept. It's like, of course people should love who they want and you should never bully, and she understands all those concepts that a child would naturally know. But when you have religion on top of that, it gets muddled. 
After becoming this mega-ally rock star, have you been in touch with these gay childhood friends?
Yes, that's been really one of the most fulfilling, beautiful parts of this process, just connecting with them and them knowing that they have a friend that fully accepts them and loves them and has known them for years through this whole process. Because you have to be Mormon on some level to understand how heavy Mormonism is. 
But yes, we've connected, with two in particular, and we've talked about how they've both left the church because there's really no safe space for LGBTQ youth within the Mormon church right now. There's just not. There's no healthy option for any LGBTQ youth (in the church), and that's the sad thing. I wish I could be giving some options to any Orthodox religious LGBTQ kids.
And you are, with LoveLoud. How would you describe the feeling of being at last year's premiere LoveLoud Festival? 
I would say, to date, LoveLoud last year was genuinely my favorite day of my life thus far. So many people would look in on this and say, "Dan, you should be preaching with your platform: 'Hey, LGBTQ kids who are raised in Orthodox faith, leave. Get out of the religion.'" And that is actually a very uninformed and uneducated and unsafe thing to be saying to these kids because a lot of them don't have a choice. Basically, you're saying, "Get kicked out of your house, potentially, and put yourself in a more at-risk situation." So the only thing that you can do is say, "I love you. I support you 100 percent. And look at all these people who are also religious who also accept and love you." Let us do everything we can do to make a safe space for you, and that's what LoveLoud is about.
It was really rad to see a lot of people who came from very conservative backgrounds of faith, mainly Mormonism, come out, because it was in the heartland of Utah. Some of them came to the festival already having their minds made up of what it meant to fully love and accept LGBTQ youth, but I think a lot of them didn't, which is really rad. There were a lot of people who were on the fence. Uncles and aunts and parents who didn't know how to deal with the situation of having their child be gay, or their niece or nephew. I know their eyes were opened because I got tons of emails and messages from people saying, "My uncle who had never accepted me at all came to this and walked away and gave me a big hug and said, 'I understand and I love you and I accept you.'" 
How does it feel to hear a story like that? 
It makes it all worth it, because this is a really difficult line to walk. You're never gonna be progressive enough for the progressives, and you're never gonna be conservative enough for the conservatives. I've literally had people tell me, "You've made so many more kids gay, and this is your judgment day to deal with that." I read those things, and of course it's sad. But also I know my path. I know my mission, and I know what I'm doing, so it's OK, 'cause I know there's just misunderstanding. But yeah, those letters mean a lot and they fire me up to just say, "OK, let's go next year to a stadium and let's make it bigger." 
What are you most looking forward to about this year's festival?
That it's much, much bigger is exciting. It'll be at least double the size of what it was before. We did 20,000 last year and this year we're doing a stadium, so it's like 40,000. The artists are bigger. And just watching how it spread very organically within the religious community, because it sparked so much dialogue within the Mormon church. Mormon after Mormon hit me up and would be like, "I was at church and someone gave a talk about LoveLoud and there was this big argument about whether it's OK to have your child go to it or not," and I'm like, "Awesome." 
That dialogue is way more important even in that one day because the dialogue that's taking place at home about LoveLoud is what needs to be happening rather than a stagnance that has been going on for years within the Mormon church of, "Let's keep moving forward and the kids keep taking their lives and the suicide rates keep going up in Utah." LGBTQ youth are eight times more likely to take their lives when they're not accepted in their homes or community, and that statistic alone is just devastating. 
Do you write songs with the queer community in mind? 
Definitely on Evolve. At least three of the songs were produced with (gay producer-songwriter) Justin Tranter, who's just one of the biggest activists in the queer community. Just having him in there around me and the spirit that comes with Justin was certainly inspiring to me, and so there's no doubt that as we were writing songs, there was a need to make sure that these lyrics were going to reach the underdog, were going to reach these queer youth. That they would know, "Hey, this is for me." 
I think Evolve has it speckled all through it, whether it's just the album artwork – the rainbow on the front – or the lyrics. A lot of things are so subconscious in the writing process. But we were talking about politics a lot at the time and how he felt like his future was so unsettled, and it was gonna be less safe for him. And he was scared. So, we had a lot of deep, beautiful conversations that I'm sure impacted Evolve in ways that I couldn't even know. 
There's a pretty iconic photo of you holding a rainbow flag at Lollapalooza Brazil Festival in March. Tell me about that moment.
Brazil is an interesting place because it has a lot of people who want change. I believe their pride parade is more populated than anywhere in the world, but it's still a very unsafe place for LGBTQ youth. So, I committed this tour to do everything I can to bring as much color and pride to the stage that a straight man possibly can. 
Based on some headlines after that gig, the gay community also didn't seem to mind the shirtlessness. 
(Laughs) Hey, I love it. For me this whole process has also been my process of coming into my own self and embracing sexuality, period. And celebrating life, and celebrating love. So, it's been a real changing couple of years for me, and all I've been trying to do through the process is be true to myself and follow my heart. But that was a really beautiful moment. I'll always remember that show. It was one of my favorite shows we've ever played. 
What do your parents, who declined to be in your documentary, Believer, think of the film? 
I sent the movie to all my family because I just wanted to take that step and not have it be an awkward thing in the family. My mom and dad came to the premiere.
That's huge.
It was huge. I know that for the most part we all see a little different on this, but with that said, they've all been really loving and supportive of what I'm doing. But, yeah, there have been rough moments, definitely, during the beginning of it, when I was just getting into it. Arguments here and there within the family. 
It's tricky because I love my family and I wanna respect their privacy, but I would be lying to you if I didn't say … it's been a little bit of a rub, yeah. Like I said, my mom and dad came to the premiere and that meant a lot. And my uncle, who's my dad brother, he's gay and Mormon and moved out of the United States years ago because he just felt like there was no place for him. He had to get that far away to be able to feel like he could be himself. I got to talk to him and I haven't seen him since I was 8 years old, and that was the only uncle I didn't ever get to know – my gay uncle – because he felt so unwelcome and like he couldn't live his true life without moving a country away. My dad went recently and visited him, and that was a really beautiful thing. 
I don't know. It's baby steps for me. I know that everybody has their own way of coming around to certain things and it takes time, but the question is, how long will it take? And how many lives will be lost or saved along the way?
December 31, 2017 - 11:09am
You don't have to tell Martha Stewart that gay men love her like their own mother. 
The influential entrepreneur and domestic diva's deep-rooted connection to the LGBTQ community goes beyond special appearances on Ugly Betty and Ellen, when she appeared as herself in a 1995 episode of the groundbreaking sitcom. Stewart, throughout her half-century-long career, has long embodied a quality near and dear to the queer community: perfection. After all, before "live your best life" was a meme, it was Stewart's honed methodology. 
Could that affinity for precision and flawlessness – for the perfect Christmas ham, the perfect vegetable garden, the perfect dating persona – be why Stewart is very clued into the fact that many gay men perceive her as a mother figure? 
It's a relationship worth exploring, and during my tight 15 minutes with Stewart I dove into the lifestyle maven's personal affiliations with many LGBTQ people: her nephew, Christopher Herbert, as well as her dearest gay friends, whom she hosts at her various homes. While "in a car, so any confusion, blame the cell service," Stewart, 76, was reflective and laid-back as she served up a savory platter of gay talk: Her age-appropriate philosophy on equality, gays who host Stewart at their get-togethers (she jokes, though she can't possibly be kidding, that it "ups their game"), and her memories of transforming, unforgettably and stunningly, into '40s film icon Veronica Lake for late, gay makeup artist Kevyn Aucoin. 
I've really appreciated the inclusivity on VH1's Martha & Snoop's Potluck Dinner Party, with guests ranging from LGBTQ icons like Patti LaBelle and Kathy Griffin to gay TV personality Ross Mathews and also Laverne Cox. How aware are you of being LGBTQ inclusive when it comes to this show and also your career as a whole? 
Oh, thank you. Well, we're kind of in the showbiz world and being inclusive, that just sort of goes with the terrain. I don't care who the person is; I care about what the person does, and how they do it. 
Martha Stewart Weddings magazine famously introduced same-sex couples into its pages in 2009, with Jeremy Hooper and Andrew Shulman sharing their vows with family and friends in Litchfield, Connecticut. Why was it important to be at the forefront of marriage equality in that way, and what did that moment mean to you? 
I believe in "all men are created equal." I think I go back to the 1860s, and before! (Laughs) And I don't think any compromise is necessary. I think it's absolutely a fact that all men are created equal, and so I just treated people like equals my entire life. Equals in every single way, no matter what their proclivity is or what their sexuality is, or their color or their race. It doesn't matter to me. 
That wedding issue was a big deal as it was one of the first mainstream wedding magazines to have featured a gay couple's wedding, and then there was another in 2011. 
I know! And that was my nephew. That was Christopher Herbert marrying a Native American man (Timothy Long). 
Seeing as though gay marriage wasn't even recognized legally coast to coast then, were Martha-worshipping housewives open to displays of same-sex affection?
It was legal in Massachusetts, where they actually got married. I went to their wedding. They had a pre-wedding in Massachusetts, which was the legal wedding, and then they had the family celebration at my farm, which was another tying of the knot. The ceremony and that Celtic tying of the knot was so beautiful.
Was that the best same-sex wedding you've been to?
I'd say it's one of them – I've been to a lot! I mean, I have a lot of gay editors, both male and female. One of our style directors at Weddings got married and he had a fantastic wedding at a nightclub in Brooklyn. That was so fun, and that was also featured in the magazine. And I've been to several female weddings. You know, every wedding is special to me. 
Is it intimidating for people to host Martha Stewart at their wedding? 
I don't know if it's intimidating, but I think it ups their game a little bit! (Laughs)
What do you look for at a same-sex wedding? 
I like to see what the couple is wearing. I like to see how they handle relatives. But I don't differentiate a gay wedding from a straight wedding. I just don't differentiate. I just went to Steven Gambrel's wedding. That was so beautiful! He's a very famous, very wealthy interior designer, and he married his longtime partner at their beautiful home in Sag Harbor, Long Island. It was an extraordinary evening. The father of Steven's partner got up and said, "This is our family's first gay wedding," and he said, "It's a momentous occasion for our family and we embrace it." It was one of the nicest father speeches I've heard at a wedding. Everybody sort of wanted to cry because he was visibly uncomfortable and yet accepting at the same time. It was very moving. 
You also attended out Chanel designer Karl Lagerfeld's A-list tribute party in October.  
Oh my god, that was a fantastic party! Mariah Carey singing! She sang a couple of songs for Karl dressed in a Chanel sequined dress that was, you know, perfectly clinging. It was beautiful, and Karl was so thrilled. 
Growing up in New Jersey in the '40s and '50s, what was your introduction to the LGBTQ community?
In my class, I knew that several of the boys were gay. It wasn't talked about, and nobody made fun of them. Nutley High School was a pretty liberal but also quiet school, so there were some gay boys that we knew, and I think one or two girls. But they hadn't come out, and the boys really were not out, if you want to use that word. But they were definitely gay. 
And then in our own family, I had one cousin who was gay who lives in Buffalo and then my nephew is gay, and I think even though he didn't come out until college, we all sort of knew he was gay. My daughter who has radar like crazy, Alexis, who I'm sure you know, she knows. And my mother didn't have a clue. It wasn't part of her lifestyle. She just didn't have those friends. 
Snoop Dogg has said that you love to get him drunk. Do you have a gay friend who's especially good at getting you drunk? 
I don't like getting drunk, so not necessarily, no. 
Tipsy?
If I get tipsy, it's probably because I haven't eaten anything. I don't get up saying, "Oh, I'm gonna get drunk today." I just don't do that. 
Is entertaining a group of sophisticated gay men the ultimate challenge? 
No. Again, I don't differentiate if I have a group of gay men (over). I just don't ever think that way. I don't differentiate. (Artbag business owner) Christopher Moore came to my house recently with four gay friends just to look at the gardens and I gave them cappuccinos and they were happy. I actually didn't have any food in the house, so I couldn't give them anything to eat, but they were perfectly happy. I just don't ever think that way. I don't differentiate.
Wait, let's back up, Martha. You didn't have any food in your house?
Well, nothing except eggs. I could've made them scrambled eggs. I thought after, "I probably should have fed them something"... but I didn't. (Laughs) 
Is it true that Cher was the one who convinced you to work with famous late, gay makeup artist Kevyn Aucoin when he photographed you as Veronica Lake for his 2000 book Face Forward?
No, I knew who Kevyn Aucoin was, and he was such an amazing makeup artist. And I like doing things like that. I have a face that can become other people. And I just thought, "Oh, god, what an opportunity." He did such an amazing job. 
In the gay community and beauty world, those photos are quite legendary.
Oh, I know who it was! It was the guy who worked for me (Alex Peruzzi). He's Linda Evangelista in the book – he was head of merchandising in my craft department. A very handsome boy. 
How do you reflect on that shoot? 
I didn't know that Kevyn was suffering from a pretty hideous disease, but I did remark on the size of his hands. He had that disease that enlarged appendages. His hands, his feet, everything was oversized. And I couldn't believe that someone with such monster hands – these big hands – could do such delicate makeup work, but he did. He did amazing, amazing work. It was an art form of his to see a structure of a face and turn it into another face. 
Looking back, have any gay people influenced your fondness for decadence or even your path to becoming a lifestyle icon? 
No, not really. Although when I was catering (Stewart launched a catering business in the '70s) many of the young men who were my waiters were gay, and they still are. The gay community works a lot in the catering business in New York; they are either actors or artists and they need to make money, so they make money in catering. But they were all chosen on skill and aptitude for the kind of job they were doing, and they were all great. But my daughter and I both have lots of gay friends. My closest friend is Kevin Sharkey and he's also like the surrogate uncle to Alexis (and her family) and he lives in their same building, and he's Tio Kevin to them. I even introduce him playfully to friends as my gay son. 
I want to be Martha Stewart's gay son.
Lots of his friends would like to be Martha's gay son!  
How does one achieve Martha Stewart "gay son" status?
He's worked for (me for) 18 years, that's how! He worked his way up!
December 25, 2017 - 12:43pm
Allison Janney shares many of your concerns, like, what's up with the president's wild contradictions and flat-out lies? And what will happen to the LGBTQ community under his administration? And, of course, something we've all wondered from time to time, and an issue she definitely plans on addressing with her agent soon, because it's high time: "Where are all my lesbian roles?" 
Though her latest turn in I, Tonya is not queer by definition – but, as infamous figure-skating icon Tonya Harding's mother (Harding is played by actress Margot Robbie), one of her very best and most Oscar-buzzy roles, so all is obviously forgiven – the chameleonic 58-year-old actress has delightedly dipped into some impressive gay fare both onstage and in film. 
Here, the beloved and soon-to-be-lesbian-somewhere Emmy winner discusses Harding as a queer icon, identifying with the LGBTQ community as an outsider herself and kissing "a lot of cool women." 
LGBTQ people – we are all Tonya. 
Right? Everyone identifies with her. Everyone can identify with Tonya because she's struggling to have a voice, and the powers that be deemed that she was not worthy of having a voice in the figure skating world, didn't think she fit in. It's so classic. And then the press vilified her and we were all told what to believe about her, and we kind of believed it, because it was the advent of the 24-hour news cycle. Just spoon-fed to us every day: Tonya, bad; Nancy – princess, good. 
So, to do this movie and to see all the different things that were at play in her life makes you have so much more empathy for her. And I was so excited to meet her at the premiere. She was there! I just wanted to hug her and hold her. Sometimes I'm not great with words, and I just wanted to hug her. 
You play her disapproving monster of a mother, LaVona Golden, which will strike a chord with many people in the LGBTQ community who have experienced parental disapproval because of their sexuality. 
Oh, sure!
Tonya has been called a gay icon. Do you see her as a gay icon?
I never have thought about it before, but now that you're saying it, I understand the reasons why she would be.
She wanted to be loved for who she was. 
Wanting to be loved for who she was! Absolutely, I can see why it would resonate with the gay community – with women too. With anyone who has felt like an underdog or not felt like they had a voice. 
As I talk about this movie more and more to people like yourself, I'm learning more about it and why it's resonating right now. It's also the concept of truth and what that is, and you know, the media told us what to believe was true and we did, and now in this time that we're living in with the president (being) wildly contradictory – it's phenomenal to me what's going on in the country and in our discourse, and (sighs) I just feel it's one of the most divisive, scary times I've ever experienced in my lifetime, certainly. 
You mentioned Tonya as the "underdog," a word you have also used to describe yourself. 
Yeah.
Do you think that has anything to do with why you've attracted a doting LGBTQ following? 
Maybe that's it! I was always just told I was too tall to act and told I wasn't pretty enough, that I didn't have enough edge. Didn't have this, that. Everyone in the business told me that, and it was heartbreaking to me; and yet I tried to find other things to do, but this was really the only thing I was really meant to be, this time 'round (laughs). 
I think it might also just be the characters that I get to play. Some of them speak to the community because they are that underdog character – now I'm trying to make up a theory out of something I haven't thought about (laughs). But I also think it's that I love to bring the humanity to every character I play. 
I'm sure that your gay fans also appreciate that you seem to enjoy randomly kissing women. 
I do! (Laughs) Oh my gosh, I don't know if you've seen my kiss with Cloris Leachman but that is, like, the best kiss. 
Better than Kate Winslet even?
How about that moment?! That floored me. And I just thought, "Did she just say my name?" (Winslet gushed about Janney at the Hollywood Film Awards in November.) It was one of the funniest moments for me, and I thought, "How can I not just go up and kiss her?" I mean, Meryl Streep, Kate Winslet – I've kissed a lot of cool women, and men! 
In our 2016 interview, Meryl Streep told me kissing you was a real "perk." 
She said "perk"? I love her! 
Is that what all the women say about kissing you?
I don't know! Meryl is the only one I've gotten feedback on. Actually, no, Rosie! I got to kiss Rosie. Rosie said I was a good kisser. And Rosie O'Donnell is a great kisser, I have to say. She's a very good kisser. On (the CBS sitcom) Mom, she plays a woman that I used to have a relationship with and there's one episode where I kiss her a couple of times and it was really – she's a good kisser! (Laughs) 
What was the moment in your career you knew you had an LGBTQ following?
I feel like (1999's) Drop Dead Gorgeous was the start of that for me. And it was a slow dawning, awakening, realization that was happening, and I thought that was the highest show of honor to be embraced by the gay community. It was like, "OK, you guys know." 
To me, it's a high honor to be recognized and embraced by the gay community. I don't want to say something stereotypical, but a lot of the men that I know who are my dear friends have a real appreciation for women who are strong and powerful and kickass. They really, really love strong women. They're not afraid of women the way that some heterosexual men are. But they love a strong dame. They love a dame! So, that's high praise. It's high praise coming from the gays. So I am thrilled that I am in that club. 
Of the lesbian characters you've played, from Sally in The Hours to your lesbian roles in stage productions like Eve Ensler's Ladies and Alan Ball's Five Women Wearing the Same Dress, which do you wish you could've gotten to know more?
Probably my character in The Hours with Meryl. I would've liked to have gotten to know Sally and really explored that relationship. You know, my famous story with her with that kiss is that she gave me a facelift. She didn't like the way we were lit in the scene and she said, "I'm gonna do you a favor, honey." So she placed her hands on the side of my face and lifted it ever so gently. When you watch it next, look at that – it's pretty great. A little Meryl lift. I got a little lift from Meryl. It was fantastic. 
If you were to play another lesbian role, who would be your ideal co-star?
Whoa. Well, I kind of have a girl crush on Margot Robbie right now! (Laughs) She is so talented and so friggin' beautiful – it's kind of remarkable. I just find myself staring at her, like, how can anything be that beautiful? And she's a really good actress, and you know, why not? Margot is on my mind right now, so I'm saying Margot. 
There have been Tonya Harding impersonators, and after this film, I fully expect a few LaVona Golden queens. 
Oh my god, do you really?
Her name alone is made for the stage at some gay bar, don't you think?
It is a great name: LaVona! There was already someone on Halloween who dressed as LaVona. It was on Twitter and it made me laugh. It was a guy who dressed as LaVona, with the bowl haircut and the bird and the fur coat. It's a real unique look. 
Does looking the part help you get into character?
Oh god, yes. With that, especially. It was three hours of hair and makeup getting that look with the bird, and it was really liberating too. I thought I was gonna be horrified and not be able to look at myself in the mirror, and it was fascinating – I wanted to look at myself all the time! I was like, "God, this is so cool!" It felt just so different, and I didn't see myself. I felt really confident in doing what I had to do. The look was so perfect and so great, and it made me excited to do my scenes. 
I hope you got to keep a piece of LaVona. 
I didn't! But I was thinking about seeing if that bird could be adopted because I kind of fell in love with him. He lives in southern Georgia and he's so lovely. But I do have three dogs and I don't want there to be an unfortunate situation there.
Yeah, maybe give it to somebody who doesn't have an animal that will eat it.
Yes! That's always something to think about before you get a bird. (Laughs) 
You've said you like to use your platform and acting to support important causes, which you've done in projects like 2009's Funny or Die's Prop 8 – The Musical. Do you recall the point in your life or career when you became passionate about queer issues?
I have so many gay friends in my world, and having such close friends in the gay community made me more aware of different issues. So, I'd naturally get involved through my friends. It happened when I came out to L.A. and I was doing West Wing. Once you start becoming someone – you know, a celebrity person – you realize, "Actually, I could help just by showing up there and by doing this." It was a wonderful thing to realize, that I could use my name for something good other than the acting. 
Does it feel even more important right now to take on projects that can make a difference?
Yes, yes! It really does. And I don't know what I'm gonna be asked to do next, but I hope that I will be able to contribute. 
I think now is the right time for another lesbian role, just sayin'.
OK, alright. I'm gonna start looking for one. Will you start looking for one for me? Should I do a biopic of – I'm trying to think, what lesbian should I play? I think it's gotta be a character that's not written yet. 
Considering your trove of lesbian parts, I'm surprised lesbian roles aren't just rolling in for you. 
I don't know – I don't think so! I'm gonna have to call my agent: "Where are all my lesbian roles?" Oh, a pioneering lesbian! Amelia Earhart. I don't know if she was. I'm gonna get on that though. I'm gonna start looking. That's a good thing to put in my head. 
December 4, 2017 - 12:33pm
As Giles, Richard Jenkins exudes a great deal of warmth playing a closeted '60s-era gay man longing for a romantic connection in Guillermo del Toro's timely cautionary tale The Shape of Water. But cordiality comes natural to the Six Feet Under alum, who unforgettably portrayed the Fishers' apparitional patriarch, Nathaniel, on HBO's life-affirming dramedy about death from 2001-2005.  
In conversation, Jenkins, 70, expresses genuine gratitude and curiosity about my deeply felt connection to another brilliant turn of his – this time in del Toro's enchanting, illusion-shattering tale of queerness, a story that gripped the Emmy-winning actor for that very detail. 
In this awards-worthy spectacle, a mute janitor named Elisa (Sally Hawkins) and an imperiled merman (Doug Jones) fall hard for each other in a world where existing in the human form, especially if you're black or gay as the socially aware allegory acknowledges, is already a heavy burden. Though the director's whimsical yarn is set during the Cold War, its political commentary on queer and minority acceptance is a response to present-day disunity and the toxicity of white, male rulers.  
"If you could title it Love Is Love, that's what it is," proclaims Jenkins, who discussed the film's ability to break down walls that currently divide our nation, as well as the "invisible" gay actor he referenced while playing Giles and still, like the gay fans who continue to express their appreciation for the preeminent HBO show when they meet him, frequently contemplating the meaning of Six Feet Under. 
You just know how to choose roles, or the roles know how to choose you.
Luck has something to do with it, if you wanna know the truth.
Was part of the appeal of Shape of Water the "love is love" element?
Yes, absolutely – absolutely! These are invisible people who at that time, 1962, lived in the shadows, lived in their own world, a lonely world. And yeah, it was fascinating because I grew up in 1962. I was in high school. It was great for me. But there was nobody gay in my high school until our 35th reunion. 
Right. Nobody could be out at that time, right?
Nobody was out. Nobody! You didn't talk about it. It wasn't even on the radar. And so if you were a straight white guy, life was great. But if you were anything else, it wasn't so good. 
And here we are, 50, 60 years later, and the same could be said. 
Absolutely. And, well, that's why (Guillermo) wrote it, for today. 
I understand Guillermo writes a biography for all of his actors and puts a secret in the biography that you are not to reveal to the rest of the cast. What was your secret for Giles? 
I don't know! (Laughs)
Ha! You didn't read the bio, did you?
I did read the bio! But I don't remember what the secret was. (Laughs)
He did say you didn't use anything from the bio for the role. 
Well, here's my take on it: If it's not on the page, then it doesn't matter. The life of this character is on the page, that's where all of the clues are. If you were writing a novel and you had the backstory, that's one thing; but it can be confusing to add something that nobody knows (about), so I just scour the script. That's where I look for all of the clues to his life: who he is, what he likes, what he's been. I mean, I read in the script that he and his boss at the ad agency were partners, and (Giles) would say, "I want to come back." Now, does he mean to the agency? That's not what it meant to me. 
So you read their relationship as being romantic?
Yes, yes. And it wasn't explained, but I got it from the script. 
To play Giles, did you reference any real-life LGBT people who were also living closeted lives during the '60s? 
I thought of a man named Howard London, who is dead now. He was an actor and he was the kindest man I ever knew, and he was invisible at the time. I knew him in the early '70s until he died in the early 2000s. But I thought of Howard. He was alone his whole life. When he died he gave my wife and I his record collection, this incredible record collection. And I thought of Howard and I thought of how he wanted love in his life, and he had it for a while and then he didn't. I just … it just reminded me of him.
What did you love most about the dynamic between Elisa, who is literally voiceless, and Giles, who is, in a sense, also voiceless as a closeted gay man? 
I loved every second of it. Guillermo said to me, "I couldn't do this film with anybody else, and wouldn't do it with anybody else but Sally." We rehearsed for two weeks and we used the time to become friends. It took about 10 minutes to become her friend. We have a lot of mutual friends, and I just loved her immediately and we just became really good friends, and it shows onscreen. I mean, I think that's there, and it was important that we and Guillermo did hang out together. So, it was very free on the screen with her, and it was very relaxed. And you can't hide that. You can't fake that. That's what you try to do as an actor – live your life as it's happening. And it's hard when you don't have somebody who you trust or love, and I do both of those with her. 
One of the real turning points hinges on Giles and his interaction with that diner server. Could you talk about Giles' motivation after that scene and how he ends up being instrumental in helping Elisa fulfill her wish of being with the merman? 
It starts with the realization after the diner and after being turned down by his boss, which again, I played as they were together at one time, like, "I bet these two had a relationship." So after both of those things fall off, I say to her, "You're my only friend and I don't even know what this thing is, but it's important to you, so I'll do whatever you want." I love the fact that he gets there from living these pipe dreams, that somehow this boy in the pie shop is gonna be interested in him (laughs). But we've all had that! I thought Hayley Mills, if she ever met me, would fall for me! (Laughs) I don't know what it is – you just live in this… it's just odd. But I love the fact that he goes from thinking of it as a fish in a tank to her fiancé, basically. And he says to her, "He's an interesting guy."
You also memorably played a gay character, Josh Brolin's life partner, in 1996's Flirting with Disaster. How do you reflect on that role? 
I love that role! (Laughs) Oh my gosh – and he carried his gun everywhere he went! I loved it. I just loved the whole project. I just loved playing him, this guy who happened to be gay. And, I mean, he seemed conservative in some ways. 
Yeah, he didn't seem into anal sex in the way you might expect. 
He just wasn't into it! 
Was that your first gay role?
Yes, yes, it was. It was great fun. 
How aware have you become of your gay following?
Do I have a gay following?
You will after this movie, if you didn't already. 
Well, then I'll be aware of it, and that'll be good. 
Six Feet Under has an immense legacy in the LGBT community because it was so groundbreaking in that it featured realistic portrayals of LGBT people, including your son David, played by Michael C. Hall. That show has stuck with me in ways that I never thought a TV show could. Does it still sit with you? Do you think about that show every now and again? 
I do. I think about it a lot. I think about … part of it makes me sad, when I think about it. 
I mean, that series finale. Those last 10 minutes. 
The last 10 minutes were amazing, but what makes me sad is that – you never knew who my character was, because you only saw me when somebody thought of me. It was their recollection, their image, their impression of me that you saw. There was so much that wasn't said between the children and Nathaniel, both of the sons. I mean, David had no idea that I was proud of him and then somebody said once that your father was proud of you and he said, "My father was proud of me?" They never talked about anything. Same with (my other son) Nate. And it just… it made me sad. I remember thinking, "God, I hope my kids and I don't do this." 
There is an important lesson to be learned there: Say what you need to say now. 
There is. And I'll tell people if they're not getting along with their parents, "Just stop. You don't want them to die with things unspoken. You just don't." But, you know, (creator) Alan Ball – this is what interested him, that kind of true relationship with his children and family and each other. And it's a very personal show, and it was an honor to be a part of it.
Do you hear from gay fans who have a deep connection to the show? 
I do. I hear from people who say, "I'm gay and that show was just so important to me." 
That show went deeper for people than most shows. How do you as an actor process being a part of something that can emotionally resonate with someone as strongly as Six Feet Under did? 
I think it's why we do it. It's why I became an actor. I can't paint, I can't dance, I don't sing, and so I became an actor. That's my art, whether I'm any good at it, or not. It's an interpretive art, but it is an art, I think. And you believe when you do it that there's a common understanding between all people, whether they're conservative or liberal or French or German, and that human connection is your job to try to make. When you do it's incredibly gratifying because that's why you're there. 
So something like Six Feet Under – it's funny with TV because in the theater you know immediately, but in television and movies you don't until people stop you at an airport or on the street or write something about it, so it's incredibly gratifying because it's why we do what we do. We all are alike in so many ways that we try to fight constantly. We just try to fight it – "I'm not like this; I'm this, I'm this" and (sighs)... that's why art can break that down. If you go see a movie like this and you're a conservative who is against gay marriage and you like this movie, that is in your subconscious from now on. You've actually walked in somebody else's shoes. 
While I watched the film, the word "empathy" kept coming to mind. 
Empathy – you are absolutely right. (Guillermo) wrote it for this time. "It's an adult fairy tale," he said, "that I wrote for this time." While we were shooting it, Guillermo would say, "You think it's working?" I'd say, "I have no idea!" (Laughs) He said, "By the time they get to the dance number in black and white, they're either gonna laugh me out of the theater or they're gonna understand." And I said, "That's why it's art, man. Because you're taking a chance." And they do understand. 
I don't usually think about movies this way, and usually if somebody doesn't like a movie that I'm in, I think, "Well, OK, maybe it's me." But if you don't like this movie, there's part of me that thinks it's your problem, it's not my problem (laughs), because it is a beautiful, beautiful film.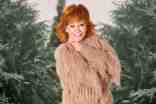 December 1, 2017 - 12:25pm
Reba McEntire has released a beautiful new Christmas album. The melancholy spirit of her friend Dolly Parton's 1982 holiday staple "Hard Candy Christmas" is preserved on McEntire's new reading, and her sparse version of "Mary, Did You Know?" featuring Christmas mainstays Vince Gill and Amy Grant engenders a spirited hopefulness even the secular population may find comfort in.
But it is two weeks after the Las Vegas shooting, and nearly a month before the CMAs, which emotionally honored the victims during its "In Memoriam," when I connect with McEntire to talk about the new album and her holiday plans. Sticking to casual banter seems malapropos given the recent series of tragic and divisive events that eventually led to McEntire pledging to love you the best she can during the all-star musical opening of the CMAs. 
How do you not talk about issues affecting all of us, even McEntire? 
After all, the Country Music Hall of Famer performs in Vegas regularly during her residency, Reba, Brooks & Dunn: Together in Vegas, which recently announced additional 2018 dates. Moreover, the icon has wielded great influence as an entertainer – singer; Broadway, film and TV actress; gay favorite – during her four-decade career, and so when she pledged her support for marriage equality in 2014 to me during our last conversation, it felt especially groundbreaking. At the time, she spoke lovingly about her dear friends, Michael and Steven, who didn't have the same legal protections as heterosexual couples. "It was not fair," she told me, pointedly. Just over a year after our talk, Michael and Steven's relationship was legally recognized by the U.S. Supreme Court. 
Now, any artist with clout is being called upon to take on other hot topics, as evidenced by the preemptive decision by CMA producers to enact a no-politics stipulation on journalists during the event (the provision was overturned by the time the show aired). But the pressure to weigh in on political issues can be felt even within the country music community, as Rosanne Cash pled for the genre's influencers to speak out against the NRA in a Oct. 3 New York Times column called "Country Musicians, Stand Up to the N.R.A." (Faith Hill and Tim McGraw recently called for sensible gun laws in an interview with Billboard after Cash's call to action).
In addition to talking about her personal struggles with religion and being true to her musical roots, McEntire, 62, told me she looks to God for guidance on addressing the world's affairs. Strikingly, she did clarify that her track "Back to God," featured as an acoustic version on My Kind of Christmas, is purely a faith song despite various sites and social-media memes associating the song with President Donald Trump. 
Do you have gay people in your circle of family and friends who you'll be seeing for the holidays? Probably so, yeah. I'll be in Nashville before we go out of the country after Christmas, so I've got a lot of friends in town that we'll be seeing after we get through with our show in Las Vegas on (December) 10th. 
What special something do your gay and lesbian loved ones bring to your holiday festivities? Friendship. And we hang out throughout the year, so it's not much different around Christmas than it is throughout the year.
Just more eating. A lot more eating – yeah, true! And lots of just hanging together and the reason for the season, which is the birthday of Jesus and we all celebrate that. It's more of the same, just being great friends at Christmas like we are throughout the year.
Please tell me all of our favorite country gay icons – yourself, Dolly, Faith, Martina, and so on – have some kind of Secret Santa. (Laughs) No, we don't. Wouldn't that be fun, though? 
Do you do White Elephant exchanges?
Oh yeah, we do it with my RBI (Firm) team and we used to do it at Starstruck. Dirty Santa or White Elephants are really a lot of fun. 
What's the craziest gift you ever received during a White Elephant exchange? Oh my gosh, probably an old dirty sweater!
I just spoke to your daughter-in-law, Kelly Clarkson, who you collaborate with on "Silent Night." As I'm sure you know, she finally has creative control. Was there a time in your career when, like Kelly, you struggled to make the music you wanted to make because of label heads? You know, I was very, very lucky to get to work with people who are open-minded. It wasn't a situation of not getting to sing the music I wanted to and make the music I wanted to; it's that when I got started I didn't know, other than I had been raised with what I wanted to sing, and then when it got a little more contemporary with the orchestras, I had to go to the head of the label, Jimmy Bowen, and say, "I really wanna go back to my roots," and he said, "What's that?" I said, "Steel guitar and fiddle." He said, "All right, you can do it." And I said, "Well, how do I do it?" And he said, "Well, you need to go start finding your own music." So Jimmy was totally 100 percent for me doing what I wanted to do and I was very grateful for that.
Kelly is bold when it comes to expressing her social and political beliefs, and I understand her stepdaughter and your grandchild, Savannah, is really political. Do you have political debates within the family?
Nope. I don't talk politics because I think there are a lot more things I can contribute to the world without arguing with somebody about politics. 
My family has this rule, especially during holiday gatherings: no political discussions. I think that's very healthy.
Do you have a similar rule?  I just don't do it. When somebody wants to talk politics, I let 'em know that and we change the subject. 
There seems to be a lot of pressure on public figures to take stances on some important issues concerning our country. During our last interview, in fact, you pledged your full support for same-sex marriages for the first time. A lot has happened since, including the recent shooting at the Route 91 Harvest country music festival in Las Vegas, and recently, Rosanne Cash penned a column in the New York Times encouraging the country music community to speak out against gun violence. For you, when is a potentially divisive issue important enough to talk about? I think I'll know it when it comes to me. I think I'll know it when that happens. So, I can't say it's gonna be tomorrow (laughs), or what the topic is gonna be. I'll know it – I think it'll be told to me. I rely on God a lot to let me know what I need to be doing and I ask him for guidance, totally, all the time, every day. So when that's needed, I'll be the spokesperson.
Regarding the Rosanne Cash piece calling on the country music, did you feel a need to step forward?  This is the first time I've heard of it.
She wrote a column in the New York Times asking country artists to speak out on gun violence and gun control. Basically, "Is the issue deeper than just 'thoughts and prayers'?" It was a really thought-provoking column. Well, good for her. Good deal.
How has what is happening in the world become personal for you? It always has been. When you have children and people you love and care about, it's not only your children or your grandchildren, it's your whole family. It's your friends, it's your community, it's your country, it's your town, it's your neighbors. You deal with all of it and your concern is for all of them, so yeah, it's been going on for a long time. It's been going on since – long before we ever got here. It just seems like because of the media we know about what's going on a lot more than we did when we were kids. When I was growing up, we only had the 6 o'clock and 10 o'clock news and what you heard on the radio and that was it.
Do you think we would benefit by going back to just the 6 and 10 o'clock news? I really don't know which is best. Are we overloaded with press? Do we need more? Do we need to know all of this? I remember that song that Anne Murray had out, "A Little Good News" (laughs). That's what I like to watch – good news. 
What does it mean to be an artist who can, in one night, bring together gay fans, conservative right fans and drag queens? It means a lot to me because what we're there for – my job is to entertain and to lighten the load off your back, and I hope when everybody walks through that door to come into a concert they leave their troubles at the door and they come in and join together and listen and enjoy and take away something that will brighten their day. Give them somethin' to think about and improve their lives, hopefully. 
Maybe there's a message in those songs. I have always said, Chris, that I'm the conduit, I'm the water hose. I'm singing these songs because there's a message in music, because it's so healing, and so when I sing it, I sing songs that touch my heart. Hopefully when you're in the audience and you listen to those songs it touches your heart – and in a way that I have no idea how it's gonna touch your heart, but I hope that it does.
How did you feel about ABC passing on your TV project created by out Desperate Housewives and Golden Girls writer Marc Cherry? I couldn't believe it. I was devastated. I thought it was the greatest show. Everybody who I played it for was like, "Oh my gosh, I can't wait to see more," and I said, "Well, unfortunately, you're not gonna get to because they didn't take it." Marc did a wonderful job. He's a genius. I love him to pieces. He is so clever. And it was just such a good show. But we're not gonna get to continue on, so my heart just hurt for that. We shot (the pilot) in March of this year, and I was really wanting everybody to see it. 
Will we see you on TV aside from CMA Country Christmas? I hope so! We're looking at scripts now for next year and some TV movies and different things like that. You never know what's gonna materialize. I talked about the Marc Cherry script for, gosh, four or five months and was so excited. Just knew it was gonna be a slam dunk. But you never know about the future. I just have to say, well, wasn't in the plans, everything happens for a reason, timing is everything. 
Getting back to music, your song "Back to God," which originally appeared on your Sing It Now: Songs of Faith & Hope released in early 2017 and now on My Kind of Christmas as an acoustic duet with Lauren Daigle, was being associated with President Donald Trump by his supporters upon its release. I mention that because I grew up trying to reconcile being a gay man with my Catholic upbringing, and that was really a struggle for me because I didn't know which I should choose or if I had to choose. So now, when I see a song like "Back to God" being politicized, I think of LGBT children who don't side with the president but seek comfort from a song like "Back to God." How do you feel about your song being politicized in that way when it can potentially alienate gay fans? I think that's ridiculous. 
But there really are memes and articles saying "Back to God" is essentially a Trump anthem. No, no. It wasn't at all. (The lyric) "give this world back to God" means we've got troubles, we've got things going on, people are worrying, people are trying to solve problems themselves. If they gave their problems and their worries up to the Lord, he will take care of him and you'll have a peace that you've never experienced in your life. How anybody took that and politicized that is beyond my imagination. It's totally a faith song. Faith-based, and of hope and of faith and looking for a better way of dealing with the stuff that's going on. And my way of dealing with it is giving it to the Lord. 
As a person of faith, what message would you like to send to LGBT people who may struggle with religion? You know, sometimes I struggle with religion because there are so many, but if you read all of 'em, all of the different religions, there is one underlying thing: God wants us to love each other. Treat people like you want to be treated and love each other – that's not hard, but in a sense, it is. But that's it. He just wants us to love each other, and I think that's what we all really need to work on. 
When I spoke to Amy Grant in 2013, she told me, "I know that the religious community has not been very welcoming, but I just want to stress that the journey of faith brings us into community, but it's really about one relationship. The journey of faith is just being willing and open to have a relationship with God. And everybody is welcome. Everybody."
Yeah, yup! And also, another thing: The secret of peace is forgiveness, and that's hard. That's really hard. But when you do, all of that hatred and resentment that's eating up your heart and your stomach and your gallbladder and it's just making you sick, if you forgive, all that goes away and it's replaced with space that is ready to have more love put in and you find better relationships and more friends, so you gotta forgive and you gotta just love people.
Sounds like you found the secret, Reba. (Laughs) Ya know, funny enough: I kind of think I did! Everybody says, "Oh yeah, I've known that for a long time," and then I say, "Why didn't I understand that?" It's hard. It's real hard to forgive. But it's the best blessing in the world to give yourself. 
November 20, 2017 - 12:07pm
During her 15-year career as your friendly pop spirit-lifter, Kelly Clarkson has prescribed a cheap alternative to therapy: anthemic pick-me-ups like "Since U Been Gone" and "People Like Us," songs that impel a transcendental, fist-raised state. 
Late-night Facebook Live sessions are also her thing, and recently, the American Idol alum geeked out like she'd just won Idol all over again about her soulful rebirth, Meaning of Life, released on her new label, Atlantic Records. It was just Clarkson chillin' on the couch with a glass of red wine that was much deserved, considering the artistic sacrifices she had to make post-, when she felt creatively stagnate as a Top 40 machine for RCA Records. But aside from a fat glass of red, Clarkson has other strong urges too. 
Due, in part, to her simply being so damn cool, Clarkson – who drowned the world in their own tears right along with her own as she was crowned the inaugural Idol winner in 2002 – tells me she feels so compelled to stick up for her LGBT besties she literally wants to go door-to-door and talk some sense into her friends' homophobic parents.
Because her friends ask her not to, she doesn't. But here, with the ever-outspoken and now-artistically-liberated Clarkson leaving almost no opinion unturned, the Texas native makes that point loud and clear. Before getting back to being a mom to River Rose, 3, and Remington Alexander, 1, as well as husband Brandon Blackstock's kids Seth and Savannah from a previous relationship, Clarkson spoke like one. Even her simple "diva" request – a "pretty dress to sing in" – is enough to make you wish you were on that couch with her and a bottle of Pinot.
Mariah, P!NK, Kesha – so many female artists have gone through the creative struggles you have. 
Oh, every artist. It's so not unique in any way. 
How good does it feel to finally be yourself artistically? 
It just feels freeing to make an entire project and, in its entirety, I'm 100 percent excited about it. There wasn't any compromise. It's how I feel the creative industry should feel. There's nothing like working on something you're so proud of.
Please tell me you at least got a little sloppy at a gay club to celebrate the end of your contract with RCA.
(Laughs) Brother, I got four kids and a career, I ain't got time to go to clubs! I'm rockin' a 1-, 3-, 10- and 16 year-old, man. You know what club I go to? The club of playing board games with my family... which, actually, I love. 
Plus, you have your farm just outside Nashville. You've got chickens to raise!
We've got our chickens, our honeybees, our orchard. We love our farm. 
Have you sent RCA Records head Clive Davis a copy of the album? 
(Laughs) Be like, "This is what I was wanting to do this whole time!" Yeah, no. (Laughs) You know what's so sad: I was so excited to work with him. You have no idea. He worked with so many of my favorites: Janis (Joplin), and he worked with Bruce Springsteen way back in the day. All these artists who were very innovative in their time, and I was so excited. That's been one of the saddest points for me in this industry – just figuring out that someone I really look up to just was not what they seemed. That was a pretty big blow. I was pretty sad about that. Like, we don't always need to meet our heroes. 
In some ways, your story of artistic suppression is relatable to the LGBT community. As an ally, do you recognize that affinity? 
Talking with my gay or lesbian friends over the years, I can't imagine. I've always said I can't imagine not being able to be myself in and out. And, yes, while I can relate a bit musically to feeling like you're going over massive hurdles to try and get to a compromise that you're happy with, that's nothing in comparison to hearing my friends talk about (being gay), especially in the South where I grew up, and then the faith thing comes into play. 
I had one friend wait, and this is the saddest thing ever: I don't think she ever felt comfortable in her skin because her parents were older. So, they passed away and then she finally felt free. I thought, "What a horrible feeling to have to wait until people aren't around to be yourself." I could never ever relate to that. I feel horrible that anybody has to go through that. It's almost like when people ask me about other artists who have all these shticks about them and I'm like, "Oh god, that would weigh on me if I had to keep that up, if I had to keep doing shit to make everyone happy." 
Walking onto the stage in, like, a pretty dress to sing, that's really the extent of my diva, or just my experience on the stage. I've always just been very simple. Even in situations, musically, where I really had to fight or jump through hoops, I still was able to be myself, which I think people didn't like because I was very open. But I have to do that. I have to express myself. Literally, I would go in such a downward spiral of depression if I weren't able to, and that's why, honestly, a lot of friends, especially who are gay and lesbian, felt that way. I pray to God my children never have to feel that, that people around me don't have to feel that. I always hope that I'm always the one person going, "If they're upset about it, screw it. It's your life. You can't not be you. You can't suffer just because you're trying to make somebody else happy. That's not a life."
That sounds exactly like something Kelly Clarkson would say. And I wonder, as someone who has this large, far-reaching platform, what does it mean to you to be an LGBT ally, and when did you know you had the power to be one?
I always laugh at the concept that people are like, "We just love what you say; that's why we love you," and I'm like, "Why is everyone not like that?" That's what boggles my mind. Why would you not say what you want to say? (In our last interview you) asked me if my daughter or son, or any of the four, ended up being gay, how would I take that, and I'd be like, "Awesome!" Honestly, in a world that is so hateful sometimes, I don't care where my kids find love. Hopefully with a loving and respectful and kind person, but I don't care if they're a boy or a girl. It just doesn't make a damn bit of difference to me. 
I do want my children to fall in love with people who are loving, but I feel like our priorities are silly-ass backwards. Like, I want to go to my friends' parents who just don't want to talk about it. They know, but are like, "We just can't talk about it," which is so demeaning to their (children's) existence. And I want to knock on their door – I don't, because (my friends) ask me not to (laughs) – and be like, "Do you know you're missing out on an exceptional human because you can't get past your own ignorance? It's just silly to me that you want to miss out." I want to tell them, "I didn't have a dad and it had nothing to do with me being gay – it had to do with, he was a shitty guy. And you have the opportunity now to not be that parent and embrace your child. That's your DNA. You love your children. What's wrong with you?" It just makes me so mad, more so than anything. 
This past June, you helped two gay fans get engaged during one of your meet-and-greets. 
Oh my gosh, it was exciting. But I was nervous! Like, what if he was gonna say no?! (Laughs)
How would you live that down?
Literally, before I was like, "Wait. I do not want to be put in this situation where this guy might say no. Are you sure he's gonna say yes?" And he goes, "Well, I hope so!" He was nervous. I probably didn't help any. (Laughs) 
Do you hope gay couples just start routinely getting engaged in front of you? 
I was like, "I need to get ordained!"
For the sake of gay couples everywhere, why are you not?
I don't know if that would be authenticated! I don't know if people would question that! One of our friends – my husband also manages Blake Shelton – was like, "I wanna marry y'all" and I was like, "I want it to be, like, credible. You don't actually have a following, or a church! 
I have a feeling people would go to the Church of KC.  
Oh, Lord, that would be a funny church. 
So, as much as I love talking about music, it's hard not to acknowledge the screwy state of the world during interviews these days. 
Yeah, everything is obviously impacted by it.
How are you? I know you've always stood up for what you believe in, but in this politically divisive climate, do you feel an even greater responsibility to stand up for the things that are important to you? 
The hard thing for me, specifically: I always hate when people bring up, "Oh, you're a celebrity, you shouldn't have an opinion." The hard thing in that for me is, I'm not just that. I'm a mother, I'm a daughter, I'm a woman. And it took a long time and a lot of women to pioneer that way for me, to even have a voice. So, for me to not use that is so disrespectful to those before me who worked so hard for it. For me to not take advantage of that seems like a cruel irony. 
Why would I not voice my opinion as a mother? Why can't I say this is a really hard time to have a 10- and 16-year-old, guys? Because I don't know what to tell them when they hear certain things on TV.  They're smart enough to know what's going on. I can't hide them from that. So, it's a very hard time to explain things away. It's a very hard time to have the discussion about any kind of bigotry or racism or elitism. It's a very hard time because a lot of things are happening that are making crazy, insane, irrational moments normal, and it's a very hard time to raise kids in that environment. Forget me even being a celebrity. As a mother – just as a mother – it's a very hard time. 
I'm glad, at least, that everything is all coming to the forefront because it's now pointing out – like, I had no idea we had white supremacists. I have never come across people like that. Not even as a child in a small town in the South, and even then, that town has blossomed and they're more progressive now. 
It's 2017 – why are we still having these conversations? But we're having them because they do exist, and it's insane. It's insane that somebody just doesn't go, "Oh, I'm sorry, but yeah, we don't want that here. You should go somewhere else. This is a country of many cultures, many faiths, and open-mindedness. That is why people came here." It's amazing to me that we just don't have grown-ass men and women in the public eye of politics going, "Absolutely not. I'm not even having this conversation because that's not even OK. There's no way to validate what just happened."
Reflecting on all your work for RCA: Which album are you most and least proud of?
The album I'm most proud of in that whole section is the Christmas album (2013's Wrapped in Red), and that's just because it was 100 percent me. Because it was Christmas and it was OK for me to make decisions (laughs). They let (producer) Greg (Kurstin) and I do whatever we wanted, so it was a lot easier to accomplish my goal with that album. 
My least favorite? Man, I mean, maybe my least favorite was my first one (2003's Thankful). I just say that because of the experience. I was very young and very excited about making a record. It was my first time doing all of that, and it was also my first time realizing, "This is gonna be really hard because there are so many cooks in the kitchen and they don't care that you're not allowed to be one." It was my first experience in the industry going, "Oh, wait, this isn't what I thought it was gonna be like." So my ignorance led to that and me being young and excited, I guess. Not that I don't love the album – it's just that I didn't love finding that out. 
Do you ever get tired of singing your first single, 2002's "A Moment Like This"? 
I never sing it! Because the song wasn't meant for me – it was meant for the winner. I never would've been like, "This is a great record" (laughs). I get the moment it was for. That was the perfect song for that moment. I totally address that, but that song doesn't fit in my tour setlist.
It still takes me back every time I hear it. 
Totally. The nostalgia. For me too. It was a beautiful moment. I'm very thankful and blessed for it. But it wasn't a song that was meant for me. They just wrote it for whomever was gonna win, so that doesn't make me feel special. (Laughs)
With Meaning of Life, your hair on the album cover is giving me some serious Mariah vibes. 
That Drew Barrymore-to-the-side-'90s vibe, yeah – it's completely calculated. (Laughs) I literally was like, "I want the hair for this album to be talking to God." It fits with the record. It's so sassy and confident and diva in the best sense, and so I really wanted that '90s hair. All my inspiration photos were of '90s hair. Whether it's the artwork or the music, everything on this album is influenced by the '90s, which was my favorite time in music. 
From "Since U Been Gone" on through "People Like Us" and "I Have a Dream," your anthems have been empowering to LGBT people. What song on this album do you hope becomes the next big gay anthem?
It's always my gay boys who come up and go, "Oh my god, I love 'Whole Lotta Woman.'" And it's so funny, because I'm like, that is so ironic and amazing! (Laughs) 
Based solely on the track's name, not even the fact that it's a celebratory anthem, you can't possibly be that surprised. 
(Laughs) Honestly, I didn't think about it! But then we performed it impromptu at the Today show just for the audience there in New York – not for the televised show, just for the audience – and it was so funny because all the gay boys were dancing more than anyone, even more than the women! It was so fun. It's such a fun audience that just loves sass and confidence, and I just love being surrounded by an audience with that kind of energy.
That song definitely shut downs, once and for all, your social-media shamers. What advice do you have for LGBT people who experience the bullying that you've experienced?
We have a 16-year-old girl and a grown-ass woman was being horrible to her. She was just being hateful and passive-aggressive online and I had to be real with (my daughter). I said, "This is gonna happen so often, so this would be a good time to learn to take the high road. Block them or whatever you want to do to not see it, if you don't want to see it." 
Bullying is gonna happen, so we tell our kids, "That's gonna happen. I can't protect you from that. There's nothing we can do about that. There are no bullying cops." It's an epidemic that's horrible and it needs to be addressed, but at the same time, when you have kids coming to you, I just have to teach her to rise above it.
It's one of those things I always describe to fans, too, in meet-and-greets because they always ask, "How are you so confident?" It's because, at the end of the day, I really don't care about anyone's opinion but mine and the people I know who love me and really do want the best for me. You can't base your entire existence and every decision off how people are gonna feel about it. That's a giant check list; there's a lot of us. (Laughs) So, just be happy with your decisions, and sometimes know you're gonna be successful and sometimes you're gonna fail. And whatever. At least you were steering your ship. 
November 6, 2017 - 11:20am
Chucky, with his fiery red hair and frighteningly loyal pledge to be "your friend till the end," was never gay by design. But in 1998, four films into the Child's Play franchise, the undying slasher flicks centered on a ghastly '80s-era talking doll took a campy, gay turn with the sequel Bride of Chucky. 
We have out Chucky creator Don Mancini to hail for the queering of Chucky, who fathered a gender-fluid child named Glen / Glenda with goth-turned-glam lady doll Tiffany Valentine in 2004's Seed of Chucky, notably featuring filth king John Waters and a Britney Spears look-alike (Chucky's reaction to running her off the road? "Oops, I did it again"). 
Doubling as Tiffany and herself is lesbian fave and voice of the plastic assassin Jennifer Tilly, who returns for the Good Guy doll's seventh film, Cult of Chucky, to wreak havoc on the patients and staff at a mental institution, among them a gay nurse named Carlos (Zak Santiago). Chucky is scary again, as Cult begins where his reentry into straight-up, decamped horror via 2013's Curse of Chucky left off. 
Tilly, gay-adored star of screen and stage (and also an Oscar nominee for her memorable role in Woody Allen's 1994 black comedy Bullets Over Broadway), spoke with her trademark kid-like cadence about the extreme gayness of the Chucky movie and the latest film's clever homages to her groundbreaking lesbian classic Bound. The star looked back on that 1996 landmark movie in LGBT cinema, reflecting on how she and onscreen lover, co-star Gina Gershon, helped each other look flawless on camera and why she thinks sibling filmmaking power duo, Lily and Lana Wachowski, before they came out as male-to-female, created one of the most iconic lesbian love stories. 
Chucky's LGBT following
I haven't seen the first three – I shouldn't say that! – but Bride of Chucky was the first time (Don) had a positive gay character, which is my best friend (in the movie). Then, Seed of Chucky, obviously, was really balls to the wall. But Don created the Chucky movies, and he's gay himself and definitely has that sensibility. Also, Seed of Chucky had the first transgender kid doll in the history of movies, which was Glen / Glenda, who was, I guess you could say, gender confused. And there are always positive gay characters in the Chucky movies and there's also Jennifer Tilly / Tiffany, this sort of drag queen-y gay icon.
Seed of Chucky: ahead of its time 
It really was, but we didn't really think of it much that way. But in gay and lesbian parades, there was a lot of chatting about Glen / Glenda, and then we realized that it was. Seed of Chucky was where Don Mancini delightedly threw everything in that we ever loved in the movies, including John Waters. It was really the campiest movie ever. 
Actually, Universal said, "It's too funny, it's too gay, and there's too much Jennifer Tilly." How could there ever be too much Jennifer Tilly? (Laughs) They said that about the first draft of the script, though. But Don just basically had a carnival of fun with that movie. I mean, even at the end of the movie with the kids' birthday party, it's very reminiscent of Mommie Dearest. My character turned into, like, Joan Crawford. 
Tilly's kiss with actress Fiona Dourif in Cult of Chucky
Don called me up and he goes, "I'm very excited. I wrote you a new part in the new Chucky movie. You're gonna be very excited. And you're hot in the movie! I wrote you a hot scene!" At this point in my life I literally am going out for the parts of grandmas, so I was like, "Ohh, 'hot' – I kind of like that idea!" Then I got the script and thought it was absolutely genius. You know, Don is a huge fan of Bound, so it's a bit of an homage to Bound, especially how they drive off together.
It was deliberate, you know. And he actually made some Bound references in Seed of Chucky also. I think Fiona Dourif is a brilliant actress… and she's really hot! (Laughs) But the funny thing is, when (Fiona) came out of that building and she was possessed by Chucky, she looked like her dad (Brad Dourif, who has voiced Chucky since the original Child's Play in 1988) and she looked like Chucky the way she was walking and moving and everything. And it was even hotter than the feminine Fiona Dourif! Fiona Dourif as a man trapped in a woman's body – got a little bit of transgender, gender-fluid energy going on there. 
Don wanted Tiffany more like Tippi Hedren in this movie. She wants to be a movie star like Cate Blanchett in Carol, all elegant and vintage. He thinks these things out! Like, who sits at night and thinks, "What does a plastic doll that has gone into a movie star's body want?" These are the questions that keep him awake at night.
Looking ahead to the next (maybe lesbian-ish) Chucky movie
I'm really excited, and I hope less time elapses between this one and the next. I have no idea where this is going, but I'm just really happy that I drove off with Fiona because I'm pretty sure I'll be in the next movie. I really hope that when we make the next one I'll still be hot enough to have some hot sex with Fiona – that's what we all live for! 
Bound to Corky: challenging the Wachowskis for the role 
When I went and auditioned for Bound I really wanted the part of Corky. I did not want the part of Violet. When I came in and read for it, I read for Corky. Linda Hamilton was set to play Violet, so Corky was the only part available. I was like, "Ohh, Linda Hamilton! I'd love to work with Linda Hamilton!" But then she fell out and Violet was available and the Wachowskis were like, "What about Jennifer for Violet?" I wanted to be the badass and the Wachowskis got upset. They were like, "All the girls want to play Corky! Violet is the better part." 
So we found this girl, Gina Gershon. I hadn't heard of her. She was in Showgirls, but it hadn't come out yet. But they were like, "We think you guys would be great together." And they're brilliant filmmakers – they really are – and I was in Canada filming a movie. I said, "Don't even bother to come out if you're gonna try to talk me into playing Violet. I only wanna play Corky," and they're like, "Well, we think you guys would be good together. She wants to play Corky, but she says she's open to playing either." But they were just really being master manipulators. 
She came out and right away I was annoyed because apparently nobody had told her she was gonna be playing Violet, and she just started talking about how she was gonna do Corky and how she already got her ears pierced. I was like, "Oh my god, this girl is really eager to take this role." (Laughs) I was thinking that I was gonna play Corky, but then when I met her we got along so well on the set. We had such a good time, and we'd sit in our trailer and we'd make the craft service person go and get donuts. We'd torture, torment.
Bound sex scene with Gina Gershon: 'Cover up the cellulite on my thigh' 
With the sex scene, it was really fantastic because with a guy you're always kind of trying to show off your tits and bits to your best advantage. But with a girl, we'd be like, "Oh, can you put your hand here to cover up the cellulite on my thigh?" or "Can you prop my breast up a little bit to make it look plumper?" And the thing about Gina is, she's very generous. She never ever says a bad word about any of her co-stars or any of the movies she's done, so if I had been working with someone who maybe was more difficult, it would've been a nightmare working so closely with her, so to speak, like totally nude. 
But we just had so many laughs, like when we were doing that sex scene we were laughing so much the Wachowskis were like, "Girls, girls! Settle down! We're making a movie here!" But it was a great thing. It kind of makes sense now, because (at the time) everybody said, "How can two men write such great parts for women and be sensitive and compassionate about the way women think?" And after the movie was over, their mom was leaving the screening and she was saying, "Wow, that's such a beautiful love story between the two women," and then the Wachowskis went off and became female after that. 
So, I really do think Bound – those were two of the greatest roles for women ever and the characters were really fantastic. I think that the Wachowskis had that sensibility right from the beginning. But we never thought – they were both very alpha males and brilliant, brilliant men who knew what drives people, and they were able to write such a sensitive, compassionate story about women. 
It really is the classic film noir too. I never saw it as a sexploitation movie; I saw it as a beautiful example of film noir. It didn't really give me much pause playing a woman in a love scene with another woman, even though at that time – people don't remember, because every indie film has, like, women kissing women now, but back then it was a thing that you only saw in, like, Red Shoe Diaries, or another sort of weirdly soft-porn thing. And now, it's sort of a given in film.
Warner Bros.'s resistance to making Bound a lesbian-led movie
I'm always really happy when people come up to me and they say – a lot of women say, "That movie made me come out of the closet." You know, originally the Wachowskis did Matrix at Warner Bros. and Warner Bros. said they would give them $15 or $20 million to make the movie, but they would have to make Corky a man. They said, "But Corky is a woman." 
They were just determined to make Corky and Violet running from the mob, and they ended up at (late film producer) Dino De Laurentiis's studio and they were really nervous because they'd been rejected a lot and they go, "It's a story about this girl Corky – she gets out of the prison and she meets this girl Violet and she falls in love," and Dino goes, "Wait a minute, wait a minute. Violet is a girl and Corky – she's also a girl?" And the Wachowskis go, "Mmhmm." And he goes, "I love it! I'll give you $3 million!" He was really great and supportive of the film, and Aaron Spelling was the co-producer. Aaron was the one who sent out all the copies for Oscar consideration because the studio couldn't afford to do that, or didn't want to. 
So, it's really kind of amazing. You would never think that Aaron Spelling and Dino De Laurentiis would get together to create one of the seminal films in gay and lesbian cinematic history, but they did, like strange bedfellows. 
Pages